NCAA Basketball Betting and Handicapping: Scouting the Week Ahead
by Alan Matthews - 2/10/2014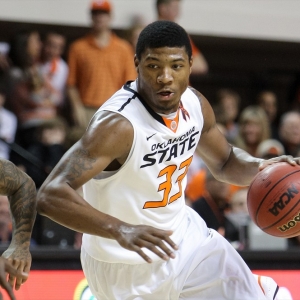 It's always nice when something clearly stands out from a weekend of college basketball for me to focus on in these weekly stories, and by far the big news last week was what happened to Oklahoma State's Marcus Smart in Lubbock on Saturday. It would probably still be dominating the news if not for the Michael Sam story.
I'm sure you've seen the footage by now: Smart was rushing down court attempting to block a shot of a Texas Tech player on a breakaway late in the game. Smart ended up landing near the stands, and apparently a middle-aged gentleman said something to Smart. There has been some talk he said something racial, but the man, 50-year-old diehard Raider Raiders fan Jeff Orr, said he simply called Smart a "piece of crap." Footage and a TTU investigation seem to back him up. Rather sad he has to say anything to a college kid, but that's a story for another day. Smart jumped up and gave the guy a two-handed shove to the chest, but thankfully it ended there and not in some sort of brawl like what happened in the famous incident between former Pacer Ron Artest and Detroit Pistons fans in Auburn Hills.
Smart wasn't ejected for some reason but was suspended for three games on Sunday. Frankly, he got off lucky. No matter what that guy said, you can't be pushing fans. I'm stunned it's only three games. Smart's decision not to go pro after his stellar freshman season is looking worse and worse now. This is going to follow him around and could definitely affect his draft status. Some conservative team owner might pass on Smart simply for this incident.
From a betting perspective, it kills Oklahoma State. The Cowboys were supposed to be Big 12 contenders but lost their fourth straight game on Saturday and are likely not an NCAA Tournament at-large team at 16-7 overall and 4-6 in the conference. OSU is a three-point dog Tuesday night at Texas and certainly could lose Saturday at home to Oklahoma and Feb. 17 at Baylor without Smart. His first game back is Feb. 22 against Texas Tech. The Pokes beat Texas 87-74 on Jan. 8 behind 24 points and 11 boards from Smart. They lost in Oklahoma on Jan. 27 88-76 despite Smart's 22. And they lost 76-70 at home to Baylor on Feb. 1 when Smart had 15 points. Oklahoma State was among the Top-10 preseason national title favorites but has now risen to +4000 at Sportsbook.ag.
Larry Brown, Supergenius
I was also going to write about surprising Cincinnati this week and how the Bearcats might be the team to beat in the American Athletic Conference. And UC probably does win the regular-season title with a two-game lead over second-place Louisville. However the major surprise in that conference isn't Cincinnati but SMU.
You may not even be aware of this, but Larry Brown is working his magic yet again. The Mustangs crushed Cincinnati 76-55 on Saturday, ending UC's 15-game winning streak. SMU hadn't won a game against a ranked team since 2003 but is 3-1 against ranked foes this season. It's the Mustangs' first season since 1984-85 they have multiple wins over ranked teams. The win over Cincinnati was the school's first against a Top-10 team since 1987 and first on-campus win over a Top-10 team since 1967. On Monday, SMU cracked the AP Top 25 at No. 23, the school's first ranking since 1985. SMU hasn't reached the NCAA Tournament since 1993 but should be a lock to do so now.
I will say this, however: Be on the alert for a major letdown game by SMU on Thursday when it visits struggling Rutgers. Sportsbook.ag oddsmakers still don't list SMU as a national title options. The Mustangs are +5000 as part of the field.
MAC Value Play
If you are looking for a great value game that would normally fly under the radar, check out Wednesday's Ohio at Toledo matchup in the Mid-American Conference. The Rockets lead the MAC West, while Ohio is a game out of the MAC East lead. Toledo will be favored but won't have its best player, leading scorer Justin Drummond. He was suspended for the game after getting charged with a DUI on Saturday night. He leads the team in scoring at 14.6 points per game, is third in rebounding (4.9 per game) and second in assists (2.6 per game). When Toledo played at Ohio on Feb. 1, it lost 95-90 in overtime as a 2.5-point underdog. Drummond had 12 points in that one.
Other Games to Watch
Huge potential trap game for No. 3 Florida on Tuesday night with the Gators as one-point favorites at Tennessee. An upset for the Vols might be enough to punch their ticket to the NCAA Tournament. Florida has been steamrolling through the SEC and has won 15 straight, but you know the players are looking ahead to Saturday night's big game at Kentucky. That's a must have for the Cats if they have any hopes of winning the SEC regular-season crown.
I said it in this space last week that I believed top-ranked Syracuse would lose on Wednesday at Pittsburgh, and I'm sticking with that. Pitt has righted the ship after back-to-back home losses. The Panthers played Syracuse tough in the Carrier Dome on Jan. 18, losing 59-54. The first installment of Duke-North Carolina is also Wednesday night. And look for a letdown game that night from Kentucky at Auburn as well because of that Saturday Florida clash.
Arizona hasn't felt the loss of Brandon Ashley yet, but it will on Friday night when the Wildcats visit Arizona State. So you could see No. 1 Syracuse, No. 2 Zona and No. 3 Florida all lose this week. That means Wichita State could be No. 1 next Monday. The Shockers made it through the toughest part of their schedule last week, which I didn't think they would without a loss. Probably their only chance to lose now in the regular season is Feb. 25 at Bradley.
Get $60 worth of free college basketball handicapping picks here. You don't need a credit card, and you will never deal with a salesman.
Read more articles by Alan Matthews
---
Most Recent College Basketball Handicapping