American Pharoah Odds to Win the 2015 Kentucky Derby with Picks and Predictions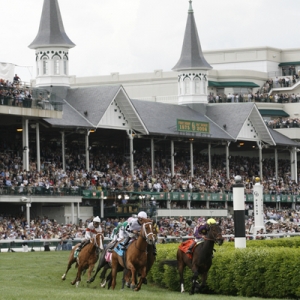 Wow. Just wow. If American Pharoah had completely and utterly bombed last weekend, this would still be one of the most impressive Kentucky Derby classes in the last decade or more. Of course, American Pharoah, the reigning two-year-old champion, did not bomb. Far from it. In fact, he really couldn't have looked any better than he did in the win. In a year of great and dominating prep race wins, his was the greatest and most dominating. He's a freak. A superfreak. It's hard to find a fault with him - or his stablemate, Dortmund, for that matter. If I want to find one nit to pick with the horse it would be his name - Pharoah is spelt wrong, and that drives me crazy. That's all I've got.
He's no lock to win the race - not in a field this deep and impressive. He has every tool he needs, though, and a win would be far from shocking. What a race this is going to be.
Arkansas Derby: As I said, the Arkansas Derby was as impressive as it could be. He settled just off the pace. That in itself was a great sign - he had largely been a speed horse up to this point, so the ability to rate, which could be very valuable on Derby day, is a big asset for this horse from a betting perspective. When it came time to make his move, he moved forward around the last turn and then pulled away down the stretch like he was shot out of a cannon. He won by eight lengths. At first glance, what stood out as impressive was that his jockey didn't go for his whip at all and just sat there. The horse, meanwhile, had his ears forward - proof he was both comfortable and excited. After watching the race replay several times over, though, it became clear that the effort was even more impressive than it seemed. It wasn't that the jockey was just sitting still. It was that he was actively working to contain the horse and slow him down. He could have won by 15 lengths, but that wouldn't have been ideal just three weeks before their date in Kentucky. I could go on and on, but you get the point - this was one incredibly impressive race.
Prior experience: American Pharoah has only run five times, and the first was a disappointing loss in a maiden stakes race. But then he found his stride. In a big way. He has won his four races - all stakes - by an average of more than 5.5 lengths. The first two wins were at home in California - first at Del Mar then at Santa Anita. From there - likely mostly to avoid a run-in with Dortmund before it had to happen - he made Oaklawn his new racing base. He came back from a layoff due to an injury that cost him a berth in the Breeders' Cup Juvenile to handily win the Rebel Stakes before returning to win the Arkansas. He has beaten solid horses and made it look laughably easy. He hasn't faced a whole lot of adversity or been particularly challenged, but the way he handled rating in the Arkansas Derby suggests maturity that will help him overcome what he runs into.
Trainer: Bob Baffert has won his share of Triple Crown races and had his share of close calls as well. He's a training legend. The real story this year, though, is that he not only has this horse in his stable but also Dortmund. In any other year either of them would be the favorite in this race. To have them both is like winning a lottery. Twice. Racing history geeks compare it to what Ben Jones had in the 1948 Derby. Citation won the race and went on to win the Triple Crown and be named Horse of the Year. Stablemate Coaltown obviously came up short in the Derby, but he did finish second, and he went on to be Horse of the Year in 1949. There is a lot to happen between now and that kind of history for Baffert, but he has an opportunity unlike any I can recall in my lifetime. Now here's hoping he doesn't find a way to mess it up.
Jockey: Victor Espinoza has been aboard for all four of the horse's wins, so you can be sure he won't be looking to get out of the saddle any time soon. He has twice won the first two legs of the Triple Crown - in 2002 with War Emblem, who Baffert also trained, and last year with California Chrome - so we know he is more than capable of handling this challenge. He is a major asset here.
Breeding: We'll start with the dam side here because it's not a great story -- at least not for these purposes. There is plenty of speed there thanks to some decent sprinting influence but little indications of help on the stamina front. Luckily, that is more than made up for on the sire side. American Pharoah is a son of Pioneerof the Nile, who was second in the 2009 Derby for Baffert. That horse is a son of Empire Maker, who was second in the Derby to Funny Cide in 2003, but came back to end that horse's Triple Crown hopes by winning the Belmont. Empire Maker is a son of Unbridled, who won the Derby in 1990. Needless to say, we can be reasonably confident that American Pharoah has the ability to handle this race in his blood.
Want free sports betting picks? Doc's Sports has you covered - get $60 worth of picks free from any of Doc's Sports expert handicappers. Click here for free picks (new clients only).
Read more articles by Trevor Whenham