American Pharoah Picks for the Belmont Stakes with Odds and Predictions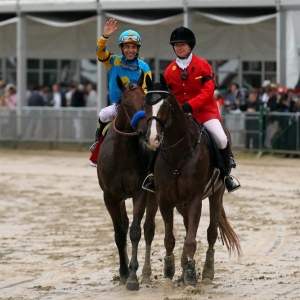 American Pharoah is making my head hurt. On one hand, he has been an incredible force on the Triple Crown trail and has looked every bit like a potential Triple Crown winner. On the other hand, so did Silver Charm. And Big Brown. And Smarty Jones. Sunday Silence and Alysheba, too. All those horses were beat - and so were eight others since Affirmed last won the Triple Crown in 1978.
So, is American Pharoah destined to the same fate as those others, or is there something about him - toughness, running style, connections, circumstances - that will give him what all those others haven't quite had? In other words, will we finally get to see history, or will souls be crushed yet again? Let's take a look:
Last race: You probably know this one. Needless to say, the Preakness win was impressive - it was by seven lengths, and he wasn't touched by the whip, so it pretty much had to be. The challenge, though, is to figure out how much it took out of him - something we won't truly know until the Belmont is over. The early fractions he was pushed to set were quite swift - especially given the monsoon that hit right before the race. He also faced a whole lot of pressure around the final turn and had to dig really deep to put them away. It was obviously within his capabilities because jockey Victor Espinosa didn't have to urge him along, but it was draining. He worked beautifully this week back at Churchill Downs, but his status is still a concern. If anything beats him in the Belmont it will be that he is coming off such a tough race and the best of his opponents are all rested - just like what derails most Triple Crown bids.
Career highlights: His career is one long highlight, really. His first race, back in August at Del mar, was a disaster. He sat off the pace early, moved forward, but weakened badly in the stretch. If you had seen that race you would never have had a clue about what you were actually witnessing. Since then he hasn't lost - all in graded stakes. Two wins at two followed by an injury then two very dominating wins at three before the Derby. Oh yeah, he also won the Kentucky Derby, the toughest race there is to win.
Jockey: A lot of outstanding jockeys don't get a chance to win the Kentucky Derby three times in their careers. Heck, many great jockeys don't even win one. Victor Espinoza, almost impossibly, is getting his third shot at riding in the Belmont with a Triple Crown on the line. He finished a non-threatening eighth with War Emblem in 2002 and a flat fourth last year with California Chrome. Now he comes in on what, to my eyes, is the best mount he has had. He knows what he is facing, and he seems more focused than ever. What stands out this year is how much he has adapted in this run. After using his whip a whole lot in the Derby to keep the horse moving forward, he didn't touch it in the Preakness. He's dialed in.
Trainer: Like Espinoza, Baffert has plenty of experience with the heartbreak of falling short. Even more than the jockey, actually. This is the fourth time in a remarkable career that Baffert is here with history on the line. Silver Charm ran a strong Belmont, Real Quiet came agonizingly close, and War Emblem was a non-factor. This may very well be his best shot - though Silver Charm would have a lot to say about that. After a few years of treading water in the middle of last decade, Baffert is training the best he ever has these days. He'll have the horse ready.
Pedigree: Sire Pioneerofthenile is a young stud, and this is obviously by far his best and most successful runner to date. He was second in the Derby himself, though, and there is no shortage of class is his bloodlines. He provides reasonable stamina. Damsire Yankee Gentleman is a surprisingly undistinguished stud who stands in Louisiana. He was an underwhelming sprinter on the track, and his biggest claim to fame is that he is a son of Storm Cat - though that great stud wasn't an overwhelming stamina producer, either. Add it all up and this isn't the best pedigree we have seen for the task of this race. He hasn't given us any reason to date to doubt his ability to get the distance, though - or at least not enough to be truly concerned.
Running style: He has wired the field in four of his six wins, including in the Preakness. My guess, though, is that he would rather, all things being equal, sit right behind the leader early on as he did in the Derby and the Arkansas Derby. There are a whole lot of horses that want to be near the lead in this race, so the versatility of American Pharoah could be very useful - he can set the pace if he needs to or let others do the work if it suits him. If he isn't right in contact with the lead when things settle in, though, then we have some reason for concern.
Belmont outlook: I have gone back and forth on this one a hundred times already - and there is still more than a week until he races. On one hand, history has shown us just how tough it is to run three times in five weeks against top competition - never mind when he is the only horse who has run the prior two legs. His last race was tough, and this distance is brutal - and his pedigree could be better suited to the task. He has been far the best of the class so far, though, and has beaten every of these horses that he has faced convincingly at least once. This is also a much tougher, deeper Belmont field than many in his position have faced. Do you go against the best horse because of history, or do you believe in what you have seen so far? All I know is two things - that I have burned by great horses in this same position too many times in the past to have a lot of faith, and that at 5/6 in the futures odds at Bovada (which is likely higher than his post time price will be), there isn't a lot of value to bet on him.
Wow! Free Belmont Stakes picks. And it could not be easier. Follow the link and sign up (no credit card required, and no salesperson ever), and you can have your free Belmont Stakes picks in minutes. Click here for the no-hassle sign up.
Read more articles by Trevor Whenham