2015 Belmont Stakes Post Positions with Expert Betting Predictions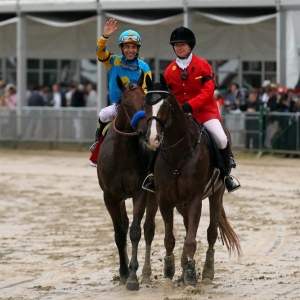 The question everyone wants answered concerning this weekend's Belmont Stakes is if American Pharoah can win the Triple Crown.
Maybe the question they should be asking is whether or not it will be good for horse racing if he does win the Triple Crown.
The 147th Belmont Stakes will take place at 6:50 p.m. on Saturday, June 6. The race will take place at Belmont Park in Elmont, New York. Television coverage of the event can be found on NBC.
American Pharoah will be the biggest story in sports on Saturday as he attempts to claim horse racing's Triple Crown of winning the Kentucky Derby, Preakness and Belmont in the same campaign. Only 11 horses in history have accomplished that feat, with the most recent being Affirmed in 1978.
Since Affirmed reached that rarified air there have been 13 horses to win the Kentucky Derby and Preakness. Those horses have gone 0-for-13 at Belmont. That includes last year's heavy Belmont favorite, California Chrome, and 2012 surprise Derby-Preakness double winner I'll Have Another.
American Pharoah was dominant down the stretch in Churchill Downs and Pimlico, and the mount is currently a 3-to-5 favorite in Elmont. Some handicappers and experts expect the horse to be listed as high as a 1-to-4 favorite by post time.
Wednesday was the post position draw, and American Pharoah drew a favorable starting position at Post 5. This comes after the mount had to overcome two awful draws at the Derby (Post 18) and Preakness (1). He was one of only a handful of horses to win the Derby from that wide and one of the only horses in the last 30 years to win the Preakness from the dreaded rail.
Frosted (5-to-1) and Materiality (6-to-1) are believed to be American Pharoah's primary competitors on Saturday. However, AP already bested both, convincingly, at Churchill Downs.
Preakness runner-up Tale of Verve (15-to-1) is another long shot.
The weather for Saturday's race should not be a factor. There is no more than a 20 percent chance of rain in Elmont on Friday or Saturday, so there should be a dry track for the Belmont.
As always, there is great anticipation for the first Triple Crown winner in nearly four decades. However, I still am unsure if a Triple Crown horse would actually be good for bad for the sport of horse racing. Merely the opportunity and potential for a Triple Crown horse brings enormous attention to this otherwise niche sport. Everyone wants to see that first Triple Crown horse come through. But I wonder if, after the novelty and excitement wear off, having a recent Triple Crown winner will actually reduce interest in subsequent years.
As a fan I would love to be alive for the next Triple Crown winner. But we live in a bizarre culture. And the idea of "been there, done that, what's next" is pervasive. The long-held and oft-espoused position of bobblehead media members - people who pay zero attention to horse racing except when it becomes a big story, then suddenly become experts on the sport - is that horse racing NEEDS a Triple Crown winner to become relevant again. But that's ridiculous. Horse racing is never going to be anything but a fringe sport. Its halcyon days are long past. And I think that if there is a Triple Crown winner then people will be less interested in future attempts, which could hurt the viewership of the races as well as the betting handle.
The rarer something is the more valuable it is; the chase is the thing. And a recent winner could dilute attention toward future quests.
But horses have no sense of history. Just speed. And there is no doubt that American Pharoah will be an overwhelming, and justifiable, favorite on Saturday.
Here is a look at the Belmont post draw, with the horses' odds of winning in parentheses:
Post 1 - Mubtaahij (10-to-1)
Post 2 - Tale of Verve (15-to-1)
Post 3 - Madefromlucky (12-to-1)
Post 4 - Frammento (30-to-1)
Post 5 - American Pharoah (3-to-5)
Post 6 - Frosted (5-to-1)
Post 7 - Keen Ice (20-to-1)
Post 8 - Materiality (6-to-1)
According to the Belmont Stakes website, here is the number of winners from each post over the last 90 years:
Post 1 - 23
Post 2 - 11
Post 3 - 13
Post 4 - 9
Post 5 - 13
Post 6 - 7
Post 7 - 11
Post 8 - 5
Post 9 - 3
Post 10 - 2
Post 11 - 2
Wow! Free Belmont Stakes picks from Robert Ferringo. And it could not be easier. Follow the link and sign up (no credit card required, and no salesperson ever), and you can have your free Belmont Stakes picks in minutes (picks released on Friday). Click here for the no-hassle sign up.
Read more articles by Robert Ferringo