College Basketball Betting: Weekly Schedule Spot Fade Picks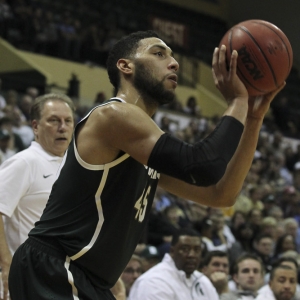 The college basketball season is almost three weeks old. Kentucky is back on top for the time being after North Carolina slipped up at Northern Iowa, but this is a long season and nothing will be decided for quite some time.
Doc's Sports is bringing back the Weekly Schedule Spot Fade Picks article for this season once again. Last season was the first for this article. In the small sample size, last season's results weren't very good. Still, there is no doubt that looking closely at the schedule and looking for teams to fade is a very good strategy in college basketball.
For this article, I'll be looking at schedule spots that could be bad ones for teams throughout the course of the season and then recommending plays based on those spots. We'll track the results throughout the course of the season. For games that don't have a line at the time each article is written, the Bookmaker opening line will be used for grading purposes.
Why didn't we start the article earlier in the season than this? There aren't many bad scheduling spots early in the season. As the season moves along, we'll be able to find more spots that are difficult.
Let's get things started with this season's first edition of this college basketball betting article.
Play #1- Play on Michigan State -5.5 (Fade Louisville) on Wednesday, December 2
The Louisville Cardinals have crushed everyone they have played so far this year, but they haven't really played anyone. Their best win is either their win over North Florida or St. Louis, and that isn't saying much. Louisville hasn't played a road game yet this year, but that changes Wednesday when they travel to East Lansing to take on the Michigan State Spartans. The Spartans have been as impressive as any team in the country so far this year. Louisville ranks first in the nation in offensive rebounding percentage, and Michigan State ranks first in the nation in defensive rebounding percentage. This is a tough first road game for the Cardinals, and I'll side with Michigan State -5.5.
Play #2- Play on UCSB (Fade USC) on Thursday, December 3
The UCSB Gauchos have a veteran roster, and they have played a really tough schedule thus far. UCSB should have beaten Arizona State on the road earlier this week. In fact, Arizona State was down 68-63 with 1:30 left in the game before winning 70-68. UCSB now gets a chance to rebound with a home game against USC.
Why is this a bad spot for USC? There are a couple key reasons. First, the Trojans just played a tournament in Florida this past weekend, and that's a really long trip for them. USC is obviously not accustomed to making long trips like that, and that one was over the Thanksgiving holiday. Second, this is the Trojans first road game of the year. This is one of the youngest teams in the country, and that makes the first road game particularly troublesome.USC has a good backcourt, but UCSB is strong in the backcourt, and I see the Gauchos covering the number. I'll take UCSB.
Play #3- Play on Valparaiso (Fade Belmont) on Thursday, December 3
The Belmont Bruins are a quality basketball team. Belmont is in a tricky scheduling spot here, though. The Bruins made a very long trip to BYU this past Saturday. They then came home to play Lipscomb on Tuesday night before travelling to Indiana to take on Valparaiso on Thursday night. This is their second game in three days, and that is right after playing in altitude against a very good BYU team.
On the other side, Valparaiso picked up a nice road win at Oregon State last week before getting stunned by Ball State on Saturday. The Crusaders were clearly overlooking Ball State, and they paid the price. They won't overlook Belmont in this game. Bryce Drew is a good coach, and Valparaiso is a really good mid-major team. You can expect the Crusaders to come with tremendous focus in this contest. They have a great rim protector in Vashil Fernandez, and that should hurt Belmont's shooting percentage in this game. The Crusaders are in a great spot to bounce back from their disappointing loss last time out.
Play #4- Play on UTEP (Fade UT Arlington) on Saturday, December 5
The UT Arlington Mavericks have had a great season thus far. UT Arlington plays in the Sun Belt Conference, and they were picked to finish in the middle of the pack in the Sun Belt. No one expected to go on the road and beat both Ohio State and Memphis. Still, this team should be completely gassed by the time Saturday rolls around and they have to play at UTEP.
This will be UT Arlington's fourth game in seven days. The Mavericks won Sunday at Rice before falling in overtime at Texas on Tuesday night. That overtime loss to Texas by itself has to be very draining for the Mavericks. UT Arlington comes home to play North Texas on Thursday night. Finally, they go to UTEP to play a good Miners team on Saturday.
UTEP beat a quality Colorado State team this past weekend, and I think Tim Floyd's team could sneak up on some people this year. I'll fade a weary UT Arlington team and back UTEP in this matchup.
Schedule Spot Fade Plays Season Record- 0 Wins 0 Losses
Doc's Sports Advisory Board has set some lofty standards worldwide for college basketball handicapping. They normally do their best work at the beginning of the season. Click here for $60 worth of free college basketball picks. No credit card needed, and you will never deal with a salesman. Also, find out more about Doc's Sports Advisory Board college basketball results here. And find out a loophole that Doc's Sports has exploited that the oddsmakers don't want you to know about by clicking here.
Read more articles by Aaron Smith
---
Most Recent College Basketball Handicapping