College Basketball National Championship Contenders: the Sucker Bets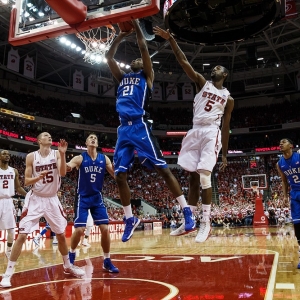 Sometimes the best bets are the ones you don't make. And when it comes to making predictions on who will win the college basketball championship, the first step is figuring out who ISN'T going to cut down the nets.
Two years ago I nailed a 100-to-1 long shot to win the National Championship, predicting that Connecticut would win it all almost 12 months before they eventually cut down the nets. What did I do for an encore? Well, not much.
I had Duke on my list of 2014's worst college basketball National Championship futures bets. I was about 10 minutes from being let off the hook in that one. But at the end of the day the Blue Devils beat Wisconsin, clowned me, and cashed a 10-to-1 ticket for some lucky squares all in one fell swoop.
My other sucker bet predictions heading into last season were pretty much dead-on. Florida and Michigan didn't even make the NCAA Tournament. North Carolina finished fifth in the ACC and was a non-factor. Arizona was an excellent team. But they came up small in the postseason again and didn't survive the Elite Eight.
This year I have two repeat teams on my list of sucker bets to win the National Championship. I didn't go past 25-to-1 odds to weed teams out or dispel the hype around any of the big programs like Louisville, which could be in danger of not making the NCAA Tournament this year. But instead I tried to keep the focus on the teams expected to win a title that I think are pure sucker bets.
Here are the worst futures bets to win the 2016 college basketball National Championship.
Duke (+850) - Only two teams in the last 40 years have won back-to-back National Championships. One was the 1991-92 Duke team and the other was the 2006-07 Florida squad. These Blue Devils are not even close to that class. Both of those dynasty teams brought back virtually everyone from the previous season. This Duke club lost its top four scorers from last season, and their top returner is Amile Jefferson at 6.1 points per game. We're not going to see back-to-back champions again for a long, long time because it is a different sport and the top-tier players just don't stick around. The Blue Devils brought in another banner recruiting class stocked with future NBA players. But there are simply too many in-season variables - chemistry between new players, injuries, tournament draw - that I think it's overly optimistic to think the Blue Devils can run the table in March again.
North Carolina (+1000) - I literally laughed out loud when I saw that North Carolina was announced as the preseason No. 1 team in the country. There's no way in hell that North Carolina is the best team in the country. They honestly might not be one of the 10 best teams in the country. These guys aren't winning anything. This group of Tar Heels hasn't done anything over the last two years to make me think they have championship pedigree. They have no heart, they don't defend when it matters, and they don't have enough consistent outside shooting to win six games in March. Marcus Paige is hurt again, because of course he is. Don't get me wrong: these guys can play and have a lot of natural talent. But they are gutless and don't have the stones to win anything, much less a national title. This is the No. 1 sucker bet right now.
Virginia (+1200) - I promise that I'm not some anti-ACC guy. Far from it. I just can't help the fact that the three top ACC teams are three of the most overrated teams in the nation. All three of them are capable, Top 10-caliber teams. But none of them have the goods to win a national title. That includes Virginia. They didn't survive the opening weekend last year and have been bounced by Michigan State each of the last two tournaments. I thought the Cavaliers overachieved last season, and I don't think that this year's team is better than the 2013-14 version. You need at least a couple NBA-caliber players to win a title these days. And Virginia just doesn't have that top-end talent, outside of Malcolm Brogdon. I think a Final Four would be a major accomplishment for this group. But they're not winning it all. No way.
Gonzaga (+2500) - In order to win the National Championship you actually need to make the Final Four! The Bulldogs made it to the Elite Eight last year for just the second time since they burst on the scene in 1999. They still haven't gotten over the hump and made it to the national semifinals, and they won't do it this year. Gonzaga boasts one of the best frontcourts in the country. But they graduated their three best guards and have nothing in the backcourt. Even if Few can tap into Eric McClellan's potential, the Zags are still short about three quality guards. Kyle Wiltjer is one of the most overrated players in the country - he is an out-of-control gunner and anyone that thinks he will be the national player of the year is an idiot - and I don't think Gonzaga is one of the 10 best teams in the nation heading into the season.
Villanova (+2500) - The Wildcats were one of the best and most undervalued teams in the country over the past two seasons. They were a No. 1 seed in last year's tournament and No. 2 seed two years ago. But they didn't make the Sweet 16 either season, and now they enter this campaign without their two best players and three starters off last year's squad. The Wildcats added highly-touted freshman Jalen Brunson. But he can't compensate from the production they lost to graduation. This is still a quality team. But the Wildcats probably aren't even the best team in the Big East this year. They'll be a mid-seed team this year, and I expect their odds to be double this much by the time The Dance begins.
Robert Ferringo is a member of the Basketball Writer's Association of America and a professional sports handicapper for Doc's Sports. He is considered one of the best college basketball handicappers in the country and has an unmatched streak of nine straight winning nonconference seasons and nine straight winning regular seasons. Robert's $100-per-Unit clients have banked $12,130 in profit with his sides and totals the last two years alone and he has raked in a remarkable $60,600 in the last nine years with his nonconference picks (November and December) alone. There is no better moneymaker in the nation and Robert is looking forward to another amazing season.
Read more articles by Robert Ferringo
---
Most Recent College Basketball Handicapping