College Basketball Odds and Analysis: Saturday Preview
by Robert Ferringo - 2/6/2015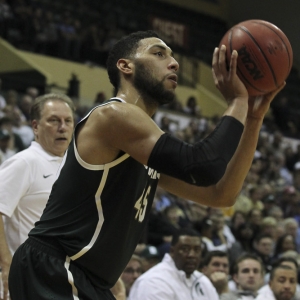 Another football season is in the books. Which means that all of the gamblers that have spent their last six months obsessing about our nation's true national past time are now ready to turn their attention to the hardwood. Most of these All Of A Sudden Experts are lambs to the slaughter, and the sportsbooks bank on February being a time of the year to boost its bottom line and win back any stray football dollars that it lost this fall.
But we are too smart to fall into the books' trap. And even though college basketball has more teams and more moving parts than any other sport on the gambling calendar, that doesn't mean that it is unbeatable. Just the opposite. One of the most appealing things about betting on college basketball is precisely the fact that the volume of teams and games produce more potential situations to score.
One of the keys to being a strong college basketball bettor is being able to look past the marquee gams and find value, and import, in games that are lurking beneath the surface. Sure, both the Duke-Notre Dame and Louisville-Virginia games on Saturday will garner most of the headlines and the biggest handles. But those are not the only games of consequence on this weekend's card.
Below is a list of games that won't get a lot of national attention but are matchups that I will be watching closely. Whether they may decide mid-major conferences or they will have an impact on the second tier of major leagues, these are games featuring interesting teams or storylines that I think bear watching:
Illinois (+9.5) at Michigan State (Noon, Saturday, Feb. 7)
Michigan State could scam their way into a tie for second place with what should be a relatively easy home win here. I say that the Spartans are scamming because they have played the easiest league schedule in the Big Ten to this point. The only prospective NCAA Tournament teams I have them beating so far this season - for the whole season - are Iowa and Indiana. The Spartans are rebuilding, but no one has noticed.
Illinois is nothing but wasted talent. Yes they are without two of their top guards, Ray Rice and Aaron Cosby. But Jim Groce has been baffling me with his substitution patterns and isn't getting much out of the talent he has. He finally seems committed to the youth movement, playing Jaylon Tate, Malcolm Hill, Kendrick Nunn and Leron Black together. And since he's gone to the kids the Illini have won two in a row. We'll see how they hold up in one of the toughest venues in the Big Ten.
Illinois has gone 7-1 ATS in the last eight meetings, and the underdog is 8-2 ATS in the last 10. But Illinois is 1-7 ATS in the last eight road games.
Providence (+7.5) at Xavier (1 p.m., Saturday, Feb. 7)
Providence just finished a season sweep of Georgetown on Wednesday with an outright win down in D.C. Now they will try to make it back-to-back road victories - and back-to-back sweeps - by taking down Xavier for the second time this season. The X-Men are fading fast and desperately need something good to happen to them. They are just 6-7 in their last 13 games and just 3-5 in their last eight. They've been very good at home, winning all but two of their 12 home games by double-digits this year, and this game could be make-or-break for their tournament chances.
The most underrated star in college hoops, LaDontae Henton, leads Providence. The Friars don't use much of a bench, and they lean on their veteran core for most of the work. Providence has gone 7-2 ATS this year as an underdog with six outright wins. But how will these guys fare in a quick turnaround after a big win?
Harvard (+2) at Yale (7 p.m., Saturday, Feb. 7)
It's a big game in the Ivy League! Harvard was the runaway preseason favorite to enter the year. But they have been somewhat of a disappointment and put themselves behind the eight ball with a stunning early-season loss to Dartmouth. Yale is a perfect 4-0 to start league play, and it should be noted that the Ivy League regular-season champion advances to the NCAA Tournament without benefit of a conference tourney.
Yale beat Connecticut this year, and they gave Providence and Vanderbilt scares. They could take a commanding two-game lead in the standings with a win here that would essentially be worth three losses. If Harvard wins this one then they are tied with Yale, and they host the return game on March 6 in what could be a de facto championship game.
Yale actually won at Harvard last year in a huge upset (12-point underdog). The road team has won three straight and four of six in this series but the teams are a perfect 5-5 ATS in the last 10 meetings.
UL-Monroe (+7) at Georgia Southern (7:30 p.m., Saturday, Feb. 7)
This is a very much under-the-radar matchup, but it features the No. 1 (Georgia Southern) and No. 2 (UL-Monroe) teams in the Sun Belt. Why should that matter to you? Because these two teams have also been two of the best bets in the country this season, with Georgia Southern posting an amazing 12-1 ATS mark while Monroe has 8-3 ATS over the last month.
Southern won the first meeting, 57-52, back on Jan. 24. But they are in a killer letdown spot here. Georgia Southern just used a big second-half comeback to shoot down the preseason league favorite - and in-state rival - Georgia State in an emotionally draining win on Thursday. Now they have to turn around and take down a revenge-minded UL-M team for the second time. Can Southern keep its incredible ATS streak going?
UCLA (-3) at California (8 p.m., Saturday, Feb. 7)
These are two surging teams in the Pac-12 right now. Both are fighting to boost their NCAA Tournament resumes, and one of these teams is going to leave Berkeley with a four-game winning streak. The Golden Bears are 0-5 ATS in their last five home games, and UCLA is 2-8 ATS in its last 10 road games, so something has to give. (The home team has won eight of 10 in this series.)
UCLA just knocked off Stanford, and things have finally started to click for Steve Alford's young squad. They held on for dear life and nearly blew a double-digit lead in that game, but the Bruins are 6-2 in their last eight games. Cal is finally healthy since getting Jabari Bird back, and they too almost blew a huge lead against USC, needing a last-second shot to snatch victory in a game they controlled for 35 of 40 minutes.
SMU (+2) at Tulsa (8 p.m., Saturday, Feb. 7)
I felt that the selection committee for last year's NCAA Tournament snubbed SMU. But if the Mustangs don't start picking up some wins of value - not knocking off AAC bottom-feeders - then they will get left out in the cold yet again. SMU is coming off a tough eight-point home loss to Cincinnati on Thursday, and they won't be ranked come Monday. That loss snapped an eight-game winning streak and a 16-1 run since Thanksgiving.
Tulsa has quietly become the dominant team in the American. They are a perfect 10-0 to start league play and have won 12 straight games going back to mid-December. Tulsa owned Conference USA last year, and in their first season in the AAC they appear to be doing the same. The Golden Hurricanes have two outstanding guards in Shaq Harrison and James Woodard, compared to SMU's total reliance on underrated Nic Moore. Personnel losses are starting to catch up with SMU, and they haven't proven that they can get a clutch road win just yet.
Other key games on my radar:
Buffalo (+2.5) at Akron (7 p.m., Saturday, Feb. 7)
Purdue (+5) at Minnesota (3 p.m., Saturday, Feb. 7)
Western Michigan (+7) at Central Michigan (2 p.m., Saturday, Feb. 7)
Temple (+2) at Memphis (1 p.m., Saturday, Feb. 7)
Doc's Sports has a great offer for new clients. You can get $60 worth of picks from any Advisory Board handicapper for any sport he handicaps. All with no obligation and no credit card needed. Claim your free picks today .
Read more articles by Robert Ferringo
---
Most Recent College Basketball Handicapping