2015 Kentucky Derby Handicapping: Experience and the Curse of Apollo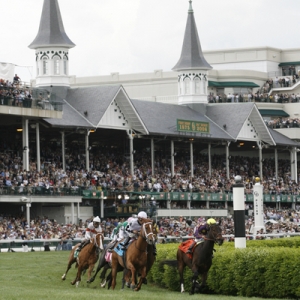 If you have been following the Kentucky Derby for any amount of time then you have probably heard of the Curse of Apollo. To put it simply, this is as airtight a trend as you will ever see in sports of any kind. Apollo was a presumably great race horse, though one far before my time - and I can't exactly check him out on YouTube. He won the Kentucky Derby way back in 1882. Aside from the win, what was notable was that he had never run as a two year old before winning the Derby, as all horses do, as a three year old. So, why a curse? Well, 133 long years have passed since that win, and not a single other horse has since won the Derby without a start as a two year old. Not one. Name another streak of 133 years in sports you watch - I dare you.
We're not talking about a tiny sample size here, either. In the last 59 years we have seen 49 horses attempt to break the curse. The pace hasn't let up recently, either - there have been 19 in the last 23 years. Last year we were on pace to have two, but Hoppertunity was injured in the days before the race and Bayern gave up on earning a spot. Of note, Bayern went on to win the Breeders' Cup Classic, so it's not that these horses can't run at all. It's just that, for several reasons we will touch on soon, they are typically not ready to run their best on the first Saturday in May.
Some horses have come close, so you can't use the Curse to rule horses entirely out of your exotics betting. Bodemeister was second in 2012 as was Strodes Creek in 1994. Curlin was third in 2007, too. The great Curlin is a particularly interesting case because he came back just two weeks later and won the Preakness. The Preakness, though, is a much easier race to win than the Derby - fewer horses, the field is either tired Derby horses or horses that weren't good enough to be in the Derby for the most part, a shorter race, and so on.
Before we go on, we should clarify something - all thoroughbreds celebrate their birthday on Jan. 1 regardless of when they were actually born (as an aside, that's why it is almost impossible to get into a thoroughbred breeding farm in the week or two before the new year. Shady breeders will be very silent about foals born in late December, unveiling them in early January - even though they look two weeks older than they allegedly are). That means that what we are looking at is horses that haven't run before the calendar year of their birthday.
There is one horse this year that should fear the Curse of Apollo. It's no surprise at all that it is a Todd Pletcher horse - the trainer is frustratingly consistent when it comes to bring horses to the Derby with too little seasoning. Materiality, the Florida Derby winner, made his debut on Jan. 11. Not coincidentally, he is also the least-experienced runner in the field with just three career starts. Two others come close. Itsaknockout made his bow on Dec. 7 and Tencendur on the 12th. Fusaichi Pegasus won the Derby in 2000 after starting for the first time the previous Dec. 11, though, so their position isn't quite as concerning.
So, why is this trend so strong? There are countless factors, but there are three that stand out above all others:
Adversity
Unless you are California Chrome and you get a laughably easy trip in the Derby, the factor that matters more than all others for Derby winners is how they deal with adversity. The race is crazy - a too-big field, all jockeys being far more reckless than usual because the race matters so much, a totally overwhelming, insane, drunken crowd, a race that is longer than they have ever run and longer than most are truly capable of at this point, and so on. Horses will get bumped, pushed, challenged, and generally find themselves in tough spots. The tendency for common horses when adversity strikes is to quit. Great ones just dig in and give more. The less a horse has raced, the lower the chance that they have faced real adversity - or that they have faced multiple kinds in multiple situations - so the less likely that they will be ready to overcome the test of the Derby. A horse that doesn't start until January is going to be at least a start or two behind other horses, so the depth of their learning will be lacking.
Conditioning
It might not sound like a mile and a quarter is very long or that it's much tougher than the mile and an eighth that most of these horses have run already. When these horses are running full out, though, the difference in distance is significant. I've heard it compared to human sprinters - ask a 100m specialist to run 250m at top speed for the first time and see how it affects them. Conditioning for such a test takes a long time to build, and it can be more effectively built through racing than through training. If a horse got a late start to his career then he hasn't had the depth of conditioning to draw on and, all other things being equal, may not be quite as up for the challenge of the distance as other runners.
Why did he have to wait?
Owning a thoroughbred is very expensive, and owners with horses of this caliber are excited to see what they have. There are also some very big-money, prestigious races for two year olds - and big showings in those can increase the value of a horse dramatically. If a horse is ready to run as a two year old, then, they are all but certain to run. So, if a horse is delayed there is a reason for it. Maybe he was immature. Or he was hurt. Was there a problem with him in training? Or was he just not good enough? No matter what the reason, they are almost all reason to be concerned.
Get free picks from any Doc's Sports handicapper - there is no obligation for this offer and no credit card required. Just sign up for an account, and you can use the $60 in free picks for any Doc's Sports Advisory Board handicapper and any sport. Click here to get started now.
Read more articles by Trevor Whenham