NBA Handicapping: Teams that Improved at the Trade Deadline
by Trevor Whenham - 2/22/2015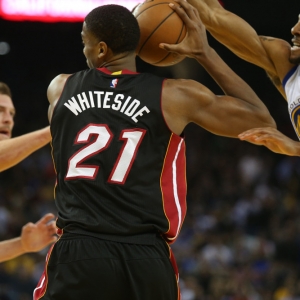 That was an absolutely brilliant NBA trade deadline from a fan perspective. As entertaining as it could possibly be. The fireworks started early, and they didn't let up until the last possible second. There were huge deals galore, a lot of teams that improved dramatically, and some that just made bizarre decisions.
Here's a look at four teams that are better now - or in the long term - than they were before Wednesday's trade fury. I should note first, though, that while Portland isn't on here they could easily have been. They maintained their core, upgraded with Arron Afflalo, and made themselves stronger heading into the playoffs. Good day. Just not quite as interesting as these four:
Miami Heat: The prospects have obviously dimmed since the trade deadline with the unfortunate news that Chris Bosh will be lost for the season with a blood clot. Aside from that, though, it was a good trade deadline. A very good one. They landed the prize of the deadline when Goran Dragic came their way. He finishes incredibly well and just plain makes this team better. What is remarkable, though, is that they didn't have to give up a starter to get him. Norris Cole and Shawne Williams won't be missed. Dragic is a perfect match for the Miami system, and the team gets dramatically better by adding the best point guard that they have maybe ever had. The Bosh situation requires a bit more patience on this deal, but even without him they are a much better team than they were before.
Oklahoma City Thunder: I was all set to talk about the reasons I didn't like the Brook Lopez deal, but then they not only didn't pull the trigger but made much better deals instead. Reggie Jackson is a fine player, but he's not as good as he thinks he is, and he had become a problem in Oklahoma City. Kendrick Perkins is better this year than last year, but that isn't exactly hard, and he is still far from a positive. They are potentially better just by being done with both of them. They not only got rid of them, but they added pieces as good or better in return. Enes Kanter has big upside and will be much-improved just by playing for a competent team in a system that better suits him. D.J. Augustin is a backup point guard I like at least as much as Jackson - especially because he doesn't carry the same baggage. They also added some nice bench depth. This is a team that got much better immediately - and that's a nightmare for the other teams fighting for the last playoff spots in the West.
Philadelphia 76ers: I've covered this in a bigger article this week, but the simple fact is that, in the context of what they are trying to do, the Sixers had a brilliant trading deadline. They are interested in only one thing - building a great team down the road stocked with superstars. Michael Carter-Williams, who can't shoot and is not adequate defensively - was not going to be a superstar in their eyes. They drafted him at 11th in a weak draft in 2013 and traded him for a pick that could be as high as sixth this year or fourth in 2016. It's an improvement in the long term, and in the short term they get rid of a player who was making them better and now improve their draft lottery chances. Then they totally fleeced the Nuggets, getting a first-round pick for taking on a bloated Javale McGee contract that really costs them nothing because they were below the salary floor anyway. On the surface this was a bad short-term deal because they certainly aren't more competitive now - and that's all that the betting public is focusing on. The team has a much better chance at being great down the road than they did have, though, and that's what they care about. People are so negative about this team and their approach right now that there is a good chance that they will improve down the road faster than people are willing to acknowledge - and that could lead to big rewards for bettors who understand what they are trying to do.
Boston Celtics: This is another deal, like the Philadelphia one, that looked much better upon reflection than when it first happened. When I first heard that they had picked up Isaiah Thomas I was mystified - they have Marcus Smart, and at the very least he hasn't yet proved that he isn't capable. I realized, though, that I had to get past the idea of labeling positions. The fact is that Thomas is ideally suited for playing in the style of system that Brad Stevens likes, and there is no reason at all that he and Smart can't co-exist very successfully in a backcourt. They are better on the court. Then you have to look at the fact that they didn't give up anything significant - a trade exception, a couple of low picks, and Tayshaun Prince. And they added Jonas Jerebko, who has value as a rotation player. Quietly understated brilliance - that's what the trade deadline was for this team.
Read more articles by Trevor Whenham