2016 Belmont Stakes Handicapping: the Pace Scenario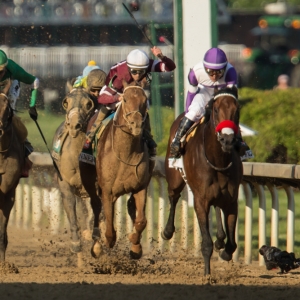 The pace scenario is always the most important thing that handicappers need to come to terms with heading into the Belmont Stakes. From a pace scenario the 2016 Belmont is absolutely fascinating. Bizarre and fascinating. We will spend a lot of time between now and post time trying to figure out what will happen, and there is a good chance that what happens will be something entirely different. To try to get a grasp on what could happen, and what it means for the big players in the race, we need to look back at history and what we know about this race.
Early speed
Everything became different here with one change. As the field sat as recently as a week before the race there was no clear early speed in this race. In other words, there wasn't a horse in this field that prefers to have the lead early in races. Someone has to lead early, though, so we are going to see a horse leading that isn't used to doing so. There was quite a bit of speculation about different horses that could do so - one of the Pletcher duo of Destin or Stradivari could move forward to lead; Dale Romans has suggested that one of his duo of closers, Brody's Cause or Cherry Wine, could lead if no one else will or that one of the true long shots like Trojan Nation could figure they have nothing to lose and look to lead it out or that Governor Malibu could move forward from his typical mid-pack spot.
The problem, though, is that being on the lead isn't where horses want to be in the Belmont. In the last 22 years only two horses have wired the race. The most recent was American Pharoah last year, but he is such a freak of a super-horse with no one nearly his peer this year that we can't draw any meaning from that. The other is Da' Tara, a massive long shot who somehow was allowed to take the lead and kept it throughout in one of the strangest and most generally awful editions of the race ever.
As a general rule, though, the horses that lead early aren't the ones that lead late. The biggest reason is because of the distance of the race. You need to go much slower over the first three quarters of a mile or more than you normally would in a shorter race in order to have anything left for the stretch drive. If a horse takes the lead and sets fractions that would feel comfortable on a normal day they will hit a wall hard here.
It is a rare horse that has the talent - or the dumb luck in the case of Da' Tara - to judge the pace well enough to stay comfortable, and still have what they need left.
That all changed, though, with the entry of Gettysburg. He's a rabbit. He will be given very little chance of winning the race himself. His job will simply be to set a strong early pace to set things up for the closers. It is not a coincidence that his owners also own Creator and own the breeding rights of Exaggerator. It would be an earth-shaking shock if Gettysburg doesn't lead the first half of this race - at least.
The closers
It's really kind of silly how many closers there are in this field. Brody's Cause, Cherry Wine, Exaggerator, Lani, Suddenbreakingnews and Trojan Nation have all more than once tried to close from well back early on. Several of those runners have done it every time out.
There are two problems for these horses in this race. First, closers need a strong early pace to close on. In a typical race they look to sit back and let the front-runners do the work. If and when those horses go too fast and get tired, the closers, who have been resting - at least relatively - in the back can unleash their one kick, burn their excess energy, and hope to find their way to the front past tiring horses. If the horses up front aren't working too hard then it is tougher for the closers to pass them.
That's less of a concern now because of Gettysburg, but it won't help if the horses behind Gettysburg like Stradivari and Destin don't stick with the early pace.
The second problem for closers here is that closing just doesn't work in this race. Not traditional closing. The race is so long, and the stretch is endless, so horses that look to unleash their move in the final third of the race or the final quarter mile like the normally might just don't get it done. The closers that have done well in this race have had to adjust and adapt, making their move entering the second turn so that they are contending much earlier than they normally would. It takes a talent and somewhat flexible horse to do that - good news for Exaggerator, and less good news for some of the others.
Closers can win, but only closers who can accept that what they normally do won't work here.
Mid-pack
The middle of the pack is made up of the pressers - those who like to be close to the leaders early but not in front - and the stalkers - those who like to be between the pressers and the closers and generally closer to the former. These groups are where the majority of winners come from in this race.
What is going to be interesting is to see who is going to be in this section. There isn't likely to be an aggressive early pace to chase, so there is a decent chance that there will be more horses mid-pack than you would normally expect. Destin, Stradivari, Wild About Deb and Governor Malibu will likely all be here if they aren't forced to lead. I expect that several of the closers will also look to be much further forward than normal, counting on the lack of early speed to determine an early pace that will save them some gas in the tank for the stretch.
Exaggerator is the most obvious horse that could be more forward-placed than usual, but he won't be alone. In a shorter race I would expect this field to look like a lollipop - a shortage of horses up front, and a massive group at the back just waiting. In this race I expect that big group to migrate to the middle of the field.
That means that a large number of horses in this race will be doing things they aren't used to. The horses that can handle the change best are the ones who will come out on top. So, ability to overcome adversity should be a major priority in our handicapping.
Wow! Free Belmont Stakes picks. And it could not be easier. Follow the link and sign up (no credit card required, and no salesperson ever), and you can have your free Belmont Stakes picks in minutes. Click here for the no-hassle sign up.
Read more articles by Trevor Whenham