College Basketball Betting and Handicapping: Teams that Could Quit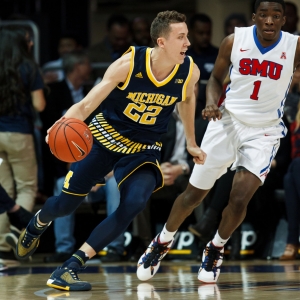 We are in a very interesting portion of the college basketball season. Every game matters as much as it possibly can right now, but fans and teams can't help but start to look forward to the conference tournaments and the NCAA Tournament as they finish off their season. With so much on the line it can be easy for teams to take the eyes off the prize down the stretch in the final games of the regular season. Whether they have little left to play for or everything, teams can often quit on themselves in the final games of the regular season. The motivations for the lack of effort can differ by circumstances, but one thing is constant - bettors who can identify these teams have a shot at some real value.
Here are four teams in different situations that don't inspire me with a lot of confidence in the rest of their regular-season games:
Michigan: Just a couple of years removed from two deep tournament runs - a finals appearance followed by a trip to the Elite Eight - this team is not where fans want them to be. They have seen no recruiting bump at all, and after missing the tournament entirely last year they are poised perilously on the bubble this year. Fans are not pleased and are starting to lose patience. They likely need a win in their final two games against Wisconsin and Iowa to make the dance, and that is far from certain. Again on Wednesday night they made beating a bad team, Northwestern in this case, at home look much tougher than it should be. They have not had consistent play from anyone, their big men are mostly outclassed, their defense is abysmal, and their best player, Caris levert, has only played a few minutes since Christmas and could be out for the rest of the year. It's been a very rough year despite their 20 wins. Over the last several games they have looked weary, and it seems quite possible that they could be overwhelmed by what faces them the rest of the way - their last two games and the Big Ten Tournament. I don't trust them heading into their next game at Wisconsin, and if they lose that one then they could really implode the rest of the way.
Memphis: The Tigers have four games remaining in a season that has been painful. They are just 15-12 and have lost seven of their last 10. On Thursday night they play SMU at home in a game that doesn't set up well for them - they lost to the Mustangs by 12 at the end of January. If they lose that one then they finish with a home game against Tulsa that absolutely no one will care about, then two road games against Temple and East Carolina. Those games will likely be totally meaningless, and the team has lost seven of their last eight on the road. The Tigers seem perfectly poised to completely underwhelm the rest of the way.
Texas A&M: On Jan. 23 the Aggies were 17-2 and were ranked fifth in the country. They looked like a team firmly in control of the SEC. But then they lost four of five and the bottom fell out of their season. They have slowed down the crumble by winning three in a row, though needing overtime to beat Kentucky at home last weekend was not as positive a result as we might have hoped. The team is still in fine tournament shape and has three manageable games remaining before the SEC Tournament. The last month has proven that they are unquestionably fragile, though, and despite the recent success it would only take one misstep to send the team into another spiral. They don't have the confidence they should, and it could come back to haunt them if they hit a hard spot.
Duke: The last couple of weeks show why this is such a tough team to judge. They have the most efficient offense in the country. They can win big games - they have beaten Louisville and Virginia at home and North Carolina on the road in the last two weeks. Despite all that, though, this is not your typical Duke team - not the kind we have become used to. They dropped four of five in January and looked flat in losing at Louisville last time out. They could easily win out but could just as easily find themselves stumbling and unable to get all on the same page again down the stretch. This is obviously a very talented and efficient team, but they don't seem convinced that they are entirely on the right path - at least not consistently. It feels like confidence could be fleeting, and this team could very easily give up on themselves in their remaining games. I'm especially concerned because the schedule lightens up for three games after a brutal stretch, and it would be very easy for them to let up.
Read more articles by Trevor Whenham
---
Most Recent College Basketball Handicapping