College Basketball Betting: Weekly Big East Handicapping Report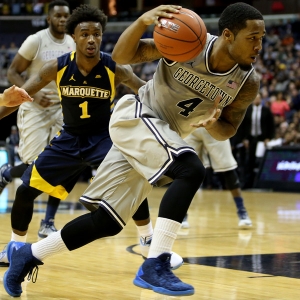 The big game on this week's Big East slate was a Tuesday night showdown between the No. 18 Butler Bulldogs and the No. 16 Providence Friars. The Friars prevailed 71-68 in a game that closed as a "pick'em" with 5Dimes to get back on track after losing to the Seton Hall Pirates 81-72 last Saturday as six-point home favorites.
The most shocking upset so far this week was Georgetown's 81-72 road victory over No. 5 Xavier as a 10-point underdog on Tuesday night as well. That loss should shake things up in the conference standings as well as in next week's AP Top 25 poll. The No. 4 Villanova Wildcats remain the top-ranked team in the Big East with a tough road game against the Friars coming up this Saturday.
The following is the rest of this week's Big East betting report with a closer look at my top team to go with right now as well as a team that you might want go against its next time out. I will also give you my free Big East Top Play of the Week.
Big East Best Bet
Georgetown was one of my top teams to go against earlier in the season with a 1-5 record against the spread in its final six nonconference games, but with Tuesday's big upset, it is now a profitable 6-1 ATS through its first seven Big East matchups. The Hoyas are 5-2 straight up in conference play with losses to the Creighton Bluejays on the road and Villanova at home as underdogs, but the only game they failed to cover in was the 79-66 loss to the Bluejays as three-point underdogs.
The dramatic turnaround over the past few weeks can be attributed to the elevated play of D'Vauntes Smith-Rivera, who has now scored at least 15 points in all seven Big East games. He pumped in 20 points in the win against Xavier, but the big story in that game was Tre Campbell's career-high 21 points while shooting 5-for-7 from 3-point range. Next up for Georgetown is Saturday's nonconference tilt against former Big East rival Connecticut.
Big East Bankroll Buster
Both St. John's (7-12 SU, 6-13 ATS) and DePaul (6-12 SU, 6-11 ATS) have consistently been two teams to go against all season long, but the Butler Bulldogs deserve the top spot on this list as the costliest Big East team to bet on in the New Year. With Tuesday's SU and ATS loss to Providence, they have now failed to cover in five of their first six conference games while going just 2-4 SU. You would have to think that this latest loss should finally end the Bulldogs stay in the national rankings.
Butler's schedule does not get any easier with a tough road matchup against Creighton this Saturday. The Bluejays are off to a solid 4-2 start both SU and ATS in Big East play.
Big East Play of the Week
Last week, I was on the wrong end of Providence's stunning loss at home to Seton Hall, but to get back on track this week I have focused my attention on the Pirates' road game this Saturday against Xavier.
Seton Hall returns to action this Wednesday night as a seven-point home underdog against Villanova. The Pirates opened conference play with a solid 83-63 romp against Marquette as 3.5-point road underdogs, but since then they have gone just 2-2 both SU and ATS in their last four games.
Before the upset against Providence last Saturday, Seton Hall was blown out by Creighton 82-67 as a four-point home favorite, so consistency from one game to the next has not been their strong suit. Over the Pirates last five games they have averaged 74.4 points per game, but the concern for Saturday's matchup is the 72.6 PPG they have allowed at the other end the court during this same stretch.
It is pretty obvious that Xavier did not bring it's A Game to Tuesday's matchup against Georgetown, but this still one of the top teams in the nation this season behind an offense that is generating 79.6 PPG and a defense that is holding opponents to just 66.8 points. Overall, the Musketeers have held up well as favorites this season with an 11-5 record ATS, and they are 7-1 ATS in their last eight games played at home.
I would look for Xavier to once again open as a double-digit favorite at home for Saturday's matchup against Seton Hall, and I am banking on Tuesday's loss to the Hoyas to provide the necessary wake-up call that it cannot afford take any games off in this conference. I am also expecting the Pirates to get a dose of reality as to the real pecking order in the Big East in back-to-back games against the top two teams.
Read more articles by Dave Schwab