March Madness Handicapping: Bid Stealers Looking To Make Life Tough for Big-Name Programs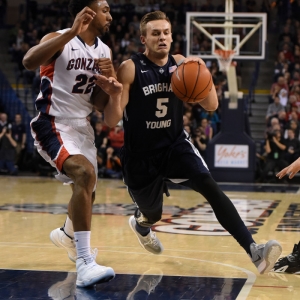 Selection Sunday is less than two weeks away and as we wrap up the regular season in college basketball we are coming down the home stretch in determining which teams will make the 68-team NCAA Tournament field.
This time of the year there is a lot of talk about the NCAA Tournament bubble. These are the alleged teams fighting for the last at-large bids into The Big Dance, as determined by the NCAA Tournament selection committee. According to some members of the bobblehead media - who are mostly just trying to increase interest and boost ratings for games broadcast on their networks - there is this vast ocean of teams still clawing for the final spots in the tourney.
But reality, as I have broken down, shows us that there are really only about 13 teams fighting for the six final slots into the NCAA Tournament: Tulsa, Temple, Texas Tech, Creighton, Boise State, USC, Florida, BYU, St. Mary's, LSU, Alabama, Oregon State and George Washington.
Those are the teams that will be sweating out Selection Sunday, which is March 13, and those are the teams that will most likely play themselves into and out of the NCAA Tournament over the next two weeks.
However, there is a fly in the ointment: bid stealers.
Since 31 of the 32 conferences award an automatic bid to their conference tournament champion (the Ivy League rewards the regular-season champion), there is always the opportunity for some team to come out of nowhere, get hot for a few days, and win their spot in The Big Dance. There is usually one every year, and when that happens it eliminates one potential at-large bid for one of the bubble teams.
In 2014 Providence won three games in the Big East Tournament to essentially "steal" a bid. In 2012 St. Bonaventure won three games in the Atlantic 10 Tournament, winning the title and earning a spot that otherwise would've gone to an at-large team from a major conference. In 2011 it was Indiana State (Missouri Valley) and in 2010 it was St. Mary's (West Coast). This phenomenon seems to happen about once per season.
This year there are several potential bid-stealers, with some major conference teams capable of jumping up and going on a major run to win their league and play their way into The Dance. But there are a handful of teams from smaller mid-major conferences that you will really need to watch over the next two weeks as they try to throw some chaos into the NCAA Tournament field.
Here are four conferences that could see a potential bid stealer emerge during their conference tournaments:
West Coast Conference (St. Mary's and BYU) - I think that it is a safe bet that Gonzaga is in the NCAA Tournament field. However, they didn't win the WCC regular-season title until the final game of the regular season. St. Mary's and BYU are on the fringes of the tourney bubble, but they combined to go 3-1 against Gonzaga this year, and it wouldn't stun me if either managed to beat the Bulldogs in a potential WCC Tournament final. I think that is the only way for the Gaels or Cougars to make the NCAA Tournament field, and if that happened they would steal a bid.
St. Mary's is really a team that came out of nowhere this season. They lost five seniors from last year's group, and the Gaels are one of the least experienced teams in the country. But they are 24-4 and managed to sweep Gonzaga. They are fearless and solid on both ends of the court, with their typical Aussie-infusion leading the way.
BYU has one of the best players in the country in Kyle Collinsworth. And they had a chance to earn a piece of the regular-season title on the last day of the season, losing at home to Gonzaga. The Cougars are a fantastic 3-point shooting team, and they have actually lost to the Bulldogs in the WCC Championship Game each of the last two years.
Missouri Valley Conference (Illinois State, Northern Iowa and Evansville) - Wichita State is a godless killing machine in the Missouri Valley. They have gone 21-3 in their last 24 games (winning the league title with a 16-2 mark), and their last 21 wins have come by an average of 21 points and their last five wins have come by an average of 26 per game. They are in the field.
However, the Shockers aren't unbeatable. Illinois State topped them during the regular season and beat Wichita State last season in the MVC Tournament. Also, Northern Iowa is a team that beat North Carolina and Iowa State this year and also earned a win at Wichita on Feb. 13.
But the team to watch is Evansville. The Purple Aces have one of the best inside-out combinations in the country with D.J. Balentine and Egidijus Mockevicius, who combine to average 37 points and 17 rebounds per game. This is one of the most experienced teams in the country, and they have been close, but not close enough, in breaking through in The Valley the past three seasons.
Metro Atlantic Athletic Conference (Monmouth and Iona) - Monmouth is a team that I feel is already in the NCAA Tournament field. They are 25-6 so far this season and have road and neutral-site victories over UCLA, Notre Dame, USC and Georgetown this season. The won the Metro while going 17-3, and if they lose in their conference tournament final they will be tough to deny a bid.
Monmouth will have to win the Metro title on Siena's home court in Albany, NY. Siena is the No. 3 seed. But Monmouth's primary competition this weekend will be from Iona.
The Gaels boast one of the most talented mid-major offenses in the nation as well as one of the top scorers in the country in A.J. English (22.3 PPG). Iona has four players averaging at least 12 points per game and four senior starters. They are also battle-tested, having played one of the toughest nonconference schedules anywhere. They split with Monmouth in two highly-competitive, very bitter games, and they would love to get to a rubber match to play for a tournament bid.
Sun Belt Conference (Arkansas-Little Rock and Louisiana-Monroe) - Arkansas-Little Rock is a team that I feel could not only warrant inclusion to the NCAA Tournament, but they could win a game as a higher seed. UA-LR won at San Diego State and at Tulsa in the nonconference and they have a stellar 26-3 mark on the season overall. They still have two more regular-season games remaining. And if they get to 30 wins and then lose in the Sun Belt finals they will be a team with a resume that could earn an at-large selection.
But Louisiana-Monroe has quietly snuck up into second place in the Sun Belt and will be UA-LR's primary competition at the league tournament. The Warhawks have gone 10-1 in their last 11 games, and in their two games against the Trojans they won once and lost on the road by a single point. This core group of Monroe players nearly won the CBI Tournament last year, so they have some solid postseason experience.
Robert Ferringo is a member of the Basketball Writer's Association of America and a professional sports handicapper for Doc's Sports. He is considered one of the best college basketball handicappers in the country and he is about to extend his unmatched streak to 10 straight winning college basketball regular seasons. Robert's $100-per-Unit clients have banked $22,130 in profit with his sides and totals the last threeseasons and have taken home over $40,000 win winnings so far this decade. There is no better moneymaker in the nation and Robert is looking forward to another amazing March Madness. Click here to get two days of college basketball picks for free - no hassle and no credit card needed.
Read more articles by Robert Ferringo
---
Most Recent College Basketball Handicapping