NBA Odds: Cleveland Cavaliers vs. Toronto Raptors Exact Series Results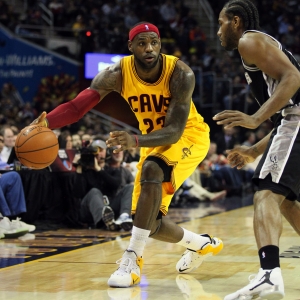 The NBA Conference Finals are final underway. Most the attention over the next two weeks will center on the epic Golden State Warriors versus Oklahoma City Thunder matchup in the west, but the Cleveland Cavaliers versus Toronto Raptors series in the east has the potential to be just as intriguing. Cleveland still has not lost a game in the postseason, sweeping their way through the first two rounds and suddenly looking more dominant then the defending champion Warriors. Let's take a closer at the Eastern Conference Finals exact series results odds and figure out the strongest way to wager on the matchup.
Cleveland Early
Cavs in Five: -110
Cavs in Four: +200
According to the oddsmakers, and many NBA pundits, the most likely outcome for this series matchup is a dominant Cleveland win in four or five games. The Cavs have the chance to become the first team since the early 2000s Los Angeles Lakers to sweep their way to the NBA Finals. And with Golden State being the one to make history this season, expect the Cavs to chase a sweep hard. Toronto has not looked great during their early-round matchups, and either one of these wagers feels like the strongest play to make.
Pick: If we are only choosing between these two options, a sweep at +200 looks awfully enticing.
Cleveland Late
Cavs in Six: +450
Cavs in Seven: +1000
Toronto grabbed the No. 2 seed and 56 wins (one less than Cleveland) this season, so dismissing them from winning a game or two in this series might be a mistake. Yes, Cleveland has all the experience and talent, but Toronto can be an excellent team at times. Sweeping your way to the finals can be difficult (which is why is hasn't been done in 15 years). If you have been watching the playoffs, Toronto doesn't seem to have the ability to take this series to seven games, so wagering on Cleveland in six feels like a solid option.
Pick : picking an exact result is probably based on how strongly you feel about Cleveland. If you believe they still have internal issues then pick between one of these options.
Toronto Upset
Raptors in Six: +1500
Raptors in Seven: +2500
Raptors in Five: +10000
Raptors in Four: +25000
If you are a Toronto fan and are looking to wager on an upset, there is value all over the board. The Raptors in four or five seems like wishful thinking (even if the odds are fantastic), so the smartest play would be to pick between six and seven games. Game 7 will be played in Cleveland, so if you are planning to wager on a Toronto upset, taking six games at +1500 feels like the smartest play to make.
Conclusion
Cleveland is currently playing like the best team in the league, and taking the team to win in four or five seems like the most objective view to take. LeBron James and company may have figured out a way to get everyone involved. And on top of that new-found cohesiveness, the team still has James on the roster (he could probably win this series himself). Expect Cleveland to finish this series early.
Want free sports betting picks? Doc's Sports has you covered - get $60 worth of picks free from any of Doc's Sports expert handicappers. Click here for free picks (new clients only).
Read more articles by George Monroy