NBA Odds: Wednesday, March 23 2016 Opening Line Report and Handicapping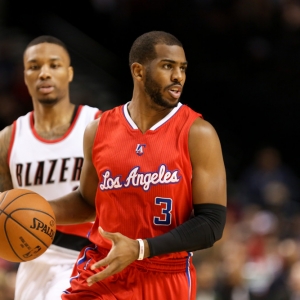 Be very wary of betting the Cleveland Cavaliers the rest of the regular season, especially when playing back-to-back nights as will be the case Wednesday and Thursday. Coach Tyronn Lue has publicly changed his tune on his plans for resting guys. Coming out of the All-Star break, Lue had said that home-court advantage through the Eastern Conference playoffs was the "most important thing." Now he says this: "We definitely want the No. 1 seed if we can get it, but I think we have to rest our guys also. I think health going into the playoffs is more important than the seeding. If we're fortunate enough to get the No. 1 seed, it will be great for us. But if not, then we just got to play through it." If Toronto and Cleveland finish tied with the best record, the Raptors have the tiebreaker. The Cavs can certainly win the East without having home court, as they did last season (Atlanta had it), but I don't think the Raptors can.
Hawks at Wizards (+3, 210.5)
Second of a home-and home between these two. On Monday, Atlanta's five-game winning streak ended in a 117-102 home defeat to Washington, which won its season-high fifth in a row. John Wall had 27 points and 14 assists and Bradley Beal 25 points. Jeff Teague led Atlanta with 23 points. Backup guard Dennis Schroder left in the fourth quarter with an ankle injury, but it's not thought to be serious. The teams finish the regular season against one another on April 13.
Key trends: The road team is 4-1 against the spread in the past five meetings. The "over/under" is 4-1 in the past five in Washington.
Early lean: Hawks and over. Tough to sweep these home-and-home series.
Bucks at Cavaliers (-12.5, 208)
Milwaukee lost a second straight Monday, 92-91 in Detroit on a last-second tip-in. The Bucks led by as many as 17 in the game. Jerryd Bayless missed two huge free throws with 10 seconds left. Cleveland routed Denver 124-91 on Monday. LeBron James had 33 points, 11 rebounds and 11 assists in his 50th career triple-double. The Cavs, who clinched the Central Division, played without Kevin Love due to illness, but he's expected back. These teams have split two high-scoring early-season meetings, each winning at home.
Key trends: The Bucks are 5-2 ATS in the past seven meetings. The over is 7-3 in the Cavs' past 10 overall.
Early lean: Cavaliers and under.
Raptors at Celtics (TBA)
Toronto won a fourth in a row Sunday, 105-100 against Orlando. The Raptors played without Cory Joseph (rest), Jonas Valanciunas (hand) and Patrick Patterson (ankle). At a minimum Joseph will be back here. Boston won a second in a row Monday, 107-96 over Orlando. Isaiah Thomas had 28 points and seven assists. Toronto is 3-0 against Boston this season
Key trends: The Raptors are 5-2 ATS in the past seven meetings. The under is 6-1 in Boston's past seven after a win.
Early lean: Wait on those latter two Raptors, who are both officially questionable.
Magic at Pistons (-7, 210)
First of an ESPN doubleheader and will feature live betting at sportsbooks. Orlando lost a fourth consecutive Monday, 107-96 in Boston. Victor Oladipo led the Magic with 25 points and eight rebounds. Center Nik Vucevic missed his ninth straight game. Orlando is now 2-7 since his injury. Detroit won a third straight Monday, 92-91 over Milwaukee on an Andre Drummond tip-in with two seconds left. Detroit won the lone meeting thus far 115-89 on Jan. 4 in Detroit. The Magic are just 5-16 in their past 21 trips to Motown.
Key trends: The Magic are 0-4 ATS in the past four meetings. The over is 5-1 in the previous six.
Early lean: Pistons and over.
Jazz at Rockets (-4, 200)
Houston was in Oklahoma City on Tuesday and Dwight Howard avoided a suspension for using Stickum in a game Saturday. Utah won in Milwaukee 94-85 on Sunday. Shelvin Mack had 13 points and 12 assists, and Rudy Gobert had 12 points and 14 rebounds. Houston leads the season series 2-1 and has won six in a row at home vs. the Jazz. Obviously a Rockets win here clinches the series and could be a huge tiebreaker for a Western Conference playoff spot with both teams fighting for one.
Key trends: The home team is 5-1 ATS in the past six meetings. The over is 4-1 in the past five.
Early lean: Rockets and under.
Kings at Timberwolves (pick'em, 224.5)
Sacramento lost 109-102 in Chicago on Monday. That loss all but assures the Kings won't have to give their 2016 first-round pick to the Bulls -- it's Top-10 protected. Rookie center Willie Cauley-Stein returned after missing the previous two games with flu-like symptoms but barely played. At this point, why wouldn't he be playing more? Ben McLemore missed an eighth game in a row. Minnesota nearly shocked Golden State on Monday but lost 109-104. Karl-Anthony Towns had 24 points and 11 rebounds but Minnesota's bench was outscored 36-8. Minnesota is 2-0 vs. Sacramento this season.
Key trends: The Kings are 0-4 ATS in the past four meetings. The over is 12-2 in Minnesota's past 14 playing on one day of rest.
Early lean: Wolves and over.
Heat at Spurs (-11, 197.5)
Miami was in New Orleans on Tuesday. San Antonio had an expected letdown game Monday following Saturday's big home win over Golden State as the Spurs lost 91-88 in Charlotte, blowing a 23-point lead. That was the largest lead the Spurs have surrendered in a loss in the Tim Duncan era. Patty Mills and Danny Green both missed 3-pointers at the end of regulation. The Spurs won in south Florida 119-101 on Feb. 9. The Spurs have won four straight in the series.
Key trends: The road team is 5-2 ATS in the past seven meetings. The under is 4-1 in the past five.
Early lean: Spurs and under.
76ers at Nuggets (-10.5, 212.5)
Philadelphia lost 91-75 in Indiana on Monday, its sixth straight defeat. It was the first time since Dec. 13 that Philadelphia scored fewer than 80 points. This team could still tie the NBA record for fewest wins in an 82-game season. Denver lost by 33 in Cleveland on Monday to conclude a five-game road trip at 1-4. Kenneth Faried missed his third straight game with a sore lower back. Denver won in Philly 108-105 on Dec. 5 but has dropped to straight at home vs. the Sixers.
Key trends: The Sixers are 6-0 ATS in the past six in Denver. The over is 5-1 in Denver's past six overall.
Early lean: Nuggets and under.
Lakers at Suns (TBA)
Los Angeles hosted Memphis on Tuesday night, a game the Lakers could actually win considering how injury-ravaged the Grizzlies are. Kobe Bryant was 50/50 for that one. I could see him trying to play here because it's his final game in Phoenix. The Suns lost 103-97 at home to those Grizzlies on Monday. Phoenix center Tyson Chandler didn't play in the second half with back spasms. Phoenix leads series 2-1 and has won nine straight at home vs. the Lakers.
Key trends: The Lakers have covered just one of their past 10 in Phoenix. The over has hit in the past four there.
Early lean: Suns, whether Kobe goes or not.
Mavericks at Trail Blazers (TBA)
Dallas won at home vs. Portland 132-120 in overtime on Sunday. Dirk Nowitzki had 40 points and Deron Williams 31 points and 16 assists. What year is this!? However, Chandler Parsons missed the game and his season is over. He will have right knee surgery. That's a big loss for the Mavs' playoff hopes. Damian Lillard led the Trail Blazers with 26 points, but shot only 8-for-26. The Mavericks have won both meetings this season and three straight overall against Portland. Three of the past six games between Portland and Dallas have gone to overtime (both this season).
Key trends: The home team is 6-1 ATS in the past seven meetings. The over is 4-1 in the previous five.
Early lean: Not really sure why the TBA since Parsons has been confirmed out, although he will seek a second opinion on needing surgery. Blazers end losing streak in series.
Clippers at Warriors (-10.5, 226.5)
Second ESPN game with live betting. Los Angeles lost 109-105 in New Orleans on Sunday. The Clips looked tired in their second game in 24 hours. Chris Paul had 24 points and 13 assists. Jeff Green got the night off for rest. Golden State stayed on pace to break the Bulls' 72-win record with that 109-104 escape in Minnesota on Monday. Steph Curry was just 6-for-17 but had 19 points, 11 assists and seven rebounds. The last time the Warriors lost two in a row in the regular season was April 5 and 7 of last year. Andrew Bogut and Andre Iguodala sat out again. They are questionable here. The Warriors have won all three meetings this season, but all three were very competitive and you could argue the Clippers should have won two of them. Golden State has won eight straight at home in the series.
Key trends: The road team is 4-1 ATS in the past five. The over is 4-1 in the Clips' past five on the road and Warriors' past five at home.
Early lean: Clippers and under.
Read more articles by Alan Matthews