NCAA Basketball Betting: Best Early-Season Matchups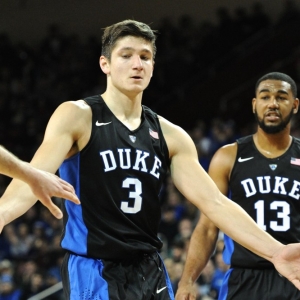 The college basketball season is very young, but it has already started with a bang. There have already been five or six games that have been as good as any as you could hope to see. We can always hope that there will be other classics to come in the next couple of weeks, too. Looking over an always busy college basketball schedule from now until Dec. 3 there are seven games that stand out from the rest both for their potential to entertain and their massive significance to one or both teams involved. If you are still mostly focused on football, or if you only really watch guys who get paid to play basketball until February rolls around, you might want to tear yourself away from your other obsessions to catch these seven potential gems:
Michigan State at Duke, Nov. 29: Michigan State had an absolutely brutal start to the season, and it has not gone well for them. They lost a close one to Arizona to start the season and then were crushed by Kentucky. They have some young players they are really relying on, and the logistics were just brutal - the opener was in Honolulu, and the next game four days later was in New York. You can't get games further apart than that. That isn't the whole reason for the losses, but it didn't help. Now they have a chance to regroup with three easy games before the showdown with Duke in the Big Ten/ACC Challenge. Can they regroup and salvage their nonconference season? Or will this be another brutal blow? It's a huge game for Duke as well. They already lost to Kansas, so the team that is perceived to be the best in the country can't afford another misstep early on.
UCLA at Kentucky, Dec. 3: Kentucky humiliated Michigan State. It got ugly. As we said, though, there were excuses. But was that the difference? Just how good are the Wildcats this year? This is the closest thing to a real test that they are going to face after that contest. I'm not convinced that UCLA is actually any good, but they are better than the teams Kentucky faced before them. This is their next chance to show just how good they are - or that they aren't the team they looked to be against the Spartans. To be fair, it's also a chance for UCLA to prove that they are a legitimate national contender.
North Carolina at Indiana, Nov. 30: North Carolina, a potential No. 1 seed in the tournament, will enter this game 5-0 and thoroughly untested. They play no one. Indiana will also be 5-0, but their opening win was over a Kansas team that went on to beat Duke. Both these teams are very athletic, and both have the chance to be extremely good. This kind of a matchup is always great but especially so when the squads are this elite.
Gonzaga vs. Arizona, Dec. 3: This game takes place in the Staples Center, so it's an intriguing neutral-court showdown. Gonzaga will be 5-0 heading into the season, and they are yet again poised to be extremely strong in the WCC. As always, though, they can use a big statement nonconference win to truly prove their worth. This would be such a win. The Wildcats will be 6-0 before this game and will be well within the Top 10. This one has the makings of a classic.
Siena at Kansas, Nov. 18: What a bizarre start to the season for Kansas. In their first game they lost a wild, high-scoring affair to Indiana by four. Then they beat Duke by two. Two games. Both against very elite opponents. Different results. Siena is the third game on their schedule. It is obviously a very different class of opponent than the first two. I am very intrigued, though, to see how they come out in this one. Will they crush an opponent that they are fully capable of destroying? Or will they suffer a letdown after the two hugely emotional games and come out flat? This otherwise unimportant game will tell us a lot about the mental composure of this team.
Syracuse at Wisconsin, Nov. 29: Wisconsin had a head-scratching loss in their second game. There is no shame in losing to a ranked team like Creighton on the road, but the Badgers were a long way from competitive when it really mattered here. Wisconsin has talent and should be in the thick of a very tough Big Ten race. But not if they can't be better than they were there. They have a tough test in the Big Ten/ACC Challenge against Syracuse, a Top 20 team that should come into this one an untested 5-0. This is a very important game for both teams - a chance for the winner to make a much needed early statement.
Xavier at Baylor, Dec. 3: Xavier has officially moved from plucky upstart to perennial contender over the last couple of years. They have expectations to live up to now, though. They will likely be 5-0 heading into this game, but they haven't really been tested. They could have a test before this one - they play Northern Iowa in their fourth game, and that squad just beat Arizona State by 19. This is the more interesting matchup, though - Baylor beat then fourth-ranked Oregon by 17 in their second game. If Xavier is 6-0 after this game then they will be worthy of a lot of respect.
Read more articles by Trevor Whenham
---
Most Recent College Basketball Handicapping