2016 Preakness Stakes Post Positions and Expert Betting Advice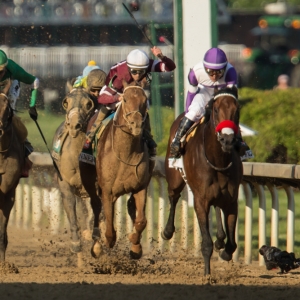 I know this is going to sound like a gross oversimplification, but the fastest horse is generally the horse that wins the Preakness Stakes.
Earth-shattering analysis - I know. But the fact is that the Preakness is the shortest of the three Triple Crown races. The Kentucky Derby and Belmont Stakes rely on a combination of running style, in-race strategy, and post positioning. But the Preakness is an all-out sprint and a total free-for-all that rewards raw, intense speed.
That doesn't stop the oddsmakers from the formality of waiting until the mid-week post draw before releasing the officialopening Preakness Stakes odds. The Preakness post position draw took place on Wednesday, and with the field now set the books are taking action on which horse will burn it down in Maryland.
The 141st running of the Preakness Stakes will be held at 6:18 p.m. on Saturday, May 21. The race will take place at the Pimlico Race Course in Baltimore and represents the second leg of horse racing's Triple Crown.
Kentucky Derby winner Nyquist is the overwhelming favorite this weekend and drew a seemingly "favorable" draw with the No. 3 post. Nyquist is currently a dominating 3/5 favorite and is only facing two other horses with a real chance to win.
Over the past 40 years there has been no correlation between post position and the odds of winning the race. And since 1998 there have been 18 winning mounts that have left from 13 different posts!
Post position doesn't matter in the Preakness. But weather does. And the X-Factor for this Saturday's running is the fact that there is a 90 percent chance of rain in the forecast. The National Weather Service is predicting as much as an inch of rain, and that should make for a slow, sloppy track, which could have a significant impact on the race.
Here is a quick breakdown of the established field for Saturday's Preakness Stakes:
1. Cherry Wine (20-1) - Only two horses have overcome the No. 1 position in the last quarter century to win the Black Eyed Susans. One of them was a little colt named American Pharoah, who did so on his way to the Triple Crown last year. Cherry Wine isn't in that class, obviously, and I don't think he will be able to overcome this draw.
2. Uncle Lino (20-1) - It has been 30 years since the No. 2 post has produced a winner at Pimlico. But that's more of a statistical anomaly than it is an indicator of disadvantage. Uncle Lino has hit the board in six of its seven career races, including a record-setting run at Los Alamitos in a win on April 30. Uncle Lino is a California-bred horse that finished third in the Santa Anita Derby.
3. Nyquist (30-1) - This horse has done nothing but dominate. Nyquist is a perfect 8-0 in its eight career races and has taken on all 3-year-old comers this year, winning races in California, Florida and Kentucky this season. Nyquist's racing style is that he likes to be near the front of the pack. That will suit him well on the short course at Pimlico, and Nyquist has already proven that he can go wire-to-wire in a romp at the Florida Derby. There's nothing not to like about this horse.
4. Awesome Speed (20-1) - This is a Maryland horse that "won" its way into the Preakness thanks to an April 9 victory at Laurel Park, just 40 minutes south of Pimlico. Awesome Speed, which nearly went wire-to-wire, actually didn't win that race. The mount came in second place but was promoted when judged ruled that he was bumped down the stretch and interfered with.
5. Exaggerator (6-1) - Maybe the fourth time is the charm? Exaggerator has lost to Nyquist three times already this year, including at the Kentucky Derby. Exaggerator lost at Churchill Downs by just one-and-a-quarter length and was charging harder down the stretch than Nyquist. However, any edge this horse could attempt to claim in stamina will be negated by the short course here at Old Hilltop. Exaggerator has won or placed in seven of his 10 career runs.
6. Lani (6-1) - This well-traveled horse actually finished ninth in the Kentucky Derby. Lani has run in Japan and the United Arab Emirates and is looking to become the first horse ever to win the UAE Derby and then go on to win the Preakness.
7. Collected (8-5) - The No. 7 post, along with the No. 4, has produced the second-most winners (four) of any post in the last quarter century. However, Collected is making a major step up in class to run this race, his first ever Grade 1 event. This horse has had success on grass and turf, against weaker competition, and shouldn't be a factor here.
8. Laoban (12-1) - This colt was the first alternate at the Kentucky Derby. But he wasn't good enough to squeeze into a 20-horse field, and I don't think he'll be good enough to top 10 other horses this weekend. Laoban is a front-runner, so he may factor in the early pace. He has never won in five career starts.
9. Abiding Star (5-2) - There have been eight horses in the last 20 years that have won the Preakness from Post 8 or further out, so it is not a big deal to start this far out. Also, horses from Post 9 or Post 10 have won or placed in this race three of the last four years. Abiding Star went 0-for-6 as a two-year-old but has been on a tear this year, winning five straight races as a 3-year-old.
10. Fellowship (30-1) - This is a filler horse that isn't going to win this race. Fellowship has 12 - count 'em, 12! - starts in his career. He has hit the board eight times, but only two of those 12 runs have led to victory. This horse is a closer. The Preakness isn't kind to closers. But don't put it past this mount to weasel his way into the back end of a trifecta or superfecta.
11. Stardivari (30-1) - If you are looking for a potential sleeper to take down Nyquist, this could be your horse. This is just Stardivari's fourth career start. But he is coming off two straight wins that were both impressive for different reasons. The first was an 11-length victory at Gulfstream that came on a wet track. The second was an allowance event at Keeneland (turf) that he won by over 14 lengths.
Robert Ferringo is one of the top Triple Crown Horse Racing handicappers in the country. He has cashed a ticket in the Preakness Stakes an amazingseven of the last nine years and he has had a winning ticket in 10 of the last 18 Triple Crown races (including the exacta and trifecta in this year's Kentucky Derby). Robert was a perfect 3-for-3 in the 2011 Triple Crown races and wants to get his first profit of this season on Saturday.
Read more articles by Robert Ferringo