Battle of Midway Odds to Win the 2017 Kentucky Derby with Picks and Predictions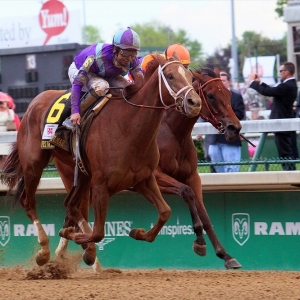 Trainer Jerry Hollendorfer is a legend, but the last four year he has been snakebit when it comes to the Triple Crown. He has arguably had the best three year old in training in three of the last four years, and he hasn't managed to get one to Kentucky on the first weekend in May yet. In 2014 the previous year's two year old champion Shared Belief was injured on the way to Derby and missed the Triple Crown entirely. Last year, the filly Songbird was as good as any colt - better, likely - but she wasn't aimed at the Derby and was injured before the Kentucky Oaks. And this year the filly Unique Bella sure looks better than this dismal class of three year old colts, but again she was hurt in the early spring and will miss either of the signature races at Churchill Downs.
So, Hollendorfer has well over 7,000 career wins, but none of them have been in a Triple Crown race. Battle of Midway is no match for any of those other Hollendorfer horses, but he has the chance to get to where the others haven't - the plan is for him to head to Kentucky for a race just a month short of 75 years after the actual Battle of Midway took place. But will he do any damage once he gets there?
Last race: There aren't a lot of Derby prep races that have been much good this year - it has been far from the best year for three year olds. Of all the major preps, though, the one I liked least was the Santa Anita Derby. Winners of that race have been good for five Triple Crown race wins in the last five years, but most years is it much better than the mess that it was this year. There were 13 horses entered, and none really inspired. The early pace, set mostly by this colt, was decent - it wasn't extreme but solidly respectable. The last three furlongs, though, were painfully slow. Battle of Midway held the lead well into the stretch but was chased down late by winner Gormley. He finished second, but it sure felt like he would have finished much worse if the field hadn't been so bad on the day. Hollendorfer came out of the race optimistic to send his horse to Derby - more than I would have been. He will certainly be joined by race winner Gormley and also by third-place finisher, and Gormley's stablemate, Royal Mo, as long as he gets into the field because he currently sits just outside of the Top 20.
Prior experience: Apollo won the Kentucky Derby in 1882 after not running as a two year old. No horse has done so since. The fact that this colt didn't debut until Jan. 21, then, is a major historical knock. He won that race - a maiden race at Santa Anita, where he has run exclusively to this point. Next he took the leap up into graded stakes company for the San Vicente. He was third that day in a five-horse field as the heavy favorite. It wasn't an inspiring day. Next he dropped back into an allowance race, and won it, beating two Bob Baffert horses that he again beat in the Santa Anita Derby. And his fourth race was the Derby. So, he's a lightly-raced late starter. It's tough for me to get excited about his prospects.
Trainer: As I write this Hollendorfer has 7,267 career wins, which puts him second among active trainers behind only Steve Asmussen, and third overall, more than 2,000 wins behind all-time leader Dale Baird. The large majority of those wins have been in Northern California where he has absolutely dominated racing for decades. Nationally, the 70-year-old hall of famer has really broken out over the last few years. He always seems to have a top horse or two on the go now, and he has two of the best fillies on the planet in Songbird and Unique Bella in his barn right now. He doesn't have a Triple Crown race win, but there isn't too much he doesn't know about winning races.
Jockey: There is one thing I really don't like to see - musical saddles. In his four races this colt has been ridden by four different guys. Drayden Van Dyke was aboard for the maiden, followed by Mike Smith, Flavien Prat and Corey Nakatani. Smith and Prat both chose other horses instead of this one in subsequent races. That's not particularly confidence inspiring. If top-level riders are looking for other options then as a bettor I often look elsewhere as well. Smith didn't have a Derby horse following the Santa Anita Derby, and he has ridden Shared Belief, Songbird and Unique Bella for Hollendorfer, but he picked up the mount on Girvin for the Derby instead of getting back on this guy. The colt will have a good rider on board because everyone wants to be in the Derby, and Southern California doesn't lack for good options, but it's not an inspiring situation.
Breeding: Battle of Midway is a fairly well-bred colt. Sire Smart Strike is best known for being the sire of two great Preakness winners - Curlin and Lookin at Lucky. He's also the damsire of Derby winner Mine That Bird. Damsire Concerto most notably sired Bellamy Road, who was frustratingly flat as the strong favorite in the 2005 Derby that Giacomo won in an upset.
Odds: Oddsmakers are, like me, not optimistic. At +3500 to win the Derby he sits in a a tie as the 15th choice among likely or probable runners to win the race. In the final Kentucky Derby future wager, held by Churchill Downs the weekend before the Santa Anita Derby, he was the third longest of the 22 individual horses listed at 64/1.
Doc's Sports has been established as the best in the business for well over 40 years. We want you to see why! That is why new clients can get $60 worth of member's picks free by clicking this link for a no-hassle signup .
Read more articles by Trevor Whenham