College Basketball Betting Advice: Creighton Bluejays one of Best Bets in Nation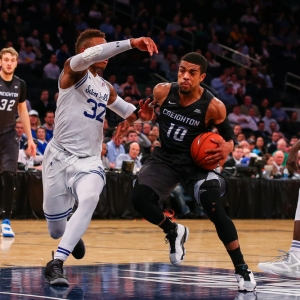 Here's a little peek behind the curtain for you. My editor and I decide on Thursday or Friday most weeks what I am going to write about the next week, but I usually don't start writing until Sunday or more often Monday. That often puts me in a situation, then, when I have a rooting interest over the weekend - hoping that the team that seemed like a story on Friday still seems like a story when the weekend ends. Such was definitely the case with Creighton this weekend.
The Bluejays are off to an amazing start and are ranked No. 7 in the latest polls. They marked MLK day, though, with a very tough road game at ranked Xavier. Lose that and a good bit of the shine comes off them and I have to work harder to make a story about them compelling. I hate working harder, so you can imagine my relief when Creighton rolled to a fairly straightforward, though still noteworthy as we will see, five-point win on Monday. And now we have a story to look at.
They moved to 18-1 on the season and are second in the Big East behind only defending champions and top-ranked Villanova. This team is obviously good, but how good? Can they keep it up into March and beyond? And what does it all mean for bettors?:
Watson: We might as well start with the worst news because it can only get better from here. Guard Maurice Watson Jr. leads the nation in assists and is a big driving force in what makes this team work. He was all-conference last year and is easily on track to repeat that feat. On Monday against Xavier, though, he had a potentially scary setback. It started when he banged knees with a Xavier player. He shook that off and came back in. After a layup soon after, though, he landed awkwardly and collapsed. He said he heard the dreaded pop in his knee. We are still awaiting the results of an MRI as I write, but at the very least you have to think he'll be limited for a game or two. He could, in the worst-case scenario, be lost for the season. Losing their point guard and floor general for any significant length of time would be a huge blow for the team. Likely a fatal one to any Final Four aspirations they are harboring. It is promising that they held on to beat Xavier without him, but it's a very different thing to win when he is in street clothes on crutches than when he starts. This is, sadly, a very important storyline to monitor.
Xavier: That win over Xavier was meaningful and ranks up there with victories over Butler and Wisconsin as the best Creighton has had this year. We need to put a bit of an asterisk beside the win, though. Xavier was at the end of what is as tough a stretch of three games any team will play this year. In less than a week they played at top-ranked Villanova, at 12th-ranked Butler and then hosted Creighton. They were certainly tired both mentally and physically - they had fought hard but lost both previous games. Creighton, meanwhile, played their last game against something called Truman State - a school so obscure that some of the students of the place haven't even heard of it. I'm not saying it wasn't a good win, but it needs to be evaluated properly.
McDermott: Some view Creighton head coach Greg McDermott primarily as Doug's dad, but that is far from the complete picture. He is only halfway through his seventh season at the helm, but he already has 156 wins at the school - an average of more than 22 per year and that will obviously grow as the success continues this year. He's been to the third round of the tournament three times, and this year marks the successful culmination of a rebuilding process the last two years. The guy is a truly elite coach, and he could be in charge of my team any day. This team shoots the lights out - second nationally in field goal percentage and Top 15 from beyond the arc - which is a trademark of McDermott. He followed Dana Altman, who is one heck of a coach himself and is having great success at Oregon, but I would take McDermott every day. He is a major asset for the squad, and it is easier to trust this team if they lose Watson for an extended time with McDermott in charge than it would be with most coaches.
Big East: The new Big East is a spectacular league and far from an easy one to play in. The Bluejays still have to play at Villanova and Butler and they host Xavier again. Even with Watson those are three very tough games, and there are other potential speed bumps along the way, too - Marquette and Providence most notably. They are a stellar 18-1 so far, but there are probably a couple more losses looming - and if there aren't then we really know how good this team is.
Futures: Oddsmakers are not a huge believer in this team. BetOnline has them at just +2800 to win the national title, and that would rise significantly if the MRI turns out badly. That price has them behind 14 other teams - most surprisingly Florida State. At least in relative terms, then, there is value to be had here if Watson can keep playing.
Betting performance: The team is an impressive 13-4 ATS on the season, which makes them the third-most-profitable squad in the country behind only upstart South Dakota and fellow former outsider Gonzaga. Most impressively, they are 5-0 ATS on the road. They are profitable on the total, too - they have gone "under" in 10 of 17 games, including four of five on the road. That is despite the fact that they have a Top 15 offense and pretty average defensive play. It seems, then, that the betting public doesn't have a perfect read on this team.
College basketball season is probably the biggest cash cow as far as handicapping profits here at Doc's Sports year after year. And now, for new members, you can get $60 worth of picks for free. That is two days of service for the same picks our paying members enjoy. Click here for the signup - no credit card needed - and you can see today's picks in minutes .
Read more articles by Trevor Whenham
---
Most Recent College Basketball Handicapping