Expert College Basketball Betting Advice: Vulnerable Top Teams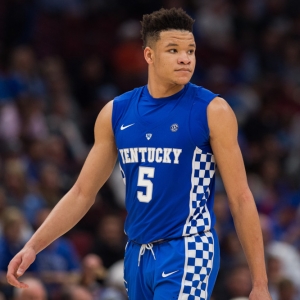 As we head into conference play in college basketball, there are generally a team or a small group of teams in most conferences that are viewed as the clear favorites to win the conference. And the betting public is often pretty good at finding these winners. To keep things interesting, though, our goal here is to look at some of those top conference contenders to see which ones could be vulnerable and don't therefore offer as much value for bettors as some people might think. Here are four such giants that could hit a rough patch and be caught and passed by a conference rival. (Posted odds are odds to win the national title)
Arizona (+1000): The Wildcats came into the season seemingly poised to be at least a No. 2 seed in the tournament and perhaps even better. In four days at Atlantis, though, the team's woes were really exposed. They lost three straight tournament games in the Battle 4 Atlantis - N.C. State, SMU and Purdue. There isn't a lot of embarrassment in any of those losses in isolation, but this team shouldn't be losing them and certainly shouldn't be in a situation where they are letting losses stack up. They beat themselves, and that is a real concern going forward. The Pac-12 is lousy this year, and that is a gift and a curse for this team. On the plus side, they should have a fairly sizable margin for error in conference play. On the other hand, even if they play perfect basketball their conference wins may not be enough to help the climb back into major contention for a high seed. I don't think that that is a major concern, though, because the toughness of this team - or lack of it - is an ongoing concern.
Kentucky (+1400): Kentucky always tends to get a bit more respect than they deserve from the betting public - it's the power of the brand. This year we have the combination of a roster that isn't quite as talented as it has been in recent years and an SEC that is much more competitive than it has been in a long time. It's not that Kentucky can't win the conference. It's just that them doing so has seemed like an inevitability many years, and it is far from that this year. Texas A&M and Florida are both very legitimate teams in the conference. This is a Kentucky team that bettors need to be careful of this year.
Gonzaga (+3300): The Bulldogs have played two Top 7 teams this year - Villanova and Florida. They lost by 16 and six points, respectively, and proved that while this is a good team it is not the best squad we have seen. The West Coast Conference title has just been an assumption for many years for the team, but Saint Mary's has always been a semi-threat, and they could be again this year. They also have two losses, and they aren't as strong as Gonzaga's, but this is a talented team that could be poised to challenge the Bulldogs if Gonzaga isn't at full strength. Beyond the top two teams, the West Coast isn't particularly great this year, so there is a good chance that - as has often happened - the two games between Gonzaga and Saint Mary's will be the deciding factor in the race for the title. Gonzaga is the better team, but the gap is narrower than it has been at times, and I certainly wouldn't bet all of my money on Gonzaga.
Duke (+400): 1.20 points per possession. That's what Boston College scored en route to their 89-84 upset win over Duke recently. There is only one way that a team scores at that kind of clip - they are playing against a team that is bad at playing defense. What has been striking since last year is that teams have no fear about shooting from beyond the arc against this Blue Devils team. They know they will get their chances, and they aren't afraid of throwing the ball up. The good teams that Duke has played this year all have done the same thing - throw up the three a noticeably significant number of times. And it's not like these Blue Devils are dominant inside, either. It can't be seen as too surprising that they struggle to defend. When you commit to high-end young talent like they have in recent years you can't make defense your first priority. If they can't tighten things up to a reasonable extent then they could be vulnerable in a conference that has some good teams. They may be the national favorites right now, but this is not yet a championship defense.
Want more free college basketball picks? The ones that members pay for from Doc's Sports expert Advisory Board stable of handicappers? Click here for the no-hassle signup and see your free picks in minutes - $60 worth, which will get you two free days of service. Doc's Sports has enjoyed some unprecedented results the last few years , and we know how to exploit weaknesses in the oddsmakers lines during this time of the season. Don't miss out! Get daily free college basketball picks on Doc's Sports NCAA hoops predictions page .
Read more articles by Trevor Whenham