NCAA Basketball Expert Predictions: Three Interesting Feb. 22 Opening Lines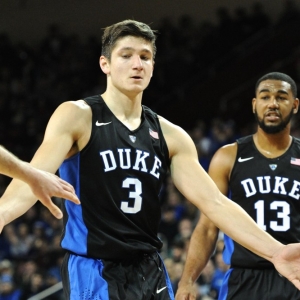 I reference ESPN's Joe Lunardi a lot in this space when we get close to Selection Sunday, as we have. That guy knows his stuff with his bracketology projections. Here's something I never thought I would see: you can bet on how right Lunardi will be. That he correctly predicts all 68 teams is +700 at 5Dimes. Getting all four No. 1 seeds right, which seems fairly easy, is -290. It's +210 if he misses at least one. That Lunardi correctly projects all the four "at large" schools in the First Four is +1900. Right now he has Seton Hall, TCU, Georgia Tech as Marquette for those picks. There are a few other props on him. Go check them out.
No. 10 Duke at Syracuse ( +5 )
ACC game at 7 p.m. ET on ESPN. Syracuse hasn't missed the NCAA Tournament for a non-violation of NCAA rules since 2008, but the Orange are in definite trouble after barely getting an at-large bid last year and then going all the way to the Final Four. Lunardi has the Orange as among the "last four byes" and a No. 12 seed. They are on a three-game losing streak following a crushing 71-65 loss at Georgia Tech on Sunday. The Orange's RPI dropped all the way to No. 83 with the loss. Last year, they were ranked No. 71 in the metric, the lowest ever for a team that earned an at-large bid. In the skid, Syracuse is 22-for-82 from 3-point range. Coach Jim Boeheim's team does have five Top-50 wins and one here would obviously be huge. By the way, SU's Andrew White has played every minute of eight straight games. No Syracuse player has done that since 2000-01.
Duke is a game behind North Carolina for the ACC lead. The Blue Devils are rolling after beating Wake Forest 99-94 on Saturday for their seventh straight victory. Luke Kennard had 23 points for Duke and he's a top candidate for ACC Player of the Year. Meanwhile, Jayson Tatum, probably a Top-5 NBA pick this summer, was named ACC Freshman of the Week for a third time. He averaged 23.5 points and 7.5 rebounds in 35.5 minutes per game. He shot .609 (14 of 23) from the floor, .750 (9 of 12) from 3-point range and 1.000 (10-of-10) from the free-throw line. This is the only scheduled meeting between the schools. Mike Krzyzewski (1,065) and Boeheim (1,001) are the only coaches with 1,000 wins, although technically the NCAA stripped Boeheim of some of those.
Key trend: The Blue Devils are 3-8-1 against the spread in their past 12 road games. The Orange are 7-1 ATS in their past eight at home. Duke is 3-1-1 ATS in the past five meetings.
I'm leaning: Syracuse.
Texas A&M at Arkansas (-4)
SEC game at 8:30 p.m. ET on the SEC Network. The Razorbacks have made just one NCAA Tournament this decade and that was in 2015. Most reports were that Coach Mike Anderson had to get there this year to keep his job, and I think the Hogs are all but in with a 20-7 record and 9-5 mark in the SEC. When is the last time you saw a college player score 30 points off the bench? It happened for only the fourth time in school history for Arkansas (SEC era) in Saturday's 98-80 home win over Ole Miss. Daryl Macon had 30 off the bench on 10-for-13 shooting. He helped the Razorbacks to a 51-12 bench edge over the Rebels. Mason was named the SEC Player of the Week on Monday. He has scored at least 12 points in 21 of 27 games this season, including 17 of the last 20 contests. Macon is shooting 47.1 percent from behind the arc in the last six games.
Texas A&M has regressed in a big way this year despite a stellar freshman named Robert Williams. He'll likely be a lottery pick this summer. Williams was named the SEC Freshman of the Week for the third time this season on Monday. He averaged 13 points, 11 rebounds, four blocks and 2.5 assists in the two games and had his eighth double-double of the season. His 69 blocked shots are the second-most in A&M single-season history. In Saturday's 81-62 win over Auburn, A&M shot 31-for-45 from the field. That's believed to be the highest percentage (68.9) ever against the Tigers. Arkansas beat Texas A&M 62-60 on Jan. 17. Macon scored 16 points and the Hogs overcame a 12-point deficit in the second half.
Key trend: The Aggies are 1-6 ATS in their past seven after a win. The Razorbacks are 5-2 ATS in their past seven vs. the SEC. The home team is 6-2 ATS in the past eight meetings.
I'm leaning: Arkansas.
No. 7 Louisville at No. 8 North Carolina (-4.5)
ACC game at 9 p.m. ET on ESPN. The Cards are tied with Duke a game behind North Carolina. U of L will be favored in its final three regular-season games , so should it pull the upset here it likely will at least tie for the ACC title. Louisville won a third straight Saturday, 94-90 over Virginia Tech. The Hokies played about as well as possible in hitting 59.2 percent from the field and 65.4 percent from long range. Their 90 points were a KFC Yum! Center record for an opponent. Donovan Mitchell had 26 to lead Louisville, which won its 1,800th all-time game. Cards freshman forward V.J. King missed the game with a thigh bruise but should play here. He averages 6.7 points and 2.3 rebounds in about 15 minutes per game.
UNC looked as good as it has all season on Saturday in thumping No. 14 Virginia 65-41. Justin Jackson, another ACC Player of the Year candidate, scored 20 - his 14th game with at least that many. The Heels held the Cavaliers to the lowest point total scored by an opponent in the Roy Williams era. The 41 points are the fewest UNC has given up to Virginia since Jan. 21, 1947, when UNC beat the Cavaliers 63-38. UVa was 2-for-20 from long range on Saturday. North Carolina has replaced Baylor as one of Lunardi's No. 1 seeds. Williams tied Eddie Sutton for the eighth-most wins among Division I head coaches with 806. This is the only scheduled meeting between Louisville and North Carolina. The Cards won last year by six at home.
Key trend: The Cards are 4-1-1 ATS in their past six road games. The Heels are 19-7 ATS in their past 26 at home.
I'm leaning: North Carolina.
Doc's Sports has had a winning tradition for more than four decades. Don't believe us? Try us out for free, and we are convinced you will be a believer. Get $60 worth of free sports picks - members' picks just like our paying clients get - here .
Read more articles by Alan Matthews
---
Most Recent College Basketball Handicapping