NFL Survivor Pool Picks and Advice: Week 1
by Matt Severance - 9/6/2017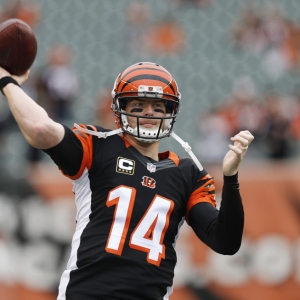 Is it me, or does it feel like this will be an easy season to compete in a Survivor Pool?
Obviously, there are always bad teams in the NFL. But in 2017, the New York Jets, Cleveland Browns and San Francisco 49ers appear in full tank mode (my Bears will stink again, too, but not quite in Jets/Browns/Niners category). We all know there's "no crying in baseball," but Commissioner Roger Goodell says there's "no tanking in football," either. He's 100 percent wrong.
The 2017 Jets on paper might be the worst offensive team in modern NFL history - if you are wondering, the previous worst would have to be the 1977 Tampa Bay Buccaneers, who totaled just 103 points in 14 games yet managed to win two of them a season after going 0-14 as an expansion club. I guarantee that you couldn't have named the three quarterbacks the Bucs used in '77: Gary Huff, Randy Hedberg and Jeb Blount. I honestly never heard of the latter two, and I used to live in Tampa. The law firm of Huff, Hedberg & Blount combined for three TD passes and 30 interceptions. Those Bucs managed seven total offensive touchdowns - something a few quarterbacks have done in a game by themselves - didn't score a TD in eight games and were shut out in six.
Free $60 in Member MLB Picks No Obligation Click Here
Are these Jets that bad overall? Probably not, but if you have a Jet on your fantasy team, well, good luck with that. It will be an upset if the Jets win three games. The Browns won't go winless because they host the Jets in Week 5. Cleveland is at least a year ahead of Gang Green in its rebuild. San Francisco was 2-14 last year and would have been winless if not for the Rams. The 49ers aren't going to be much better but could beat the L.A. Goffs twice again.
With all that said, remember to play "defense" at times in your Survivor Pool. Assume that your competitors also think the Jets, Browns and 49ers suck and will simply pick an opponent of one of those three teams if week if possible. History has shown teams likely aren't going 0-16. I also don't recommend holding on to a team until later in the season because you like some Week 9 matchup. Some prefer that strategy, but I don't. Too many potential injuries and you might not make it to Week 9. Survive and advance.
It's the same setup as last year, where I'll list my pick of the week in First Down (reserving the right to change by the Sunday deadline), teams I'm quite confident about in Second Down, games too close to call in Third Down, and those I'd steer clear of in Fourth Down for whatever reason. Good luck, and here's hoping we all cash in this year!
Here are the picks for Week 1 (team listed first is the choice), easily the most dangerous in terms of handicapping as we don't truly know what teams are yet and everyone is well-prepared for its opponent. Remember, don't make your picks until the last possible second. I don't recommend taking Thursday night games whatsoever. Note: Bucs-Dolphins game shifted to Week 11 because of Hurricane Irma.
First Down
Cincinnati vs. Baltimore: Do I want to pick Buffalo vs. the Jets here? Pittsburgh in Cleveland? Carolina in San Francisco? Sure I do. However, there's really no reason to select a road team this early. Teams are fired up to play in their home opener and upsets are more likely to happen. For now, I'm leaning toward Cincinnati because the Ravens have lost nearly 20 percent of their roster to season-ending injuries, suspensions or the like. Plus, Joe Flacco didn't practice at all in August due to back problems. Do I trust Marvin Lewis with my Survivor life this early? Not really, but this is my leader in the clubhouse.
Second Down
New England vs. Kansas City (Thursday): The Patriots no doubt will be a popular choice, and the reigning Super Bowl champions almost always win these Kickoff Games. But Tom Brady has to break in a few new receivers and running backs, and the Chiefs aren't chopped liver off a 12-4 season and AFC West title.
Atlanta at Chicago: Maybe Mike Glennon is the next Kurt Warner? Guy who just needed a chance? Yeah, probably not. The only shot I realistically give my Bears here is if the Falcons still are suffering a Super Bowl Hangover (or looking ahead to next week vs. Green Bay).
Pittsburgh at Cleveland: Might this be my pick by Sunday? Possible. The Steelers haven't seen DeShone Kizer, though. Maybe Le'Veon Bell is rusty.
Third Down
Detroit vs. Arizona: Must be nice to have a career losing record and as many NFL Playoffs wins as I do yet get $27 million a year like Matthew Stafford. Lions are usually a tough out at home.
Houston vs. Jacksonville: Should be an emotional scene in Houston in the first major event since that terrible flooding - sadly, my area could be in for much of the same with Hurricane Irma (shift east you b***h!). So if you don't see this story next week, you know why.
Tennessee vs. Oakland: I'm a big Titans believer this year and see them winning the AFC South. Tough 1 p.m. ET start for the Raiders, who probably win the AFC West.
Washington vs. Philadelphia: The Redskins swept the Eagles in two close games last year, and I expect this one will go down to the wire as well.
LA Rams vs. Indianapolis: Man, oh, man, if the Colts were only playing on the road without Andrew Luck against about 25 other teams I'd be picking against Indy in my First Down this week. But not vs. the Rams.
Green Bay vs. Seattle: The Seahawks have dropped seven in a row at Lambeau, and it wasn't close in 2016.
Dallas vs. NY Giants: OK, so now Ezekiel Elliott will play even though he's suspended six games and Odell Beckham (ankle) might not? Giants did sweep America's Team in 2016.
Minnesota vs. New Orleans (Monday): I'd certainly start Adrian Peterson if he were on my fantasy team as he wants to stick it to the Vikings because he's apparently offended they didn't pick up his $18 million option this offseason. Uh, you are 32 and stunk last year AP. Drew Brees generally isn't the same guy on the road and that should be enough for Minnesota to win.
Denver vs. LA Chargers (Monday): This is the Monday nightcap. The Chargers simply can't catch an injury break, it seems. They also rarely win in Denver.
Fourth Down
Buffalo vs. NY Jets: This should be the most popular pick of Week 1, but I'm not touching rebuilding Buffalo. Tyrod Taylor has been cleared from the concussion protocol, but the Bills are now one hit from using fifth-round rookie Nathan Peterman at QB. They also traded their best receiver (Sammy Watkins) and No. 1 cornerback (Ronald Darby) last month.
Carolina at San Francisco: It's a trip across country and Cam Newton didn't practice much in camp due to offseason shoulder surgery. The 49ers might stink offensively, but they have a nice foundation on defense.
Great offer! Doc's Sports has been a leader in NFL handicapping for more than four decades, and we are offering new clients $60 in free picks for any NFL handicapper on Doc's Sports Web site. You cannot afford to miss out on this great offer - click here . Also, get three handicappers for the price of one when you sign up for a full-season football package! Click Here for details . Get free NFL betting picks weekly on Doc's Sports free football picks page .