Expert College Basketball Handicapping: Marquee Teams Tough to Trust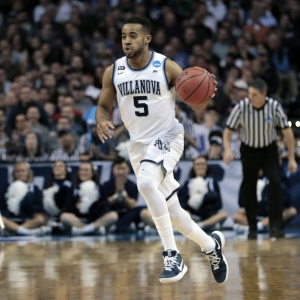 We are only two weeks into the college basketball season, but already we have seen no shortage of impressive, surprising, and head-scratching results. And as a result, we are faced with realities surrounding some high-profile teams that are quite different than they were just two weeks ago when the season was about to start. In particular, there are three teams that were ranked in the Top 9 in the preseason poll that are a real puzzle.
Villanova: The defending National Champions were absolutely spanked by Michigan, the team they beat in the National Championship game handily, at home on Wednesday night. It was a beatdown in every sense. Michigan opened up a lead in the first half and never looked back, dominating defensively and owning the offensive end as well. Sure, Villanova has gone through some big changes, but Michigan was playing without their best player from last year, too, as Mo Wagner went to the Lakers. Villanova had no answer for the defensive attack and had no creativity on offense. The team had played no one of note up until this point, and Jay Wright seemed noticeably uncomfortable with the Top 10 ranking for the team heading into the season. And now we know why.
But now things get really tough to judge. After a 27-point loss at home to a team with a true freshman driving their offense, this team is going to be crushed in the polls. So now we need to figure out if their early issues are going to continue and if this is going to be a rough fall for the team. Or if they are going to learn from that setback, figure things out quickly, and live up to the expectation of voters who had them eighth going into the season?
They are young and have gone through changes. Duke has shown that being young doesn't have to be a handicap, but it sure can be. This is going to be a very tough team to deal with in the next weeks. The Wildcats have started out 1-2 ATS and were actually 6.5-point favorites in that Michigan debacle, so they certainly have not been kind to bettors so far.
Kentucky: The Wildcats, a very young team, were thoroughly destroyed by a very young Duke team in their opening game. The 118-84 beatdown was as lopsided as we have seen John Calipari lose. Ever.
You could spend a month listing the ways in which Kentucky just wasn't good enough. But Duke is impressive. And Kentucky has rebounded against meaningless competition nicely. But they don't play another top-level competitor until they face North Carolina three days before Christmas. Until then they mostly play teams that they will beat just based on athleticism and raw talent. They aren't going to face another team like Duke for a long while. But how will they stack up against other elite teams? And how much can they progress before that next big test?
We always know Calipari has plenty of talent, but we don't always know if he will be able to maximize that talent on the court. Often it seems like he is more of a draft coach than a game one. It will be tough to know how this team will do against real fire until they face it.
They are only 1-2 ATS so far, and 1-1 since the Duke game, so they have some work to do to prove themselves worthy of trust again after that initial misstep.
Duke: Duke is almost as tough to judge as Kentucky, but for entirely different reasons. Coming into the season, the hype was intense. R.J. Barrett was the heavy favorite to be the top pick in next year's draft, and along with Zion Williamson and Cameron Reddish he formed a ridiculously good freshman class. But the expectations were ramped up further with a preseason tour to Canada, and then were blown way through the roof with that crushing win over Kentucky. And it's not just that they are beating teams, they are doing it while Williamson jumps through the rafters and onto highlight reels several times per game, and the biggest threat to the team is the potential that they will slip on all the drool coming from the gaping mouths of the NBA scouts in the arena.
At this point there are few people who think that this team is even remotely mortal. And if they meet and beat Auburn and Gonzaga in Maui, expectations will only go higher. When a team looks too good, it can be very tough to accurately predict how good they really are. Remember, this shift in perceptions has been significant - they entered the season ranked only fourth, and a week later they were No. 1, drawing 48 of 65 first-place votes.
Already we have seen some hint of the problems huge expectations create. Despite three dominant wins, they are just 2-1 ATS because they were favored by a monstrous 38.5 against Army but won by only 22 after emptying the bench late after things were long since resolved.
Doc's Sports college basketball handicapping team has set some lofty standards worldwide for college basketball handicapping. They normally do their best work at the beginning of the season. Get $60 worth of premium members' picks free . No credit card needed, and you will never deal with a salesman. Also, find out more about Doc's Sports expert handicappers college basketball results here . Get daily free college basketball picks on Doc's Sports NCAA hoops predictions page.
Read more articles by Trevor Whenham
---
Most Recent College Basketball Handicapping