NFL Survivor and Confidence Pool Picks and Advice: Week 10
by Matt Severance - 11/7/2018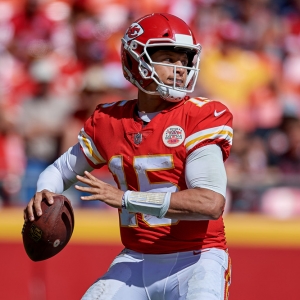 Reason No. 1,498,290 to not believe everything you "read" on the Internet.
You know how when the last unbeaten team in the NFL each year loses? Supposedly the members of the 1972 Miami Dolphins get together and have a toast to celebrate them remaining the only members of the perfect season club.
Did I really believe that nearly every single living member of that team did this each year? Of course not. The fellas are pretty old and scattered about the country. But, man, I did want to believe it in some form.
After actually doing a bit of research - i.e. a few reputable sites - it turns out that it is indeed an urban legend. Apparently three guys who lived in the Miami area did it once: Garo Yepremian, Nick Buonticonti and Dick Anderson. No organized party or Skype toasting session each year. That's a bummer!
I'm sure in private a few guys had a beer or two, though, this past Sunday evening after the unbeaten Rams lost a fabulous game in New Orleans - if that was a preview of the NFC title game, I'll take it! The only negative was everyone hoping that the Rams were still unbeaten in Week 11 when they "host" the Kansas City Chiefs on Monday night in Mexico City in the game of the year. Much like my 1985 Bears were unbeaten when they went to South Florida late in the season on a Monday and were knocked off by Dan Marino. I was too young to drink then away my sorrows, so a good cry had to do.
Nothing too earth-shattering from a Survivor or Confidence Poll perspective in Week 9. The Rams losing wasn't one because they weren't even favored in New Orleans. Shoot, I recommended the Saints in this space. The highest game I had wrong was Dallas over Tennessee on Monday night, and I should have known better to think that Jason Garrett would preside over a well-coached game out of a bye week. Won't happen again … and I surely won't have to worry about a Garrett-coached team coming out of a bye again, either (i.e. he's not coming back in 2019).
Here are my Week 10 Survivor Picks in order of how I would also do my Confidence Pool selections (with occasional exceptions noted when necessary). The team listed first is my choice. Denver, Minnesota, Baltimore and Houston on the bye so we start at 14.
14. Kansas City vs. Arizona: Surely the Chiefs are long gone in any Survivor Pool, and I actually think the Cardinals can cover this huge number - could be biggest of season by Sunday - because they are off a bye and the Chiefs might be peering ahead to Week 11. Still, no freaking way Kansas City loses.
13. Green Bay vs. Miami: I would love for the Packers to lose again, and the last time they were in a similar situation as this at Lambeau they nearly did vs. San Francisco.
12. LA Rams vs. Seattle: Slight worry about a trap game for the Rams, and I'd probably pick an outright upset for the Seahawks if this game were in the Pacific Northwest. Seattle did nearly pull the upset of L.A. there earlier this season. This may be close, but Rams probably going unbeaten at home this year.
11. New England at Tennessee: Titans did look good in Dallas on Monday but never good to be on a short week vs. the Patriots, who may be getting both Gronk and Sony back. Gronk and Sony. Sounds like a country western duo.
10. Philadelphia vs. Dallas: The Cowboys not only have yet to win on the road this year, they haven't covered a spread. Now they are on a short week against an Eagles team off a bye and fortified by Golden Tate. This should be a double-digit win.
9. LA Chargers at Oakland: The Raiders clearly have 100 percent quit on Jon Gruden as their performance last Thursday night at the 49ers was near criminal. Petermanish! (see Jets-Bills)
8. Chicago vs. Detroit: I will probably move this down a bit if Khalil Mack doesn't return this week, but reportedly he will. Lions also appear to have quit since the Tate trade.
7. Tampa Bay vs. Washington: If the Bucs had ANY defense they would be a playoff contender. They do have some offensive weapons. The Redskins were exposed at home by the Falcons, and Washington's fade is officially on.
6. Atlanta at Cleveland: This time of year watching a pass-happy dome team like Atlanta play outdoors in the cold would normally worry me. But the Falcons are rolling and can't afford a loss like this.
5. Pittsburgh vs. Carolina (Thursday): Finally, a good Thursday night game! Big Ben over Cam in a close one.
4. NY Jets vs. Buffalo: I wonder if even Nathan Peterman's mom thinks he sucks. Never seen anything like that guy, to the point I now feel sorry for him. If I play for the Bills and Sean McDermott even tries to start Nate Pete again this Sunday, I quit on the spot. Sam Darnold hasn't been much better of late, but Jets will win by a baseball score.
3. Indianapolis vs. Jacksonville: Meh. Just a flip of a coin here really. Both off a bye. Lean Colts simply being at home and Andrew Luck > Blake Bortles.
2. San Francisco vs. NY Giants (Monday): I'll be watching reruns of co-ed curling from the 2018 PyeongChang Games on the Olympic channel instead of perhaps the worst MNF game this late in a season this century.
1. Cincinnati vs. New Orleans: Sometimes to win a Confidence Pool you have to pick an upset no one else will. This is mine. Screams trap game for the Saints, who nearly lost their last outdoor game (in Baltimore).


Want free NFL picks? Doc's has you covered. New clients can take advantage of this great offer of $60 in free Doc's Sports members' picks for any handicapper on Doc's Expert Handicapper list. Just check out these guys' pages and see what great work they have done making money for themselves and their clients over the years. Get $60 worth of premium members' picks free . Also, get three handicappers for the price of one when you sign up for a full-season football package! Click Here for details . Get free NFL picks weekly on Doc's Sports free football picks page.