Who Will The Los Angeles Lakers Play On Christmas Day?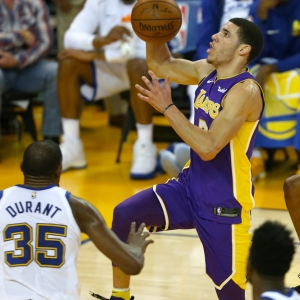 It's no secret that Christmas Day in the sports world is all about the NBA. So far this summer the talk in the NBA has been all about LeBron James signing with the Los Angeles Lakers and when I saw that, I was thinking about one day and one day only: who are the Lakers playing on Christmas Day?
The NBA usually plays four to five games on Christmas Day and the Association always puts their top stars on the court and this year should be very interesting. Online sports book MyBookie has posted odd on who the Los Angeles Lakers will play on Christmas Day and if you don't believe the Purple & Gold will be on the court in L.A. that day then you must be crazy.
Since the King has arrived in Los Angeles you figure the NBA will give us a nice late afternoon Christmas Day gift and have LeBron James play either the defending champs the Golden State Warriors or maybe the old 1980's rivalry kicks back up with the Lakers versus Celtics on Christmas Day. No matter who the Los Angeles Lakers play on Christmas Day you know the ratings will be through the roof and you figure the betting propositions on that game will feel like a Super Bowl Sunday.
Odds Provided By MyBookie
Who Will The Lakers Play On Christmas Day?
Golden State Warriors -200
Boston Celtics +250
Houston Rockets +350
Oklahoma City Thunder +500
Philadelphia 76ers +700
Cleveland Cavaliers 13-1
San Antonio Spurs 20-1
No Christmas Day Game 35-1
Free Pick: I know the defending champs are the big favorites here at -200 but I smell a different angle coming out of the NBA when they release the schedules. I see on Christmas Day a double-header on ABC starting with the Houston Rockets playing on the road against the Golden State Warriors. The second game on ABC will be the Los Angeles Lakers and LeBron James playing at home against the Boston Celtics with hopefully a healthy squad. Taking a shot with the +250 on the Celtics and Christmas Day NBA should be fun to watch and make little more holiday coin.
Raphael Esparza is one of the best handicappers in all sports and one of the best entertainment odds consultants out there. Esparza is getting ready for the semifinals of the World Cup and if history holds Esparza will have a outstanding semi's and championship plays in Russia. This week Esparza will have plays in MLB Baseball, CFL Football, World Cup Soccer, WNBA, Boxing, and UFC Fight Night in Boise, Idaho Saturday night. New clients can take advantage of Doc's no-hassle $60 free picks offer and get Esparza's weekday picks.
Read more articles by Raphael Esparza