Expert College Hoops Handicapping: Duke Blue Devils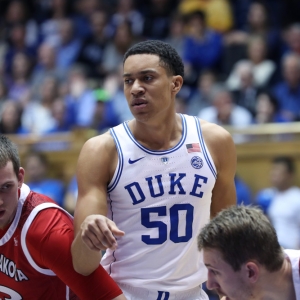 On Tuesday night, Duke was playing at a legitimate top 20 team in Louisville. It was a tough test, and for much of the game it was too much for the Blue Devils. With 9:04 left in the second half, they were down by 23, superstar Zion Williamson had four fouls, and they seemed doomed. When the dust settled, though, Duke had won by two, and the massive, physical Williamson still had only four fouls. That all is, of course, impossible. It shouldn't be able to happen. But Duke pulled it off. Coach K is as good as any coach on the planet, but he clearly made a deal with the devil in order to assemble this team. They are that good. And that scary.
There is still a lot of basketball between now and when the nets get cut down for the last time this year. And Duke should be playing a lot along the way. That means we need to be on top of how to deal with this team as bettors - we can't avoid them. Here are four thoughts when it comes to this team:
Balance: Championship teams are ones that rarely have to rely on one aspect of their game. That can be exploited too easily. Just looking back at the previous seven seasons, we have seen that the champion has ranked in the top 11 nationally in both offensive efficiency and defensive efficiency in all but one year. Only UConn's surprising 2014 victory was the difference. For the most part, champion teams are exceptional on both sides of the court. And Duke fits in that category as well. They currently rank fourth in defensive efficiency, behind Texas Tech, Michigan and Virginia. And they sit third in offensive efficiency behind only Gonzaga and Tennessee. They aren't alone - Virginia and Michigan State are also Top 11 in both categories - but they certainly have a makeup that matches past champions
Coach K: We could go on and on about what kind of coach he is and what he has accomplished, but that would just be wasting time. All we really need to dwell on here is that among all his titles is the 2015 one in which he, like this year, was relying on a core of young megastars who weren't headed to a long college career. He has adapted to this new reality of college basketball far better than seemed likely. He's an asset in this situation.
Those freaks: At this point, it seems likely that Zion Williamson will be the top pick in this year's NBA Draft and that R.J. Barrett and Cameron Reddish will both be in the Top 5 as well. And Tre Jones, the forgotten freshman among these monsters, also has a strong chance of being a first-rounder. Williamson is an incredible talent - potentially generational. Barrett eats minutes productively, and he's Canadian, which is his greatest asset. Reddish is behind the top two on development but has been improving. There isn't a team that has talent to come close to this team. That doesn't always matter - ask Kentucky how many titles they have in the last decade compared to how many first rounders. But this isn't just a collection of freaks. They are working well together.
Weaknesses: Everything isn't perfect with this team. Their foul shooting is rough at below 70 percent as a team. While they can get red-hot from behind the arc as they did against Virginia by going 13 of 21, they have been a substandard team from three all year. In fact, no national champion since 1987 has shot as badly from three as Duke currently is, and the three has only grown in significance over that time. And they are a long way from a deep team, with only eight guys in their main rotation and six of those taking the lion's share of minutes. None of those issues are fatal - at least as long as Williamson and Barrett stay healthy - but they give other teams at least a little hope. In particular. Teams like Texas Tech or Michigan that are strong defensively and have excellent coaching could potentially find ways to slow down the offense and make things interesting. Gonzaga and Syracuse have beaten them, so it is possible. Not easy, but possible.
Public views: Duke is the very strong +170 favorite to win the national title at Bovada . The next closest is Tennessee, sitting way back at +750. The public is obviously all over this team right now. They are a very public team at the best of times, and Zion-mania has only amplified that. But they are doing well for bettors despite the attention. They are at 15-9 ATS on the year, which is quite solidly profitable, and they have gone under the total 16 times compared to just six overs. They went through a rough stretch in January, going 1-4 ATS. But they have bounced back to go 4-1 ATS in their last five, so the struggles were just temporary.
Read more articles by Trevor Whenham
---
Most Recent College Basketball Handicapping