Expert College Basketball Handicapping: Ranking the Conferences from Betting Perspective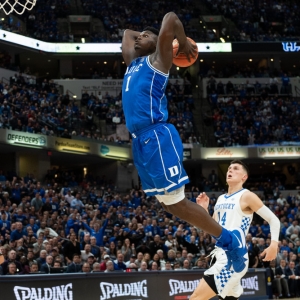 If you just look at the AP Poll when you are trying to rank the conferences in college basketball, it comes down to a battle between the ACC and the Big Ten. The Big Ten has Michigan ranked second and Michigan State ranked sixth, so they have a strong case. But the ACC has top-ranked Duke - for now top ranked, at least - with undefeated Virginia fourth, and three more teams in the Top 13, so they come out on top. The SEC and Big 12 both have two in the Top 12 to make their case as well, but they both fit in a second tier.
But ranking conferences based on the polls, while fun, isn't useful to us as bettors. What is far more useful is to rank the conferences based on the betting performances of teams. And when we do that with the top six conferences, we get a far different picture starting to emerge.
1. ACC: The ACC comes out on top in this one as well. Out of their 15 basketball schools, eight have generated a solid profit, with one more essentially breaking even. And four have generated what I would call a significant profit at this point - having covered more than 10 games at this point in the season. The betting stars of the conference are Virginia and Pitt, both at 13-3 ATS. Given the hype around them, Duke is doing well for bettors at 10-6 ATS. The biggest disappointment has to be Florida State. While they are 13-4 overall, they are just 1-3 in conference play so far and are a dismal 6-10 ATS. Simply, they aren't nearly as good right now as you would guess by glancing at their record.
2. Big 12: There is a big gap between the ACC and the rest of the conferences right now in terms of betting performance. Coming up second-best would be the Big 12, which has four teams that are solidly profitable, though just one of those have covered more than 10 games. That betting star is Oklahoma at 12-2-2 ATS. Not among those four profitable teams are the two best squads in the conference right now. Texas Tech sits at 15-1, and 4-0 in conference play, but they are just 6-9-1 ATS. And Kansas sits at 8-9 ATS.
3. SEC: The SEC is not doing great for bettors, but no one beyond this point is. Of their 14 teams, just three are profitable, and only Ole Miss, at a stellar 14-2 ATS, has covered more than 10 games. Tennessee and, somewhat surprisingly, Georgia, are the other two profitable teams. Four others in the conference have basically broken even, so many teams in the group are costing us money as bettors. Among those are Kentucky at 7-9 ATS.
4. Big East: The only reason they are this high on the list is because they have fewer teams than the other two remaining conferences. The Big East has just two profitable teams among their 10 members. The defending champs from Villanova are respectable at 10-7 ATS, and Marquette is a little better at 11-7 ATS. Beyond that it has been largely unremarkable betting performances from what has been a largely unremarkable conference this year.
5. Pac-12: Of their 12 teams, only Arizona and Oregon State have generated at least a unit of profit on the season - which is how I am defining profitable for these purposes. That's it. And neither one is exactly burning things up - the Wildcats are 9-7-1 ATS, and the Beavers are 9-5-1 ATS. Four other teams have essentially broken even, but that still doesn't change the fact that this is a brutal conference.
6. Big Ten: The Big Ten is very strong on the top end right now - unbeaten Michigan will likely be ranked No. 1 overall next week if they beat Wisconsin, Michigan State is on a tear as well, and they have five ranked teams. But for bettors, they aren't doing much to get excited about. Only two teams out of 14 are profitable, though both are nicely profitable - Michigan State is 13-4 ATS, and Nebraska is 11-4-1 ATS. Four more teams are basically breaking even, including Michigan, Maryland and Purdue. But you can't pretend that the conference is living up to bettors' expectations at all.
Doc's Sports college basketball handicapping team has set some lofty standards worldwide for college basketball handicapping. Get $60 worth of premium members' picks free . No credit card needed, and you will never deal with a salesman. Get daily free college basketball picks on Doc's Sports NCAA hoops predictions page.
Read more articles by Trevor Whenham
---
Most Recent College Basketball Handicapping