Expert NBA Handicapping: How Bad are the New York Knicks?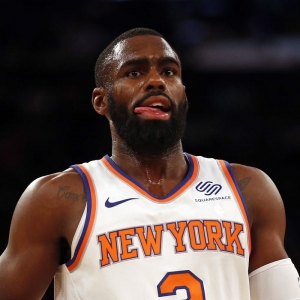 To write about the New York Knicks without making fun of them at least a little would be completely impossible. How a team in the greatest city in the world can make the playoffs just three times in 14 years, and not even come remotely close the last five years before this one, is a total mystery. A totally embarrassing mystery. They should be able to attract whoever they want and consistently dominate. But the horrific leadership decisions and almost boundless incompetence has created a total mess several times over. So, where is this team at right now? Here's a look from several angles:
Porzingis: The Kristaps Porzingis trade was a great one. Transformational. The problem, though, is that the team that it is great for isn't the Knicks. For them it's a bit of a mess, really. Dallas had a very special talent in Luka Doncic, and they added another one in Porzingis. If the two Euros can play together, and Porzingis can stay healthy, this will be an absolute steal of a deal. If the upside is achieved then the Mavs could have justified any price, so the price they paid is reasonable.
For the Knicks, evaluating the deal is tougher. Perception has to be factored in, and trading away a franchise-level talent early in his career after things have gone off the rails for not entirely clear reasons isn't a great look when you are trying to bring in to major free agents this summer. You now have to convince people that you won't treat them like you treated your last star. The addition of Dennis Smith Jr. is promising, as he has nice upside on the point. Even he is a reminder of the incompetence of the franchise, though, as Smith was on the board when the team instead picked Frank Ntilikina, a dud of a draft pick at the point. DeAndre Jordan has no long-term future on the team but could be a useful mentor for Mitchell Robinson since they are basically the same player. And there are two draft picks, but those won't be nearly as good as they could be if Porzingis finds his way in Dallas. But this deal really comes down to the cap space for a second max player. If they can land that, then it doesn't look horrible. But man, that's a huge gamble to take. And if it doesn't happen, this deal could really set the team back. Way back.
Current roster: Smith is a nice piece - not a superstar, but a nice complimentary piece who can distribute and score. He can have a future. Mitchell Robinson shows real flashes as a defensive freak, though he is still a long way from being a finished project. Kevin Knox shows flashes, but he was very young when he was drafted and still looks like it. Emmanuel Mudiay is showing potential as a backup guard off the bench. But beyond that, there isn't much in this current group that is worth anything. They may only be two or three players away, but only if those are very special players.
Zion the savior: Like every team in the NBA, the Knicks dream of landing Duke's Zion Williamson atop the NBA Draft and benefitting from his freakishness for years to come. That is a whole long way from a guarantee, though. For one thing, Phoenix is every bit as good at tanking as this team, so the highest number of lottery balls is far from a guarantee. And, even if they do finish last, they have only a 14 percent chance of winning the top pick. Ja Morant or R.J. Barrett could be nice consolation prizes, but they aren't the same. Tanking is a risky approach.
Free agents: With the trade of Hardaway's contract and the rest of the moves, the team has set themselves up well in free agency. They are set to enough cap space in free agency to add two max contracts. Combine that with what will be a very high draft pick, and the path to respectability that this team is planning on is clear. But even that isn't any guarantee right now. There are several teams with as much or more projected cap space than the Knicks, so the competition for top players is going to be intense. And situations like the Lakers, Clippers and Mavericks are going to be a lot more attractive for a free agent interested in winning than New York. You would be taking a massive leap of faith as a free agent signing with this team - even if they do land Williamson in the draft. And there is example after example of stunningly stupid free agent decisions that haunt this team, so it's not like we can trust them to manage this well. In fact, I would happily bet that they blow it. It's what they do.
Betting performance: Not surprisingly, this team has been a disaster for bettors. At 24-33-1 ATS, they have the worst betting record in the league. On the plus side, though, that means that no team is better to bet against, and that isn't likely to change. They have been useless in the long term on totals, going "under" 30 times but "over" 28.
Read more articles by Trevor Whenham