NFL Survivor Pool Picks and Advice: Week 9
by Matt Severance - 10/30/2019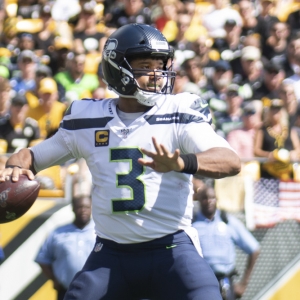 We heard rumors of guys like the Jets' Le'Veon Bell and Jamal Adams, Bengals' A.J. Green, Chargers' Melvin Gordon and Redskins' Trent Williams potentially being shopped ahead of Tuesday's NFL Trade Deadline, but it largely came and went without a peep. (I'm half-surprised the freaking Patriots didn't somehow get them all.) Williams, incidentally, has finally reported to the Redskins, but it's not like Washington is any good.
The NFL is getting more interesting from a player movement perspective as guys in that league are taking control of their careers like NBA players have been doing for years, but the football trade deadline just doesn't compare to those in basketball and baseball.
Nothing crazy happened around the NFL in Week 8 with Survivor Pools. How do I know? I missed just one game in my Confidence Pool (stupid Bears) and still only finished seventh out of about 30 competitors. The winner got them all right, and most other people only missed 1-2 games. Miami might have wrecked some Survivor Pools on Monday after taking a 14-0 first-quarter lead in Pittsburgh, but then clearly someone high up in the Dolphins front office called down to the sideline to remind the coaching staff that the team is tanking for Tua. The Fins didn't score again and lost 27-14.
My top pick in Week 8 was Minnesota at home vs. Washington on Thursday, and the Vikings didn't play great - I took all those points😊 - but won 19-9. Here's a look at Week 9 , with Atlanta, Cincinnati, the LA Rams and New Orleans on the bye. As of this writing, not a single double-digit favorite (couple games are close).
14. Seattle vs. Tampa Bay: Seems like the obvious choice as the Bucs have the long flight to the Pacific Northwest and Jameis Winston is somehow regressing from a turnover perspective. Don't understand why he's still the starter … although I'd gladly take Winston in trade for Mitchell Trubisky.
13. Carolina vs. Tennessee: Panthers to keep Cam Newton on the sideline at least one more week as he rehabs his foot injury. Backup Kyle Allen had been 5-0 in his career as a starter but he looked lost against the 49ers last week. The Titans aren't the 49ers.
12. Philadelphia vs. Chicago: Speaking of Trubisky, I'm done with that bust. Just like I'm done with Matt Nagy, who continues to lose games because of his conservative/stupid game plan. Little has gone right for the Bears since Cody Parkey's double-doink against these Eagles in last season's playoffs. A loss here as I expect for Chicago, and I officially transition to college basketball/NBA seasons as a fan.
11. Buffalo vs. Washington: I believe the Bills might be the most overrated team in the NFL with their 5-2 record - their offense is no better than the Bears' is. That said, I can't see the Redskins going on the road and winning.
10. San Francisco at Arizona (Thursday): Both these teams have either passed or tied their win total from last season. In fact, the Niners' betting win total entering this season was 7.5, so they can top that already on Thursday. Do believe this will be close and the Cards have won the past eight in the series, but San Francisco's defense will shut down Kyler Murray.
9. Houston "at" Jacksonville: Love these 9:30 a.m. ET kickoffs from London - this is the last London game of the 2019 season. Heard some rumors of the Texans kicking the tires on trading for the Jets' Bell, and that would have made Houston truly a Super Bowl threat. Alas, they did lose star defensive end JJ Watt for the season in Week 8.
8 Dallas at NY Giants (Monday): Cowboys should have little trouble sweeping their division rivals for a third straight season with Dallas getting healthy off its bye and Big Blue on a four-game slide.
7. Cleveland at Denver: The Browns clearly made a mistake making Freddie Kitchens their head coach - want Nagy? - and he was so incredibly outcoached by Bill Belichick last week it was funny. Only like the Browns here because the Broncos have to start Brandon Allen at quarterback and he has attempted as many regular-season NFL throws as my sister has.
6. Pittsburgh vs. Indianapolis: Worries me a bit the Steelers are on a short week and probably won't have James Conner, but they will edge the Colts - Indy is the first team to start 5-2 in NFL history and have every game decided by 7 points or fewer.
5. Oakland vs. Detroit: Raiders might not remember what it's like in their locker room or on that field because they haven't played at the Oakland Coliseum since Sept. 15 - back when the A's were still playing and half the baseball diamond covered the football playing surface.
4. Kansas City vs. Minnesota: This is only if Patrick Mahomes returns from his knee injury. If it's Matt Moore again, take the Vikings at the same spot.
3. LA Chargers vs. Green Bay: Can the Packers complete the season sweep of the AFC West? I say no even though there will probably be about 20,000 Cheeseheads in that 30,000-seat L.A. soccer stadium. The Bolts saved their season in Chicago but then fired offensive coordinator Ken Whisenhunt.
2. Baltimore vs. New England: Yep, the Patriots go down on Sunday night. The quarterbacks/teams they have faced have been Charmin soft, and Lamar Jackson had a bye week to get ready for that stellar Pats defense.
1. Miami vs. NY Jets: Sadly, this will be one of the games forced upon me from a TV perspective simply for where I live. But I wouldn't back Jets QB Sam Darnold to beat the University of Miami right now the way he's seeing "ghosts."