Will There be A Triple Crown Winner in 2019?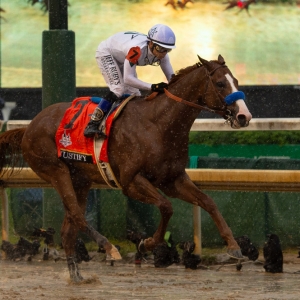 We have been really, really spoiled lately. We had a Triple Crown in 2015 with a wildly-impressive horse dominating the three races. And just three years later we had another horse, even more impressive by my eyes, doing it again. We had not seen a Triple Crown since 1978, and many very good horses had tried and come up short. Silver Charm. Smarty Jones. Ream Quiet. Big Brown. Sunday Silence. Alysheba. Afleet Alex. Point Given - the most heartbreaking of all in my opinion. And on and on. But suddenly Bob Baffert has made winning a Triple Crown look easy, and people almost expect it to happen again and again.
Make no mistake, though - winning a Triple Crown is incredibly difficult. Three brutally tough races against very tough competition in just five weeks. Even great horses can, and often do, fall short. So, will there be a Triple Crown winner in 2019? The short answer is no, probably not. In fact, quite likely not. Almost certainly not. Here are five good reasons why:
There is no Justify, no Pharoah: There are a lot of nice horses in this field. Omaha Beach is a deserving favorite. The three Baffert horses are all impressive and dangerous. Tacitus is a nice horse. Maximum Security is undefeated. And so on. But while a large handful of horses in his race are very nice and could easily win the Derby and look like they belong, none of them are anywhere near the level of the two modern Triple Crown winners. Justify was inexperienced, but he had been mind-blowingly good in his three races and seemed like a monster in a field of puppies. The biggest challenge was not to figure out if he was good enough to win but to figure out how to make any real money with his odds so low. And American Pharoah had been totally dominant after a stumble in his debut race, and the only reason he wasn't an even bigger favorite was that his stablemate, Dortmund, had been almost as impressive. These horses absolutely towered over their fields.
I have a lot of respect for several horses in this field this year, but there is no towering going on. Heck, every time I think about the race, I have a different horse who is the best one. Triple Crown winners need to be dominant. There is no dominance here.
The depth runs deep: This is a deep field. Not as strong up top as some years, but much deeper than many we have seen. It doesn't take too much imagination to see the three Baffert colts, Tacitus , Omaha Beach, War of Will, Code of Honor, or Vekoma winning. And a few of the longer shots are relevant , too. There are more legitimate contenders here - by a wide margin - than we have seen in Triple Crown years. American Pharoah had to deal with Dortmund, but things got pretty slim beyond that, with a lot of horses that just weren't good enough. And Justify faced a field that was not exactly great - the second betting choice was My Boy Jack, which tells you all you need to know. This field is too deep this year for a horse to step above them three times in a row - or at least one of these horses.
The Derby has no obvious shape: When we looked at Justify and American Pharoah heading into their Derby dates, we knew what type of race they wanted to run, and we could have some confidence that they would be able to run them. There is not nearly as much certainty here. Maximum Security is the only consistent speed horse, but several others - most notably Omaha Beach - could look to take the lead as well. Without a ton of raw early speed, we aren't likely looking at fast early fractions. However, if a couple of horses tangle early, then there could be a faster pace. Maximum Security could look to lead at a modest pace like he did in the Florida Derby, or he could be sent out much faster since Game Winner shares an owner and would benefit from faster early fractions. And several other horses run races that could look different based on choices made, too. Roadster could close from later in the field, or he could run just off the pace. Improbable will probably be mid-pack, but he could be sent to the lead so that Baffert has some control of the pace. And on and on.
There are so many permutations and possibilities for the pace in this race - and, by extension, for the next two races - that anything could happen.
Stamina aplenty: The breeding in this group is strong, and there are plenty of horses with a lot of stamina features. The concerns about the distance in the Derby and the Belmont are always a feature of the Triple Crown, but they are much less of an issue this time around. More horses that can handle the distance well make it tougher for one to stand above the crowd consistently.
Repeats are extra rare: It is very tough to win a Triple Crown. And it is especially rare for it to happen twice in a row. We have seen 13 Triple Crown wins, but only once have they occurred in consecutive years - Seattle Slew's 1977 win was followed up by Affirmed in 1978.
Read more articles by Trevor Whenham