2011-12 Big Ten Basketball Predictions and Futures Odds for Betting
by Robert Ferringo - 10/31/2011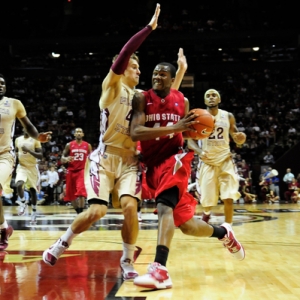 It's a college basketball cliché that the best part about freshmen is that they become sophomores. But an equal and opposite maxim could be that the worst part about seniors is that they graduate. (Well, unless they go to Connecticut, but that's another story.)
Last year the Big Ten was the deepest, most experienced conference in the country. Predictably, it was an excellent year for the league and nine of the 11 teams in the conference saw postseason action, with seven teams earning a trip to the NCAA Tournament.
Claim your 100% Xbet
Signup Bonus
CLICK HERE
But this season marks the beginning of an entirely different era. Four-year senior stars like Talor Battle, Juice Thompson, JaJuan Johnson, E'Twaun Moore, Demetri McCamey, Jon Lauer, and David Lighty are gone. And one season after Big Ten teams returned 42 of 55 starters (76.6 percent), the conference welcomes back just 31 of 60 starters (51.7 percent), most of whom were simply role players behind the aforementioned studs. The fact that there are only 32 seniors – total – in the entire league may be even more startling.
Let's put it this way: the most veteran, experienced team in the Big Ten this year is newcomer Nebraska (five seniors, six juniors). And the veteran Cornhuskers have played exactly zero games as a member of the Big Ten, so how experienced are they really? Yet, if you subtract Nebraska's five seniors and six juniors the number of combined freshmen in the Big Ten (47) is nearly DOUBLE the combined amount of juniors and seniors in the league this year (55).
Case in point: conference favorite Ohio State has exactly one senior and one junior on the roster compared to 10 freshmen and sophomores. Penn State (10:1), Illinois (10:1), and Michigan (10:2) have similarly warped underclassmen-to-senior ratios.
Youth means unpredictability. And that means a volatile college basketball betting market in the Big Ten this year. With that in mind, here are my 2010-11 Big Ten Basketball Predictions to help you with your college basketball picks, with each team's odds to win the Big Ten conference in parentheses:
The Favorite: Ohio State (-125)
The Buckeyes have become "Center U", with Jared Sullinger as the latest beast to man the middle of the paint in Columbus.
William Buford is one of the most explosive guards in the conference and Aaron Craft is a savvy (albeit despised) point guard.
A big X-Factor for this team is the development of Deshaun Thomas, the sophomore swingman that is a little awkward for my taste.
Thad Matta has another stellar recruiting class and all of the young bucks will get immediate time. However, I think that Ohio State is one of the most overrated teams in the country.
Yes, Sullinger can dominate. But I think that people are soft-pedaling the experience and talent that this team lost from last year.
Ohio State has one senior (Buford) and one junior (transfer Evan Ravenel, who sat out last year). Beyond that it is nothing but freshmen and sophomores.
I know that we've seen some underclassmen-led teams make deep runs into March in recent years. But we've seen just as many clubs flame out because of inexperience (although those teams are rarely talked about).
I am not buying this team as one of the Top 5 or 10 in the country. But since they have the most talent in the conference they still need to be knocked off the top spot.
The Challenger: Michigan (+500)
The Wolverines were one of the biggest overachievers in the nation last year, and they have a ton of buzz heading into this season. They are a little green, but in his fourth year at the helm John Beilein has a roster stocked with his own recruits and he has done a masterful job of finding players that fit his quirky system.
Tim Hardaway Jr. was smooth last year, and he leads a trio of sophomores (Jordan Morgan and Evan Smotrycz) that came out firing last season.
This team is loaded with shooters, and when they are knocking down shots they will be able to beat anyone in the country. However, Beilein's teams are always better as underdogs than as favorites and the Wolverines have a lot of hype right now.
I feel like people are underestimating the loss of Darius Morris. He did it all for this team.
And there is a reason it is called "sophomore slump". And there are more than a few guys here that could fall prey to it.
This team doesn't rebound or defend particularly well and they will likely be relying on a freshman point guard.
None of that screams, "conference title contender" to me.
The Dark Horse: Wisconsin (+500)
I feel like Bo Ryan has a firm grasp on the mantle of "Most Amazingly Underrated Coach Because He Hasn't Won A Championship". Jim Boeheim and Roy Williams shared the crown for MAUCBHHWAC until winning their titles in 2003 and 2005, respectively. Now, unfortunately, it is all Ryan's and that is a huge disservice to one of the best coaches in the sport.
To wit: Wisconsin has four projected starters this year that combined to average 15.7 points per game last year – or a bucket less than Jordan Taylor's 18.1 ppg average – and I am still convinced that they will finish in the top tier of the conference and threaten for the Big Ten title.
Having Taylor helps. He is one of the top point guards in the country and is an All-American.
But with the Badgers it is all about the system. And even though I can't peg who it will be, someone on this roster is going to break out.
Wisconsin has a soft nonconference schedule (outside of a date with North Carolina in Chapel Hill) and plenty of time to figure things out before league play begins.
Ryan will work his magic once again and you just can't/shouldn't bet against these boys.
The X-Factor: Michigan State (+350)
Tom Izzo has made a career out of using brilliant postseason runs to gloss over regular season underachievement. But last year everything seemed to catch up with the Spartans and they were one of the country's biggest disappointments.
Sparty barely made the NCAA Tournament and didn't hang around very long when they got there. The Spartans have also lost four key players from their 2010 Final Four team to either graduation or transfer, and there really aren't any positive vibes surrounding this program.
Draymond Green is a stud. But he isn't good enough to carry this team and he isn't going to get much help from the backcourt.
Transfer Brandon Wood is a critical player this season, but beyond that there isn't any top-end talent in East Lansing.
I can't underestimate Izzo. And the Spartans will probably be a mentally tougher team (even if a less talented one) than what we saw last year and they are going to be a dangerous club – for good or ill – in the conference this year.
The Surprise Team: Indiana (+1000)
The odds on this team winning the conference are horrible (as in, +1000 has no value), and I hope it isn't a harbinger of spreads to come this year. But the Hoosiers have a chance to make their first NCAA Tournament since 2008.
They have had horrendous injury (bad) luck the past two seasons, and they have already lost Maurice Creek for this coming campaign. But in Christian Watford (16.0), Verdell Jones III (12.5) and Jordan Hulls (11.0) they have three double-digit scorers that can shoot and handle the ball.
Tom Pritchard is a crafty, hard-nosed forward and he will be paired with stud recruit Cody Zeller (Tyler's brother) underneath.
Depth is an issue. But effort, crowd support, and coaching won't be. And I see enough other bit parts – guys like Victor Oladipo, Will Sheehey, and Derek Elston – capable of filling out a solid rotation around a decent starting corps.
They were just 3-15 in league play last year and were frequently pushed around. But while the rest of the Big Ten saw most of its best players leave school, the Hoosiers actually welcome back most of their talent. The door is open for a breakout year for Tom Crean's bunch.
The ATS Machines:
Iowa (+3000)
It did not take nearly as long as I thought for Fran McCaffery to make an imprint in Iowa. And I think that the Hawkeyes are going to be a moneymaker for us this year as they continue to grow into his system.
Like Indiana, Iowa is a one of the few teams in the league that is bringing back a majority (four) of its starters and they welcome back 88 percent of its scoring.
The Hawkeyes have a pair of solid seniors, Matt Gatens and Bryce Cartwright, and four other wings that started games last year.
This roster looks versatile and more offensively capable than at any point in the last four years, and I feel like they are bringing some confidence into the season.
Also, the schedule is tailor-made for a great season. They don't leave the state of Iowa in the nonconference portion of the schedule while still playing some tough games. And in league play they only draw Ohio State, Michigan State and Michigan once apiece (and two of those games are at home).
They are still a couple recruiting classes away from being a player in the Big Ten race, but this year I think this team can be a solid earner for us.
Nebraska (+5000)
Call me crazy, but I like Nebraska to make an instant impact in the Big Ten.
The Big 12 has been leaps and bounds better than the Big Ten over the course of the last half-decade and the Huskers were generally competitive in that league. They went at least 7-9 in the Big 12 in three of the last four years and they are always tricky on their home court in Lincoln.
The Huskers went 17-2 at home last year and finished in the middle of the Big 12. Also, Nebraska's physical style fits right in with the type of ball favored in the Big Ten barns.
They return four starters, including underrated big man Jorge Brian Diaz, and welcome in stud transfer Bo Spencer (who I think is going to be excellent this year).
This team has size, they have some intriguing new players, a veteran point guard and, most importantly, they have an upperclassmen-laden roster in a league full of young, rebuilding teams.
I don't think they have the top-end talent to challenge for the title, but I think Nebraska is going to be a big-time spoiler and will threaten for an at-large berth in the Big Dance this year.
Get on the bandwagon early; I'm driving.
The Disappointment: Illinois (+1500)
There is nothing that I like about this Illini team. They should have been a team competing for a Final Four last year. Instead they were shaky underachievers yet again.
This group lost its three best players and five total guys that averaged 50 of Illinois' 71 points per game last year. Most importantly, the guards on this team looked absolutely lost last year when departed senior Demetri McCamey wasn't controlling the ball.
I think they will be a mess without the enigmatic point guard.
The only senior on the roster is transfer Sam Maniscalco, who has been tabbed to come in and run the point. I don't expect juniors D.J. Richardson and Brandon Paul to be solid upperclass leaders and my prediction is that Bruce Weber's seat is going to start getting toasty by late January.
A trip to Europe over the summer will definitely help them early. But that lack of leadership and poor decision-making from the guards will catch up with them.
The Rest:
Northwestern (+1800) – Last year I was one of the few people in the country that predicted that Northwestern would not break their streak of failed NCAA Tournament appearances. I hate to say it, but I don't think that the Wildcats will muster their first ever tourney berth this year either.
Senior John Shurna is one of the league's elite players. But they can't replace one of the program's great players in point man Juice Thompson, and I still don't see the requisite depth on this roster to hold up through a full conference season.
There is also the problem of Bill Carmody's poor game management skills and, on the whole, I think this team is stuck in neutral.
A trip to the dance is possible. But it is going to take some unreal shooting, a lot of lucky breaks, and a little magic. Don't count on it.
Purdue (+1200)
It's odd to not write about Purdue as one of the league's elite teams. But losing a pair of four-year starters and NBA Draft picks (JaJuan Johnson and E'Twaun Moore) will cripple most programs and the Boilers will be rebuilding.
The key to Purdue's season is the return of Robbie Hummel from back-to-back seasons lost to knee injuries. I think that Hummel can will this team into the top half of the league and that Coach Matt Painter is good enough to get this team back to The Dance.
They have some veteran guards and always play tough, hard-nosed defense. But there are major question marks all over this bench and I can't say that anyone really knows the ceiling, or the floor, for this team.
It will be interesting to see if that makes them more or less valuable at the betting window. (My guess is less initially, and more later.)
Minnesota (+2000)
For my money the Gophers have been one of the biggest frauds in college basketball over the last few years.
They imploded at the end of last season, missing the tournament due to a 1-10 debacle to close the regular season, and I see the same issues plaguing this team in 2011.
Minnesota has an excellent foundation in the frontcourt with Ralph Sampson, Trevor Mbakwe and Rodney Williams. But the Gophers received some of the worst guard play in the country last year and head into this season with most of the same clowns in the backcourt.
Unless freshman Andre Hollins or transfer Julian Welch is better than expected – and very quickly -- this team will suffer through the same issues this season.
And as usual, a feeble nonconference schedule (their best noncon game is against Fairfield) will mask the ills of this team until league play begins.
Penn State (+5000) – Good luck, Pat Chambers. The cupboard is completely bare for the Nittany Lions, who lost perhaps the best player in school history (Talor Battle) along with a solid senior class.
Only one player on this year's roster saw more than 14 minutes per game of action last year, and they don't have any on the team that averaged more than 6.3 points per game last year.
It is a down year in the Big Ten, but perhaps no one is more down than the guys in Happy Valley. This is an awful team and I expect a lot of growing pains for the new regime.
Projected Big Ten Standings:
1. Ohio State*
2. Wisconsin*
3. Michigan*
4. Purdue*
5. Michigan State*
6. Nebraska
7. Northwestern
8. Indiana
9. Iowa
10. Illinois
11. Minnesota
12. Penn State
*Projected NCAA Tournament Teams
Robert Ferringo is a writer and a professional sports handicapper for Doc's Sports. He is considered one of the best college basketball handicappers in the country and has earned his $100-per-Unit clients over $30,000 in the last five years with his nonconference handicapping. He has produced three consecutive profitable seasons and four of five winning years overall. You can sign up for his college basketball picks and get more information here.