2011 College Basketball: Texas Longhorns Predictions and Futures Odds
by Taylor Jordan - Strike Point Sports - 10/31/2011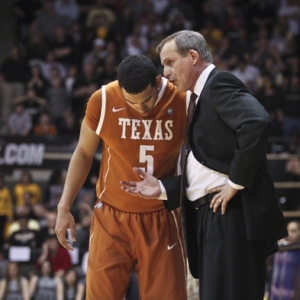 The Big 12 has made headlines this fall for all the wrong reasons. Money-hungry schools are looking to jump ship and find the best possible situation (with the most dollars) in new leagues, and it seems to all start and end with this conference.
Colorado already did their move, now residing in the Pac-12. Texas A&M is out the door next season in favor of the SEC. And all the hype and ramblings suggest Oklahoma and Texas possibly leaving as well.
At least for now it seems we can enter the college basketball season and focus on some great on-court play and one of the more successful programs in the last decade.
Rick Barnes' squad is picked fifth in the preseason Big 12 poll, and his young 'Horns will have to adapt on the go if Texas has expectations of scaling the depths of the league and challenging the likes of Kansas, Baylor and Texas A&M this winter.
The biggest question mark for this team remains unanswered. And that is how in the world do the Longhorns replace their departed stars? Both Tristan Thompson and Jordan Hamilton chose to forego several more years in Austin for the bucks and the NBA. The duo combined for nearly 32 points and 15 rebounds in 2010, and they were far and wide the most productive players on the court all of last season in burnt orange.
Simply put, Texas does not have anyone to replicate their former players' on-court numbers. Their best attempt will be putting the ball in J'Covan Brown's hands and letting him work. The 6-foot-1 guard was lightning in a bottle at times off the bench.
In 2011, however, it seems Rick Barnes lacks enough talent in the starting line-up, and Brown will now be in his starting five. Named to the Preseason All-Big 12 Team, his five 20-point games off the bench in 2010 tied a UT record, and performances like that will be needed for Texas to remain an elite league team this season.
Texas Longhorns Incoming Impact Players
The good thing for Brown is he won't have to do it all by himself. As usual, Texas will have immediate reinforcements from their incoming freshman class.
The trio of forward Jaylen Bond and guards Julien Lewis and Sterling Gibbs will all have roles to play from the first game. Bond, who hails from Philadelphia, is an interesting prospect who could jump in right away and take the role on the wing, filled last season by the sensational Jordan Hamilton. Nowhere near that same production level, however Bond has a similar length at 6-foot-6 and the size at 225 to play the college game and do it well.
2011-12 Texas Basketball Schedule
A total of 12 games will be nationally televised on the ESPN networks. That is good news if you like watching Texas.
Even better, having the Longhorn Network gives you pretty much 24/7 access to this team, although there are only a few quality matchups before Big 12 play gets underway on Wednesday, Jan. 4.
Texas kicks off its season on Nov. 13 with a home game against Boston University, then hosts Rhode Island two days later before they play a mini-tournament in East Rutherford, New Jersey. An enticing matchup is possible and could potentially set up a contest with Top-10 Vanderbilt in the second of these games on Nov. 21.
Outside of a chance to play the Commodores, the best tests in the nonconference are an away game in Westwood to UCLA on Saturday, Dec. 3, a home date on Dec. 17 against Temple, and then the best of the bunch when Texas travels to preseason No. 1 North Carolina on Wednesday, Dec. 21.
The 'Horns will host Kansas in their first of bi-annual meetings on Saturday, Jan. 21 on CBS. Another CBS spotlight game is a week later on Jan. 28 in Waco against a very talented Baylor team.
Texas will finish its season in Lawrence when they visit Phog Allen Fieldhouse on Saturday, March 3.
Texas Longhorns College Basketball Futures Odds
Texas is 20/1 to win the NCAA National Championship, according to college basketball odds. As mentioned above, they are currently predicted fifth in the preseason poll in the Big 12, selected by coaches.
2011-2012 Texas Longhorns Predictions for College Basketball
It seems the Longhorns are in for a bit of a down year. They lost too much talent from 2010. And while even Kansas looks to have fallen off from its own pedestal, Texas might be in store for a bigger decline, at least for this season.
Freshman always find a way to make an impact in Austin, proof of Rick Barnes' coaching and recruiting. It seems, though, that the depth of the conference will be too tough to crack without a proper roster of playmakers and skilled upperclassmen.
The nonconference part of Texas' schedule is manageable. Outside of games at UCLA and North Carolina, there doesn't seem to be a whole lot of barriers until league play begins in early January.
That easy line-up of opponents should allow for a handful of wins and even a spot in the Top 25. But when they get to the rigors of the conference slate, my thinking is that the team takes steps back as opposed to any real glory for the Longhorns this fall.
Strike Point Sports has turned a profit in four of the last five college basketball handicapping seasons and this year looks to be their best yet for college basketball picks. Strike Point Sports has earned its clients more than $20,000 in profit over the last five seasons and he will be adding onto that total in early November when he releases his first college basketball predictions. Sign up today at the early bird special price of just $725 for the entire season.
---
Most Recent College Basketball Handicapping