Free Kentucky Derby Tips 2019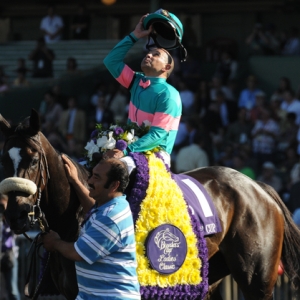 The Kentucky Derby is always one of the toughest races to bet on every year, and this year it shapes up to be tougher than usual - potentially much tougher. There is no clear standout, and many runners in the field are legitimately in the mix. Just thinking about it gives me a headache, and there are still five days to go before the race. Narrowing it down to the best bets is going to be very tough, but to help you in that pursuit here are three free Kentucky Derby tips:
Baffert will be a factor: There are people out there who hate Bob Baffert. I can't figure that out. Then there are those, like me, who think he's the best trainer on the planet. No matter which camp you belong in, though, there is just no way you can disregard his collection of runners in this race.
He has three horses entered, and all of them could very easily win this race. They are installed as the second and co-third favorites on the morning line. And though horses typically get a Baffert boost in the odds, that is right where they belong. Game Winner and Roadster weren't done any favors being placed in the auxiliary starting gate, but neither one needs to be near the lead early, so they aren't going to be in too much trouble because of that. And Improbable, in the six hole, is in good position to push for the lead if he chooses to or to settle in if patience seems to be in order. All three of these horses have viable paths to a win, the breeding to handle the distance, and riders good enough to get through the chaos successfully. If, at the very least, Baffert doesn't wind up somewhere in the Top 3 this year, that would qualify as a major upset.
Go deep: By this point most years I have narrowed my list of top contenders and most likely winners down to just two or three horses. At this point last year, the list was at one. Right now, I am at five - the three Baffert horses, Omaha Beach and Tacitus . And I feel like War of Will should probably be included as well, though I don't love his inside draw. And horses like Maximum Security, Vekoma, and Tax deserve plenty of respect. And I'm not ruling out colts like Win Win Win, Haikal, or By My Standards. The first Kentucky Derby I attended in person was in 1996 when Grindstone won. The long shot in that 19-horse field was only 29/1, and you couldn't easily toss out more than a small handful of the runners. This field is almost as deep. Runners like Master Fencer and Gray Magician are pretty easy to toss here, but you still need to be dealing with a whole lot of runners here. This is probably not the kind of year where you let it ride on one horse, and if you are going to bet exotics you will really need to go deep.
Assume nothing when it comes to the pace: The pace scenario in this race is very muddy , and nothing about the draw cleared things up much. Maximum Security is the only horse that seems to need the lead, and running out of the seven hole he should be positioned to get up if he breaks well. War of Will drew the rail unfortunately, but Mark Casse has repeatedly said the colt will be going to the lead, and if he breaks well, he can probably get it done from there.
One of those two is likely to lead. But if one of the two can't get there, then we might not have a duel that can speed things up. And if only one of the two gets to the lead, then anything can happen. Maximum Security got the lead in the Florida Derby and was relatively unchallenged, so he happily settled in at an almost glacial pace, so he isn't necessarily going to look to run away with things.
And beyond that there are several unknowns. Omaha Beach and Improbable, in particular, are colts that could potentially challenge for the early lead if things set up well for them, and both are in positions where their jockeys can pounce if an opportunity is there for them. Tax is another horse, sitting in the No. 2 spot, who likes to be near the lead and could determine that leading is his best shot if things look good for him. Add it all up, and it is very tough to know what will happen in the first half mile of this race. We could see a 44- or 45-second pace, or we could see something notably slower than that. Without certainty about the pace, we can't confidently judge how the closers will fare or what the race will look like for those mid-pack.
Doc's Sports wants you to try out our expert horse racing handicappers free of charge and is offering new clients $60 worth of free picks that can be used for any Triple Crown race. Get $60 worth of premium members' picks free .
Read more articles by Trevor Whenham