Super Bowl Props Picks: Betting on Offensive Success
by Trevor Whenham - 1/23/2020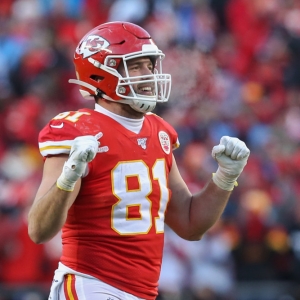 Super Bowl time is here, which means it is the greatest time of year for prop bettors. The range of prop bets grows every year and is endlessly fascinating - and potentially lucrative. As we look over the early Super Bowl offensive prop bets posted this year, here are a few that jump out - for good reasons or bad.
Want free NFL Super Bowl picks? Doc's has you covered. New clients can take advantage of this great offer of $60 in free Doc's Sports members' picks for any handicapper on Doc's Expert Handicapper list. Just check out these guys' pages and see what great work they have done making money for themselves and their clients over the years. Get $60 worth of premium members' picks free . Be sure to visit our popular NFL Picks page.
Will the two teams combine to score 76 or more points to break the all-time record for the Super Bowl? Yes +450
This is the kind of prop bet designed to vacuum money out of the wallets of casual bettors. People who don't bet on football a lot love seeing points scored. And given that these are two really good teams that can score a lot of points - the Chiefs had 51 in their first playoff game and are averaging 43 in the postseason, and the Niners are averaging 32 - the expectations are going to be high. They set the yes price high enough that it will make it very hard for people to resist. But these teams are averaging a combined 75 points per game in the playoffs, and that has come against weaker opponents for both teams than they are going to face here - by a wide margin. This is a record for a reason - it's a whole lot of points. And my vision of this game doesn't see them breaking it. The Super Bowl Over/Under sits at only 54, so they would have to absolutely shatter that for this to pay off. If it does, then I won't make any money on it.
Highest scoring quarter - First +550, Second +160, Third +425, Fourth +230
This one is particularly interesting because of the first quarter. As good as the Chiefs have been in these playoffs, they have been just lousy in both first quarters. Against the Texans they fell into that crazy 21-0 hole, and against the Titans they were behind 10-7. The stakes are higher here than in those two games, but the opponent is also better. San Francisco hasn't leapt out of the gate, either, but they have scored a touchdown in the first quarter if each game. It's tough to imagine the first quarter suddenly being the highest scoring one. Therefore, as much as I wish I could bet that price, I can't. In the second quarter the Chiefs have averaged 21 points per game in their two, and the Niners are at 13.5. This is the clear favorite for a reason and probably the one to pick. You can make a pretty good case for the fourth as well if you believe that the game will be close up to that point because the teams will have to open things up to try to pull out the win.
How many players will have a passing attempt? Over 2.5 -150, Under 2.5 +110
I think we can assume that the two starting QBs will have a passing attempt - though I guess that's not given after the ground show the Niners ran last week. So, obviously this is a question about whether someone else will throw a pass as well. That can happen in two ways - a backup QB or a trick play. Garoppolo took every snap at QB this season, and Matt Moore hasn't thrown a pass for the Chiefs since Mahomes returned from injury in early November, so the former isn't likely. And neither team has run a trick pass featuring another player throwing in the playoffs, and only threw a combined three all year - two for the Niners and one for the Chiefs. So, while you can't rule it out with these two creative coaching staffs, it sure doesn't feel like the over should be favored. I like the under here quite a bit.
Team to score first wins the game? Yes -200, No +150
Simply, the Chiefs have not scored first in either of their playoff games. They also haven't scored the second time in either game. And yet they have won both handily. So, if you like them, you can't be too convinced that they need to score first to win. And while the Niners have scored first in both games, they gave up that lead against the Vikings, so they don't need to be frontrunners, either. Perhaps it's a little more likely that the team that scores first wins, but not enough to justify this price. I like the no side.
Total points in the first half will be: Odd -115, Even -125
This is the kind of prop bet that drives me absolutely insane. This is essentially a random outcome - so many things can change how it turns out. Five of the last six playoffs games played this year have had an even score at the half, so you that could have you leaning that way. But all four wild card games were odd scores, which moved things to 5-5 to date. And that's about where you would expect things to be over a longer period. So, betting odds that are worse than even money for something that is basically random , that can't be predicted in a meaningful way, and which has no real impact on how the game turns out, is a truly stupid way to spend your money. Even if you win a bet like this you are losing - at life.