2009-10 Wisconsin Badgers Football Predictions
by Doc - 8/31/2009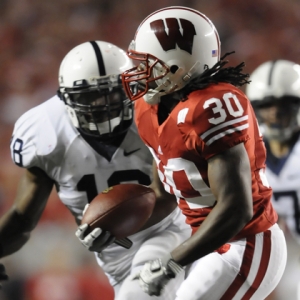 2009-10 Wisconsin Badgers Football Predictions: 6-6 (2-6 in Big Ten)
I felt this team would begin to slide in 2008, and slide they did. Now I expect this slide will be in further down the standings in 2009. The non-conference schedule is soft and I expect this to really hurt them come October, as the Big Ten as a whole is much stronger than in past years. Wisconsin has yet to find a solid quarterback and their offensive line has been injured during training camp. The defensive really had its problems in 2008 and with only five starters back, I see no major improvements.
That being said, the strength of Wisconsin football has always been a strong running game. This season they have a pair of solid backs in Zach Brown and John Clay. Wisconsin opens Big Ten play on Sept. 26 and I would be surprised if this team can win two of their first four in the conference. If the defense does not improve and no quarterback emerges, this could be a very long year for Coach Bret Bielema.
Strengths: As previously mentioned, the backfield is loaded and if the offensive line can come together both runners may be able to go for more than 1,000 yards. The defense is strong in the secondary, returning three starters for the second straight season.
Weakness: As in past years it may not be a weakness but one has to wonder how the quarterback rotation of Scott Tolzien and Curt Phillips will perform. Phillips is the more talented of the quarterbacks but his inconsistent play has him starting on the bench to open the season. I also believe the linebackers are a real concern along with the inexperience of the offensive line. Penalties really killed this team last year and it will be interesting to see if they can become more disciplined in 2009.
Favorable line to play: Purdue at Wisconsin (Oct. 31). Could be laying a large number here but this sets up well for the Badgers who will enter off of a bye. Purdue should be banged up after playing Ohio State and Illinois. These two teams have not met since 2006 and if Wisconsin struggles early in the season, they will need a big blowout victory here.
Favorable line to play against: Wisconsin at Ohio State (Oct. 10). The Badgers will be coming off a road game in the Twin Cities and likely a loss in that game to the Gophers. Now they must travel again to Columbus to take on the Buckeyes. The Badgers had success in this matchup in the first part of this decade but the talent gap has really widened. This looks to be a woodshed beating, as the Buckeyes have the defense to shutdown the Badgers' running attack. I just don't think Wisconsin will have anything left if that occurs.
---
Most Recent Fall Football Preview