2017 NFL Division Predictions: Props Odds with Expert Betting Picks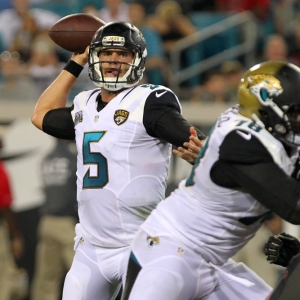 NFL teams now largely look like they are going to look, and things have shifted from overhauling your team to getting them ready for the season. That means that it is a good time - as we sit here it's the closest thing to a dead period that the league has for the next month - for bettors to revisit futures odds looking for value. Today we are going to look at division winner futures odds and offer some NFL division predictions, looking for the prices that jump off the page and the ones that leave a whole lot to be desire. Here, with odds from BetOnline , are the three most attractive NFL division winner futures, and the two least attractive.
Free $60 in Member NFL Picks No Obligation Click Here
2017-2018 NFL Season Predictions: Best Bets
Jacksonville +600: The Jaguars sit at this price to win the AFC South, while the other three teams in the division are all at +200. I simply don't buy that they are three times less likely than the rest to win it. It's just not true. This is as wide open as a division can be, and Jacksonville wouldn't be dramatically more shocking than any other winner. They made a much-needed coaching change and have hopefully a stronger vision leading the way. This is a team that should have been much better than they have been the last couple of years. They had a decent go of things in free agency and had a very strong draft. They need much better play at the QB position than they have had, but they added a couple of nice pieces in the draft - most notably Leonard Fournette, who should help things flow better when they have the ball. I'm not saying that they are the favorites to win the division or anything, but in relative terms they are being significantly disrespected, and that means that there is value here.
Tampa Bay +300: The Bucs are pegged as the third choice in the NFC South behind Atlanta (+185) and Carolina (+200). I will happily take the Bucs at this price. They didn't have a lot to work with in the draft, but did well with what they had. Free agency was fine, too. Really, though, this is more about the other teams. Atlanta is coming off the most humiliating loss in league history, and I just don't trust them this year. Teams that lose the Super Bowl usually struggle even in the best-case scenario, and this certainly isn't that. They are not a team I have ever trusted mentally, and this sure won't help. And Carolina, which showed last year how tough bouncing back from a Super Bowl loss can be, is not easy to trust, either. They need to get their heads back in the game, and they are facing some pretty significant adjustments offensively as they try to figure out how to accommodate their new running backs without shaking up what has worked. In the face of those uncertainties, the Bucs have a better chance than these odds suggest.
Green Bay -275: The Packers would be a decent bet at almost any price because there just isn't anyone to beat them. The Bears are starting essentially from scratch and aren't ready for primetime. The Vikings face an identity crisis and don't seem to be moving in the same direction in unison. And the Lions, though promising in some ways, still feel several pieces away from the big time and aren't nearly in the league of the Packers. The only team that is a bigger favorite to win their division is the Patriots, and that is just where the Packers belong. It's not worth locking your money up all season for this kind of return, but you likely wouldn't have to be too nervous if you did.
2018 NFL Playoff Predictions: Worst Division Bets
Atlanta +185: I covered this briefly before so I don't need to go much deeper. Teams that lose the Super Bowl tend to struggle the next year. And that's just a normal loss, not a soul crushing defeat that forces you to question everything you thought you knew about everything. The price isn't high enough to justify the risk.
Seattle -275: The Seahawks are the best team in the NFC West. I have no problem with that idea. The Rams and the Niners are hopeless for now, and the Cardinals have some questions to answer. I just get nervous trusting the Seahawks this much, though. They have not been in a good place mentally the last year or two - since their Super Bowl loss, to revisit an earlier theme. There is still more drama around the team than would be ideal, and they really feel like they are their own worst enemies sometimes. They are the most likely winners for sure, but it would be a nervous year to trust them at this price.
Get free picks from any Doc's Sports handicapper - there is no obligation for this offer and no credit card required. Just sign up for an account, and you can use the $60 in free picks for any Doc's Sports expert handicapper and any sport. Click here to get started now .
Read more articles by Trevor Whenham
Get all of this Weeks Free NFL picks
Get all of this Weeks 100% Profit Guaranteed Expert NFL Picks