Free Picks
»
NFL Picks
» 2018 Washington Redskins Road Schedule Odds with Expert Picks and Predictions
2018 Washington Redskins Road Schedule Odds with Expert Picks and Predictions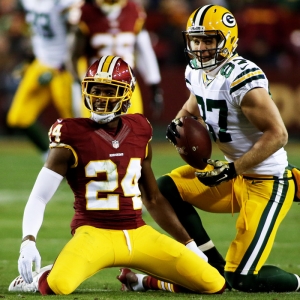 The Washington Redskins haven't done much right since the end of the first Joe Gibbs Era. One thing they did prove to rest of the league, however, was what they did in the 2012 NFL Draft and that you can never have too many potentially good quarterbacks.
Of course, the Skins traded a fortune to the Rams to move up to No. 2 that year and take former Baylor Heisman winner Robert Griffin III. Even at the exorbitant price, it looked like a smart move for Washington for one year when RGIII was Offensive Rookie of the Year and led the team to the playoffs. What was even smarter was taking Kirk Cousins in the fourth round. Most NFL front office types would never take a quarterback in the same draft where they took one in the first round.
It proved a great move as RGIII broke down physically and Cousins became a very good player. Unfortunately, the Redskins couldn't even get that right. For two straight offseasons, the Skins slapped the franchise tag on Cousins. It was essentially fiscally impossible to do it again this past winter so Cousins was traded to Kansas City along with a third-round pick and a good young cornerback in Kendall Fuller for Alex Smith.
Most NFL wonks thought the Skins were destroyed in that trade; why give up so much for Smith, whom the Chiefs clearly were doing to dump in favor of rookie Patrick Mahomes? Washington at least knows it has stability under center for a while as it inked Smith to a a four-year contract that could be worth $94 million, with $71 million guaranteed. Why couldn't the team offer that to Cousins instead? Clearly there was some sort of disconnect between the quarterback and front office/ownership.
I think Cousins is a better quarterback than Smith, although Smith had the better year in 2018. He led the Chiefs four playoff appearances in the past five years and threw for 102 touchdowns and 33 interceptions in that span. Last year was his best, throwing for 4,042 yards and 26 touchdowns while leading the NFL in rating. He was also surrounded by playmakers in that Kansas City offense, and Washington has nothing like that. Expect those numbers to all dip quite a bit. If that happens and Cousins leads the Vikings to the Super Bowl, Redskins faithful will pine even more for owner Dan Snyder to sell the team (not going to happen). Sadly, the Vikings and Redskins don't play.
Washington was 7-9 overall last year. It went 2-6 on the road, 3-5 against the spread and 5-3 "over/under." The Redskins travel to four playoff teams from 2017, including three straight: New Orleans, Philadelphia, Jacksonville and Tennessee. I'd actually call the home slate tougher. I project a 1-7 road record. Odds listed for the home team.
Sept. 9 at Cardinals (pick'em, 44): Washington opens on the road for the first time since 2014 and hasn't won a road opener since 2012 in New Orleans. The Skins have lost their past five season openers overall. They have won 11 of their last 14 games against the Cardinals, including 20-15 in Week 15 last season. Neither starting QB from that one will be in this one. Key trend: On the chance this opens as a pick'em, the Skins are 0-2 ATS all-time in them (last in 2006).
Oct. 8 at Saints (-7.5): Washington on about as extended a break as possible off its bye and then playing on Monday night. Way too early bye than teams would prefer. The Redskins have lost eight of their past nine games on Monday Night Football. They absolutely gagged away a win in New Orleans in Week 10 last year, blowing a late 15-point lead and falling 34-31 in OT. Key trend: Skins 6-2 ATS at New Orleans.
Oct. 28 at Giants (-3.5): For what it's worth, Smith has thrown eight career picks in only four games versus the Giants, tied for his most against any team. Washington is looking to win for the second time in three trips to the Giants for the first time since taking four in a row there from 1980-83. The Giants won last year, though, 18-10 in Cousins' final game. Key trend: Skins 4-5-1 ATS in past 10 as road dog in series.
Nov. 11 at Bucs (-3.5): Only three road games until mid-November. Needless to say, that's going to come back hard on Washington the rest of the way. These teams have split 20 regular-season meetings. Washington won its last trip to Tampa, 24-22, September 2012. Key trend: Skins 6-4 ATS in past 10 at NFC South foes.
Nov. 22 at Cowboys (-6): Thanksgiving game. Washington is 1-7 in Big D on Turkey Day. Their lone victory was in RGIII's rookie year. The Redskins will be seeking victories in consecutive Thanksgiving games for the first time in team history after beating the Giants last year. Washington lost in Dallas in Week 13 of last season, 38-14. Key trend: Skins a whopping 9-1 ATS in past 10 as road dog in series.
Dec. 3 at Eagles (-7.5): Monday night. Washington has lost four straight vs. the Eagles on MNF but has won two of its past three in Philly overall. Not last year as the Eagles prevailed 34-24 on a Monday in Week 7. Key trend: Skins 6-4 ATS in past 10 as road dog in series.
Dec. 16 at Jaguars (-8): Washington is 5-1 all-time in this series and 2-1 in Jacksonville. Jay Gruden's first victory as an NFL head coach was a blowout of the Jags in Week 2 of the 2014 season. This year's Jaguars are just a bit better than that one. Key trend: Skins 7-3 ATS in past 10 as road dog of at least 8 points.
Dec. 23 at Titans (-5.5): This could be moved to Dec. 22. The Skins are 6-6 all-time against the Tians' franchise. Washington has won each of its past two games against Tennessee on walk-off field goals, most recently 19-17 at home in 2014. Key trend: Skins 4-4 ATS all-time at AFC South foes.
Read more articles by Alan Matthews
Get all of this Weeks Free NFL picks
Get all of this Weeks Expert NFL Picks