Betting Advice for NFL First Coach Fired Props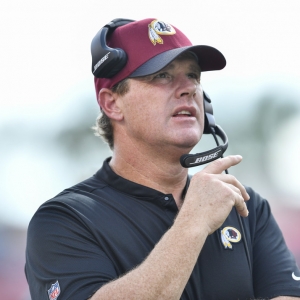 Earlier in the preseason, we looked at the prop bet dealing with the first coach to be fired in the NFL . And there are a bunch of guys who really could use a change of profession, or at least location. That got me thinking. There were a lot of guys last year who really needed to be fired, too - especially Marvin Lewis - and several of them subsequently were. By looking back at the first coach to be fired prop bets when they were posted last year, and what happened after that, perhaps we can learn a thing or two that can guide us this year.
There are two immediate things we learn from looking back to the odds from last June when they were first posted. First, it's not too tough to predict coaches who will be fired during or after a season. The five favorites were all fired by the end of the season or soon after, including favored Hue Jackson, who was indeed the first to go - and six of the top seven wound up unemployed. And second, having your coach on this list is not a good thing for your team. Four of the 12 coaches with the lowest odds on the list made the playoffs, but none of the top seven. The coach with the lowest odds who made the postseason was Bill O'Brien in Houston, and he was a longer shot at +2000 - compared to +350 for Jackson. Basically, if the oddsmakers thinks that your coach is trouble, then your team probably is, too.
Jackson was, as we said, the favorite to be fired first at +350. With one win in the prior two seasons, he had no business being employed at the start of the season in the first place. Second choice last year was Adam Gase at +750. He was indeed fired in Miami but was unemployed for about two seconds before landing with the Jets. He is tied with a couple of other guys as the eighth choice this year, but at a much more optimistic +1800. Marvin Lewis was at +1000. He should have been fired long before, but he was made of teflon, so betting against him had become a lousy idea by last year. His luck finally ran out, but not soon enough to pay off on this prop. Also at +1000 was Vance Joseph, and it's notable that he had spent only one year in Denver at the point that he was made one of the favorites here. Tampa Bay's Dirk Koetter was at +1200 heading into his third and ultimately final season with the Bucs. And Todd Bowles was at +1600 and really felt like almost a lock to be fired heading into last year as he had already had three disappointing seasons in charge and didn't have a lot of fans. The one guy in the top six who was not fired was Washington's Jay Gruden at +1200. He's the strong +450 favorite to be first to go this year, though, so he didn't exactly buy himself a lot of breathing room with his performance last year. And, like Jackson last year, he feels like a favorite who is going to be tough to beat.
Going back to 2017, though, we find that the odds weren't nearly as predictive. Chuck Pagano of Indianapolis was the strong favorite as the first coach to go because the Colts had already missed the season two years in a row. They won only four games that year, and he was indeed gone before the new year, but he finished the season out. The same can't be said for Ben McAdoo of the Giants, who lasted 12 games; Jeff Fisher, who was gone after 13 games for the Rams; Gus Bradley, who lasted 14 games for Jacksonville; or Rex Ryan, who was fired with one game left. Of interest, none of those early departures were among the top five most likely to be fired entering the season. Following Pagano was John Fox, who was fired from the Bears after the season. But the next three were, in order, Bowles, Lewis, and O'Brien - guys who all survived and featured prominently on the next year's list as well.
This year Gruden feels like a very deserving favorite after five underwhelming seasons. Pat Shurmur is second at +700. And if the Giants are as bad as they have the potential to be, then he could be vulnerable. The Giants are only a season and a half removed from the embarrassment of a mid-season firing, though, so they may not want to go down that path again so soon. But it was a QB controversy involving Eli Manning that brought McAdoo down last time, and the same thing could certainly happen again. Doug Marrone is third at +900. And after the huge letdown last year in Jacksonville, he could be very vulnerable if the team limps out of the gate this year. And next are two guys rounding out the top five tied at +1200. Dan Quinn is only a couple of years removed from a Super Bowl bid, but that buys you only so much faith in this league. And Bill O'Brien is up this high because he always seems to be. What recent history has told us is that Gruden is all but a lock to be fired, and he won't be alone in the top five. But he is not certain to be the first to go. And if O'Brien is still in charge heading into next season, then he is officially the new Marvin Lewis - a guy who is harder to kill than a cockroach.
Read more articles by Trevor Whenham
Get all of this Weeks Free NFL picks
Get all of this Weeks Expert NFL Picks