NFL Betting Odds: Week 3 Line Movements and Last-Minute News
by Chris Vasile - 9/20/2019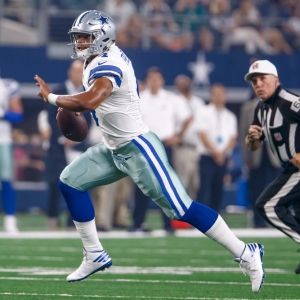 Ladies and gentlemen, welcome to the new era of football. For the next 15 years, you'll be treated to great quarterback back play from the likes of Patrick Mahomes, Lamar Jackson, Baker Mayfield, Dak Prescott, and, unfortunately, Tom Brady.
I cannot remember a season (a grand total of two weeks) like we've had so far this year where a handful of elite quarterbacks have gone down injured or have been benched to usher in a new regime. Ben Roethlisberger suffered a UCL injury in the Week 2 loss to Seattle and had to undergo season-ending elbow surgery. Drew Brees tore a ligament in his throwing hand and has since underwent surgery to repair it. He's expected back later this season. Eli Manning has finally been benched by the Giants after completing just 56 percent of his passes in the first two games. And Cam Newton is seemingly broken after dealing with an injured shoulder last year and a nagging foot injury suffered in a meaningless preseason game. These are the guys I grew up watching. And to think that all four of them could be out for extended periods of time this season is a shock to the system. Meanwhile, in New England, Tom Brady is 42 and on his way to another Super Bowl win. Some teams just have all the luck.
Here are some line moves or potential game-changing injury notes for Week 4.
Oakland @ Minnesota (-9, 43.5 ): This game opened up with the Vikings laying seven points on their home field and has quickly shot up to nine with all the injury news coming out of Oakland. Believe me, injuries are the least of Oakland's worries this season, but with their No. 1 running back, Josh Jacobs, nursing a groin injury and one of their best receivers, Tyrell Williams, nursing a hip injury (both questionable), this has the feel of a Minnesota blowout. Should you be rushing to bet the Vikings laying nearly 10 points? It depends on how you feel about Kirk Cousins and his dumb decision-making. Cousins essentially cost the Vikings the game last week at Lambeau Field against the Packers, so one needs to hope he has a bounce-back performance against a Raiders' defense that is giving up an average of 22 points per game. From a defensive perspective, the Vikings are still waiting on the health status of LB Anthony Barr and DT Shamar Stephen.
Carolina @ Arizona (-2.5 46.5): We are not medical experts by any stretch of the imagination, but just watching Newton play the first two weeks tells us something is wrong. Whether it be his shoulder, or the foot injury suffered in the preseason (which he is said to have reaggravated), Newton is not right and as such his team is going to struggle. Thankfully for the well-being of Newton, he is out for this game and the line has jumped the fence from Carolina -3 to Arizona -2.5. Kyle Allen is a backup quarterback we want no part of unless we are fading him, and I don't think you'll find a better spot than on the road against an Arizona team that, despite being 0-1-1 on the season, has shown us that they have fight in them and that Kyler Murray can in fact lead an offense.
Miami @ Dallas (+22.5, 47.5): We all know how bad the Miami Dolphins are right now. They have the worst points differential at -92 since the 1961 Oakland Raiders, who had a -99 differential through two games. Bettors know how bad this team is and have bet this number up from an opening line of -16 all the way up to over three touchdowns. On paper, Dallas should run away with this game (literally) as the Dolphins are giving up more than 200 yards rushing per game. However, as we know, look-ahead spots are real in the National Football League, so it wouldn't shock me to see Dallas do just enough to win this game as they look ahead to next week's primetime game on the road against the Saints. Surprisingly, this total has remained right at 47 throughout the week. This tells us that the Dolphins aren't expected to score more than 10 or 14 points. Laying three touchdowns is a tough proposition in the NFL, but we also aren't running to bet on Josh Rosen.
More: Parlays Pundit Gives Cowboys vs. Dolphins Free Picks
New York at New England (-22.5, 43.5): I wouldn't be doing my job correctly if I didn't include this game on this list, even though we know what the end result is going to be. This line was extremely slow to come out. However, when it did, it was bet up from around 21 to 22.5, depending on which sportsbook you are using. We know the Jets are going to start Luke Falk in this spot after Trevor Siemian went down with an ankle injury on Monday versus Cleveland. Falk looked like a raw rookie but did show some flashes of good decision-making. The Patriots should have no problem getting the win and moving to 3-0 on the season. However, how much energy are they going to exert once they get up by three touchdowns? We heard this week that Tom Brady was limited in practice with a calf injury. So, will the Patriots be inclined to rest Brady at any point during this blowout? The Jets don't exactly strike fear in opponents' eyes, but the possibility of a backdoor cover looms large with a spread as big as this one. Remember, the Jets do have talent on their roster with the likes of Le'Veon Bell and Robby Anderson. It's just a matter of getting them the ball against a team that likely won't play hard for 60-minutes (they won't need to).
Los Angeles Rams @ Cleveland (+3, 47.5): I just want to touch on this game briefly as this total has been bet down from 51 at open to 47.5, where it currently sits. Given what we've seen from these two teams in four total games, the offense is going to come, and it would shock me if this game stayed under the number. Both teams come in relatively healthy on offense. And with the talent on the field, one would think that points will be scored. We know that recency bias is a big thing when betting on sports - the "what have you done lately" theory - so the bettors see two teams that stayed under the total in Week 2 and believe it's going to be like that once again in Week 3. We believe the steam on the under is good news, and we'd be inclined to jump on the over at the current mark of 47.5
Get all of this Weeks Free NFL picks
Get all of this Weeks Expert NFL Picks