NFL Betting Odds: Week 8 Line Movements and Last-Minute News
by Chris Vasile - 10/25/2019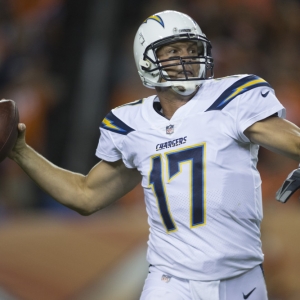 I've never watched a more bizarre football game in my life than the one I watched last night between the Minnesota Vikings and Washington Redskins. Can someone tell me how a team that doesn't punt the entire game puts up only 19 points and doesn't cover the point spread? I feel like that's the kind of dumb thing only Kirk Cousins can pull off, and he managed to do so and screw all Vikings backers in the process.
On the flip side, how do you not force a team to punt just one time the whole football game? That's some next-level ineptness on the side of the Redskins. However, as the saying goes, "good teams win, great teams cover". Washington has covered two straight games despite not scoring a single touchdown in either of those contests. Unbelievable.
As always, here are some line moves or potential game-changing injury notes for Week 8.
Los Angeles Chargers @ Chicago Bears -3.5, 41 : This game has dumpster fire written all over it. Both of these teams came into this season with high expectations and both of them are right in the middle of falling flat on their faces. The Chargers continue to be inept and continue to trust Melvin Gordon with the football, and they continue to shoot themselves in the foot. Meanwhile, the Bears offense is just as bad, and Mitchell Trubisky is proving to be a bust, with Matt Nagy seemingly unwilling to adjust the play calling. This game opened up as Bears -5.5 but has been bet down to -3.5. Not sure I'd be rushing to bet the Bears laying more than a field goal against anyone right now, even if it is the Chargers' second road game in as many weeks. The Bears' defense is still good, and Keenan Allen may miss this contest with a hamstring injury. If anything, I thought the line would creep up to the touchdown mark, but I was wrong. The total has held steady all week at 41, and we like the under in this spot. This game should be relatively boring and both teams will likely find a way to try and lose this football game.
Cincinnati Bengals vs Los Angeles Rams -13, 48: This game is being played at Wembley Stadium , but quite honestly this game could be played on Jupiter and the Bengals still wouldn't win this ball game. The Bengals stink, and the Rams beat up on bad teams. This line opened up as LA -9 and has quickly been bet up to Rams -13. The Rams are coming off a confidence-boosting win against the hapless Falcons and now get to face a Bengals team that is just brutal in all facets of the game. The Bengals simply cannot run the football. And if you can't do that at least somewhat productively, you're never going to win football games. I believe they are averaging around 58 yards per game on the ground, which is pathetic given the fact they have Joe Mixon running the football. The problem is the offensive line and the play-calling, which forces Andy Dalton to win games on his own - bad idea. The Rams are starting to get healthy at the right time and now face the Bengals this week and the Steelers in two weeks after their Week 9 bye. This team is going to get hot at the right time and will be dangerous heading into December.
New York Jets at Jacksonville Jaguars -6.5, 41: Call me crazy, but I kind of trust the Jacksonville Jaguars in this spot laying a touchdown against the New York Jets . Most people, when they bet, they have a recency bias. Recency bias is only remembering what a team has done in their last game as opposed to the whole body of work throughout the regular season. We know the Jets got killed on Monday night, but let's face it, outside of a fluky win against Dallas, the Jets are a terrible team and have done nothing right. The Jags are a solid football team that can run the ball and matriculate in the passing game through Minshew. This line opened up as Jags -4.5 but has been bet up to -6.5 and I don't blame the public for hitching themselves to the Jags wagon this week. Sam Darnold looks lost and seemingly can't play any worse than he did against the Patriots. Unfortunately, I just don't think he can play better, which leaves us with plenty of value on the Jags. This total has not moved off of 41, and we can see this game staying under the number.
Green Bay Packers at Kansas City Chiefs +3.5, 48: I wouldn't be doing my job correctly if I didn't touch on this game even in the slightest. The Chiefs were tabbed as four-point home favorites over the Packers before their Week 7 win over the Broncos. But then the injury to Patrick Mahomes happened, and the number completely flipped and reopened as Packers -3.5. This tells us that Patrick Mahomes is essentially worth eight points to the line, and we totally see it. While Mahomes is phenomenal, the Packers might just be the better team in this matchup the way Rodgers is playing and moving the football up and down the field. We've seen the KC offense struggle the past few weeks (Denver was the exception). And without Mahomes, they'll likely be even worse. The Packers offense is clicking on all cylinders, so we wouldn't be shocked to see this line rise before kick-off. However, that is only if Mahomes doesn't play - as reports indicate he is lobbying to play this week. Unlikely that he does, but its something to keep an eye out for.
Get all of this Weeks NFL picks
Get all of this Weeks Guaranteed Expert NFL Picks