NFL Betting Predictions: Week 11 Opening Line Report and Picks
by Alan Matthews - 11/11/2019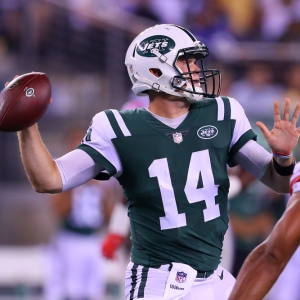 Jacksonville Jaguars executive vice president of football operations Tom Coughlin won two Super Bowls as coach of the New York Giants. General manager David Caldwell helped build a Super Bowl contender in Atlanta as a former director of college scouting and then director of player personnel there before leaving after the 2012 season. Coach Doug Marrone led this team to the AFC Championship Game following the 2017 season.
My point being, three pretty smart and qualified guys. So why in hell are they benching rookie quarterback Gardner Minshew II for Nick Foles coming out of the bye this Sunday at Indianapolis? The Jaguars have never really had a superstar player. Sure, some excellent ones like Mark Brunell or Tony Boselli or Jimmy Smith or Keenan McCardell or Fred Taylor or Maurice Jones-Drew.
But never a guy who helped fill the seats in that usually half-empty stadium in Jacksonville and was a national celebrity. Minshew was definitely that person. Look, you don't keep a guy as your starter simply because he's popular. But Minshew led the Jags to a 4-4 record as a starter after Foles went out with a broken collarbone. The rookie struggled in a Week 9 blowout loss to Houston, but that was in London and those games are always a bit wacky.
Other than 2013, Foles has never been a very good starting quarterback - he just shines in relief. To be fair, Foles does have the best winning percentage of any starting quarterback in November or later (including playoffs) since 2016. He's 10-2 (.833), which is better than Tom Brady (27-7, .794) and Andrew Luck (13-4, .765). Six of those games were in the playoffs.
Perhaps the Jaguars are trying to justify the four-year, $88 million contract with a franchise-record $50.125 million guaranteed they gave Foles in March. Perhaps he plays well enough to draw something in trade, but I personally would have kept Minshew in there to build for the future. The playoffs were always going to be unlikely with a 4-5 record despite a pretty easy schedule the rest of the way.
I did see one prop at a Doc's-affiliated sportsbook asking if Minshew would be a starter in Week 1 of the 2020 season (without specifying as where). No was the surprising -160 favorite with yes at +120. Jacksonville is a 3-point underdog at Indianapolis. That line could change on the availability of Colts QB Jacoby Brissett, who missed Sunday's upset loss to Miami. Brian Hoyer was terrible in his place.
Here are some other Week 11 early lines that caught my eye. We won't touch on Thursday's game (Steelers at Browns) or Monday's (Chiefs vs. Chargers) because we will be previewing them individually here at Doc's. Picks are ATS.
Jets at Redskins (-2, 37.5): Plenty of good seats available! We have had more interesting yet terrible matchups this season than I can remember in a long time. This definitely will have an impact on which team gets the top pick in the 2020 NFL Draft, although the winner here probably is out of luck. Especially if it's the Jets because they got win No. 2 on Sunday in knocking off the Giants. I would be fascinated if either did get the top pick, though, and to whether they would take Tua Tagovailoa (or Joe Burrow or Justin Herbert) and give up already on Sam Darnold or Dwayne Haskins, respectively. I would guess no, that each GM would trade the pick to a QB-needy team for a haul of picks. Washington comes off its bye week and gave Haskins his first start in Week 9. Tough matchup against a very good Buffalo defense and Haskins threw for just 144 yards but at least didn't turn it over. The Skins had a very conservative game plan. Pick: Jets.
Texans at Ravens (-4, 50): I believe there are only three teams in the AFC who have a chance of beating the Patriots in this year's playoffs. These two and Kansas City assuming Patrick Mahomes is healthy. Obviously, it would be ideal for any of that trio to get home-field advantage and potentially avoid New England until the conference title game. Might this season's NFL MVP also come from this game? Sure seems as it if will be Seattle quarterback Russell Wilson or the two young QBs in this game, Houston's Deshaun Watson or Baltimore's Lamar Jackson. They are similar in ways but different. Both teams also traded up to get their guy. A total of 11 teams passed on Watson in 2017, while Jackson was the final pick of the 2018 first round. This is the first NFL meeting between Watson and Jackson, although they played in college with both in the ACC. Small advantage for Houston here off its bye week, while Baltimore had a pseudo-Week 10 bye thanks to visiting the winless Bengals. Pick: Ravens.
Patriots at Eagles (+3.5, 44.5): Just think how close the Patriots are to be going for an unprecedented three straight Super Bowl titles. Two seasons ago, they were upset in Super Bowl LII in Minneapolis by game MVP Nick Foles and these Eagles. Foles hit Zach Ertz on the go-ahead 11-yard TD pass with 2:21 left and Jake Elliott added a 46-yard field goal with about a minute to go after the Eagles had a strip-sack of Tom Brady. The Patriots could only get as far as their 49 before time ran out. It was a fantastically entertaining game from an offensive standpoint with the Patriots totaling 613 yards - Brady threw for a Super Bowl-record 505 and three scores - and the Eagles 538. The 1,151 yards were the most in any modern NFL game. Just one turnover on each side and only seven total penalties. That's what a Super Bowl should be. Of course, it was the first Super Bowl title for the Eagles. Not impossible there's a rematch this February in Miami. Both come off their bye. The Patriots don't have to worry about 16-0 any longer, while the Eagles entered the break on a two-game winning streak but have ruled out big-play WR DeSean Jackson for the season. Pick: Eagles.
Get all of this Weeks Free NFL picks
Get all of this Weeks Expert NFL Picks