Expert NFL Betting Advice: 2019 AFC West Predictions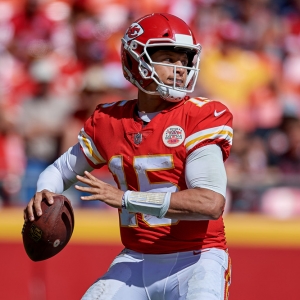 Free agency is over in the NFL for the most part. The draft is in the rearview mirror. All that stands between now and the start of training camp is some optional workouts that aren't really optional. And time. Too much time. To help that time pass, we are looking at each division - the highlights, the lowlights, and the value. Up next is the AFC West. Last year it was a battle royale up top and one of the most exciting divisions in football. Expectations have been ratcheted up now, but can the group keep up with them?
Biggest lock: Chaos in Oakland. The biggest issue with the Raiders is that Jon Gruden believes that he is the smartest person in the world, and he has surrounded himself - and been allowed to surround himself - with people who let him think that. People who do the best in the NFL are unquestionably in charge, but they realize that there is only so much that they can control. Gruden thinks he can control everything and that he can do it uniquely well. The result of that is things like taking Clelin Ferrell fourth overall and then convincing yourself that it was brilliant. Ferrell may be fine, but he wasn't fourth overall, and you need a dramatic lack of self-awareness to make a pick like that. Oakland has added a lot of pieces this offseason, and they could be good - or at least better. But the chances for chaos are high.
Most likely to disappoint: Kansas City Chiefs. This is almost by default. Last year was so spectacular in so many ways, and Patrick Mahomes was a revelation like we have perhaps never seen. But now things are different. They aren't upstarts. They are the hunted. And as a result, the expectations are high, and high expectations so often lead to disappointment. The defense has taken steps backward, and to address it in part they overpaid significantly for Frank Clark. The defense wasn't exactly stellar last year, and now even more pressure will be on the offense. I am pessimistic. They can still win the division, but they are the -150 favorites to win the division, and people who pay that price are very likely to not be thrilled in the end if they are seeking true value.
Best betting value: It's harder to choose here than it should be, but I would lean towards taking Denver "over" 7 on the season win total. I like the changes at quarterbacks - moves that the team needed to make. I like the coaching change - more on that later. And I liked the offseason in general. But there will be much better value out there.
Biggest mystery: I'll go with Philip Rivers. The Chargers are at +175 to win the division, and they are quite heavily favored to go over their season win total of 9.5. After a strong season last year, the expectations are again high. But Rivers, who was quite good last year, and is very important to this team, is 37 heading into this season - and will be 38 before the season ends. Drew Brees and Tom Brady have shown us that age doesn't have to be a concern at the position, but then Peyton Manning and Brett Favre showed us how hard a great guy can fall off a cliff as he gets old. Which path will Rivers take? It's tough to judge this team without having a sense of that.
Most improved: Denver gets the nod here, but it is important to note here that a lot of divisions improved more than this one. This is, then, a lukewarm pick. I like the addition of Joe Flacco for now, and taking Drew Lock in the second round for the future was great value. I like the addition of Ja'Wuan James at tackle as the highlight of the free agent class beyond Flacco. And I really like the draft, with Noah Fant a great pick in the first round, and tackle Dalton Risner a great value in the second round.
Underrated new player: Tyrod Taylor. As I said, I have to have some concerns about Rivers. Signing a guy who is a legitimate starter in the league - at least on an interim basis - is a very nice insurance policy.
Overrated new player: Frank Clark. Clark is a special player. But the Chiefs played an absolute king's ransom for him - both in trade and in his contract. You have to imagine they could have addressed the need for a better overall value by trading up in the draft. And Clark is not exactly the greatest citizen in the league, on a team that doesn't exactly have the best track record for citizenship. His impact isn't going to be worth the costs involved when you add them all up.
Key coach storyline: Denver's Vic Fangio is a very good assistant coach, and he was named the top assistant in football last year for his great defensive work in Chicago. But he will be 61 when the season starts, and even though he has been in the league since 1986 save for a year at Stanford, this is his first year as a head coach. He has had a lot of time to establish habits, but they are assistant habits. It remains to be seen how well he makes tihs transition.
Read more articles by Trevor Whenham
Get all of this Weeks NFL picks
Get all of this Weeks Guaranteed Expert NFL Picks