2019 NFC East Betting Advice: Expert Predictions and Preview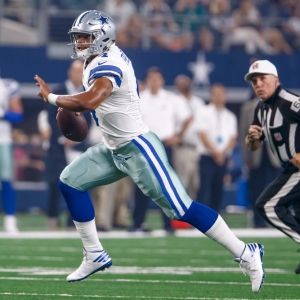 It wasn't too long ago that the NFC East was a great division. And it could be again in the future if they get some luck and QB and beyond. But right now, it feels like it is made up of a truly lousy team, two decent ones trying to be more than that, and a fourth that is fighting to be relevant. It's hard to believe that the best of the NFC is here. But it should be interesting, and if nothing else it should give us a good race for the division win. As we look to fill the time between the draft and the start of training camp by looking at the highlights and struggles of each division, it's time to check in on the NFC East. (All odds are from BetOnline)
Biggest lock: Giants to finish last. At +1600 to win the division, no one expects much from New York. But even those expectations could be too high. This is a monumentally awful team, and they certainly didn't get any better. They traded away two of their best players. And though I am a Jabrill Peppers guy, they didn't come anywhere close to getting fair value in either deal. They made a historically awful stretch with the sixth pick by taking Daniel Jones - a move that made the horrendous pick of Clelin Ferrell at fourth by Oakland look sound by comparison. And they still don't have answers to most of the glaring issues that faced the team last year. I don't have a strong sense of who will finish first in the division, but if the Giants don't finish last then I will, piece by piece, eat this very laptop I am writing on.
Most likely to disappoint: Dallas. This is pretty much a reflex answer. Dallas will probably disappoint because that's just what Dallas does. I don't really trust their quarterback. Or their owner. And I really don't trust their coach. This just isn't a team that has made a habit of exceeding expectations since, well, Troy Aikman was under center. They are the solid second choice to win the division at +125, just behind the Eagles at even money. I'll be on the opposite side of that optimism quite happily.
Best betting value: Washington "over" six wins on the season win total. This was at a better price earlier, so I am not the only one who is leaning this way. They aren't a real contender in the division likely, but they did a good job of patching together a QB room, and I am really high on Dwayne Haskins. And while their offseason hasn't been a resounding win, it has had its moments. Making a splash for Montez Sweat is risky, but the upside is significant. They won seven last year while dealing with QB chaos. With more luck this year, they stand a chance of matching that.
Biggest mystery: How Dave Gettleman still has a job. The corollary to this is how sports teams in the biggest market in the country, with the exception of the Yankees and, from time to time, the Rangers or the Mets, can be so consistently incompetent. It's embarrassing. It's not just that Gettleman so consistently makes decisions that cause you to shake your head so hard you give yourself whiplash - and that's not even a fan of the team speaking. It's that he so adamantly justifies his decisions - like he truly believes that he is operating on a different plain and is the only one who can see how the matrix really works. I don't know what color of pill he swallowed, but I sure don't want the same one.
Most improved: Philadelphia. They didn't do a lot, but what they did was good. The Nick Foles move was sound since it felt like Jacksonville was the only buyer. They had only five picks in the draft, but moving up ahead of Houston in the first round to take tackle Andre Dillard was a good move, and they added some decent value beyond that. I like the idea of bringing back DeSean Jackson. And losing Michael Bennett doesn't sting when they replaced him with Malik Jackson. QB depth behind Carson Wentz, who is made of glass, is a concern right now, but beyond that, the team has improved and missed winning the division by only a game last year.
Underrated new player: Dwayne Haskins. Maybe it is because I have watched him too often, but I am sold on Haskins. He has a big arm, he plays smart, and he can be slippery if he needs to be. I truly don't understand how he fell as far as he did, and I think he represents huge value where he was taken.
Overrated new player: Jason Witten. I don't think too many people expect too much from him, but participating in this farce of a move is just so Dallas of the Cowboys. He will be less effective as a player this year than he was as an announcer last year, and that's really saying something.
Key coach storyline: I would normally say Jason Garrett, but if he hasn't gotten himself fired yet, then he is enviably stable. It has to be Pat Shurmur. He's only in his second year, but how long can he possibly survive? The Giants will be lousy. Gettleman could panic and fire him to try to save himself, or if Gettleman gets the axe then the coach surely will, too. It's like he is hanging into a bar by his fingertips and we are all watching to see when he plunges into the raging river below.
Read more articles by Trevor Whenham
Get all of this Weeks NFL picks
Get all of this Weeks Guaranteed Expert NFL Picks