2019 NFC North Predictions with Betting Advice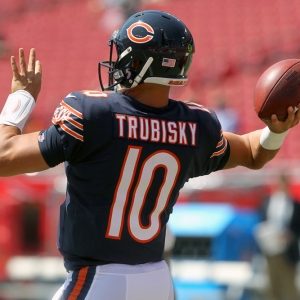 There are two things that stand out when you take a look at the NFC North over the years. First, three different teams have won the division in the last three years. This has been a wide-open division. Second, the team that hasn't won it over that time, the Lions, have somehow managed not to win the division since 1993. How long ago was that? I graduated high school that year, and I attended my 25-year reunion last fall. That's a very long time - or at least it feels that way. The streak of futility is likely to continue for another year, but the odds suggest that the other three teams are all in tight contention here. As we look to fill the time between the draft and the preseason with anything we can to pass time, this week we are spending time looking at the highlights and concerns of each division. And it's time for the NFC North. (Odds are from BetOnline)
Biggest lock: Chicago "over" 9.5 on the season win total. They won 12 games last year, and it didn't feel like a massive fluke. They are very well coached, their quarterback is making progress, and they have a very talented defense that only got better. Losing defensive coordinator Vic Fangio after last season would usually be a big blow, but they replaced him with Chuck Pagano, so they are still in good shape. This is going to be a very solid team, and the over feels quite attractive - and you can still get it at +105.
Most likely to disappoint: Green Bay. I have been pessimistic about the Packers for a few years now. And despite a needed coaching upgrade, that hasn't changed. I'm not in love with what they did in free agency, they have a quarterback who has struggled to stay healthy, their new and young head coach has to command the respect of that mercurial quarterback despite not having played in the league or having ever been a head coach, and their draft doesn't have immediate home runs. It's a lot to overcome. The season win total is at 9.5, and they are at +200 to win the division. Both numbers feel optimistic from where I am sitting.
Best betting value: The Bears to win the division at +175. They only need to win the division less than 40 percent of the time in order for this bet to pay off long term. They have the best defense by a long margin and a lot to like besides that. This feels like a very solid price.
Biggest mystery: Matthew Stafford's status. Stafford is a very capable quarterback, and he is very central to any success that the Lions might have this year. But reality has hit Stafford hard this year, as his wife's health struggles - a brain tumor - have been a major story this offseason. The prognosis is decent now, but it has been a long road already and it's not over. He's human, so obviously this has to be a distraction. It could hurt his play or fuel him to a higher level. But we can't see inside of his head, so we won't know what - if anything - this sad situation will mean on the field until we get there.
Most improved: This is a tougher question than you might guess. None of the teams in the division really had a great draft. The Bears had the biggest excuse - they traded away the core of their draft for Khalil Mack, and they would do it again without hesitation. The other three teams have some upside, but it will require patience. And while the teams each had some success in free agency - Green Bay made more moves than usual for them, and I like what the Bears did - there again wasn't a true home run case. The division is generally better than it was, but no team leads the way in a big way.
Underrated new player: Ha Ha Clinton-Dix. It didn't feel like he was perceived to be an underrated player at all. But the fact that the Bears were able to sign him for just $3.5 million for the year clearly means that the league doesn't value him as much as they should. He and All-Pro Eddie Jackson, who played together at Alabama, should be spectacular together. A very good Chicago defense got better.
Overrated new player: Trey Flowers is a nice defensive end. Above average for sure. But when the Lions signed him to a five-year deal worth $90 million, they made him the fifth highest-paid defensive player in the league at the time. And they didn't get anywhere near the fifth-best defensive player. It was a very Lions' move and a pretty good indication of why the team has struggled to be at all relevant over the years.
Key coach storyline: Detroit and Chicago hired new coaches last season. Green Bay made a change this year. Suddenly, Mike Zimmer is the elder statesman of the division, with five years in Minnesota. That's a fairly long time to last in a job in this league, but not so long that a guy seems locked in - not yet. Zimmer's seat isn't hot - not at all. But last year was a disappointment, and another one like that would challenge the perceptions of the coach in a big way. The season win total sits at 9, with the over solidly favored, so expectations for Zimmer and company are reasonably high. And high expectations have lots of room to go under them.
Read more articles by Trevor Whenham
Get all of this Weeks NFL picks
Get all of this Weeks Guaranteed Expert NFL Picks