2019 NFC West Betting Predictions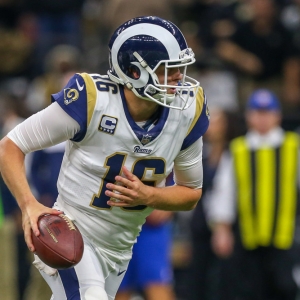 The NFC West has produced more than its share of NFC Champions in recent years - four in the last seven years. All four teams in the division have won the conference in the last 11 years - something no other division can match. The Rams are again favored to win the conference, but they are going to be in for a fight if they falter even slightly. As we wait through this stretch of time between the real action of the offseason and the start of training camp, we are taking a look this week at the highlights and deepest lows of each division, and it's time now for the NFC West. (Odds are from BetOnline)
Biggest lock: Seattle "over" 8.5 wins on the season win total. They won 10 games last year, and I like the offseason they had. The trade of Frank Clark means they lose his pass rush, but they got massive value. And they did the best job in the league of turning a few picks into a ton at the draft - and those picks into some really nice players. I am never going to believe that Pete Carroll really cares enough anymore, but he has the team to be solid, and I feel like the over is the clear, comfortable play here.
Most likely to disappoint: Rams. This one is an automatic. They are coming off a crushing loss in the Super Bowl. How many times now have we seen teams that lost the Super Bowl dramatically need a year to get their heads back together? It's the Super Bowl loser's hangover, and it's real. And this team has lost a lot of coaching talent and weren't hugely active on the player front. I still think they are the most talented group in the division by a margin, but they are strong -175 favorites to win the division, and if you like them that much you could be setting yourself up for disappointment.
Best betting value: Seattle +275 to win the division - for exactly the reasons we mentioned in the last point. If the Rams are going to stumble - which history has shown us is a possibility - then this is the team best positioned to take advantage. It feels more likely than it needs to be for this price to be worthwhile that the Seahawks win the division. I was also tempted by San Francisco over 8 on the season win total, but that's the top end of what I would want to play, and it has drifted up to -120, which knocks it out of range for me. I'm obviously not the only one who likes what they have done this offseason - starting with getting their QB back.
Biggest mystery: Kyler and Kliff. The upside for the top overall pick and the hottest coach in the sport are just massive. The Cardinals have upgraded the offensive line and are loading up on receivers. But Kingsbury still has never coached in a single NFL game in any role, has only attempted two NFL passes as a player, and was only moderately successful as a head coach at Texas Tech. I don't question his qualifications, and I am high on him, but he's far from a sure thing. And neither is Murray - he's an atypical athletic freak in a league that typically uses taller quarterbacks. I am bullish - especially over the long term. But what we could expect this season ranges anywhere from runaway rookie of the year to Josh Rosen with more endorsements.
Most improved: Arizona. The team had a great run through free agency, upgrading their offensive line and adding talent in some key pieces - and avoided overpaying for anyone despite having cash to spend. And then they had a very nice draft, adding value beyond Murray - getting corner Byron Murphy in the second round was the kind of theft people go to jail for. But the biggest difference is the swagger. Kingsbury oozes it, and it is something this team has lacked for a long time. And Murray has no shortage, either. This is a team that people want to watch for the first time since Kurt Warner was there, and the players will react to that.
Underrated new player: Eric Weddle, safety, Rams. He's 34, so this isn't a long-term play. But he is an established, successful veteran who can contribute at a high level and who can provide leadership and guidance - something the team is going to need to bounce back from how last year ended.
Overrated new player: It has to be Kyler Murray. I think he's going to be great. And despite some of the uncertainty I have voiced, I have no doubts the Cardinals did the right thing picking him - even if I didn't think it was going to happen for a long time. But when a guy has had as much focus and attention as long as he has - the draft was only about him for months leading up to it - it is impossible for the public to have reasonable expectations about what he will do. He's joining a team that almost got a QB killed - a top draft pick himself - last year, and he is the runaway +225 favorite to win the Rookie of the Year. It's a lot to ask.
Key coach storyline: Kyle Shanahan. He isn't on a hot seat right now, and expectations are reasonably high that we will see progress in San Francisco. And much of his issues last year were due to horrible injury luck and a lack of QB depth. But this is his third year, and he has only had 10 wins in total. That's what the team was likely expecting last year alone. He'll be fine if he takes a big step forward - and sticking with him is the right move in my eyes. But if the team stumbles out of the gate, and enters November with sights on another high draft pick, then Shanahan might want to call a real estate agent.
Read more articles by Trevor Whenham
Get all of this Weeks Free NFL picks
Get all of this Weeks Expert NFL Picks