College Basketball Picks: Odds and Predictions for Marquee Saturday Games
by Robert Ferringo - 12/10/2010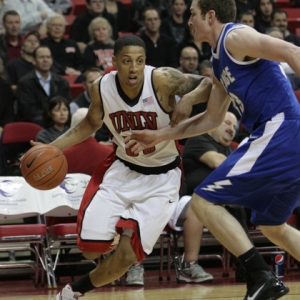 Below are some odds and predictions for marquee Saturday games. It is also a list of what you should be watching for seven hours on Saturday if, you know, you don't have any family or friends, are a raging gambling addict like myself, and would rather spend your day making college basketball picks than trolling the mall looking for a (robot) baby that acts just like own baby:
No. 13 Tennessee vs. No. 3 Pittsburgh (3 p.m.)
Projected Odds: Tennessee (+8)
Analysis and Predictions: Tennessee will be looking for its second Big East scalp this year when they head to Pitt to take on the undefeated Panthers. The Volunteers hammered No. 12 Villanova in New York City just two weeks ago, 78-68, but now will be facing a stiffer test against the rugged Panthers. Fortunately for the Vols, this game will not be played in Pitt's campus arena – where the Panthers are nearly unbeatable – but instead will take place at the Consol Energy Center. The Panthers will still have the home crowd edge, but it does make a difference.
Tennessee is still figuring things out after losing a load of talent from last year's club. But this year's team is still very experienced, with four holdovers joining with freshman stud Tobias Harris to form a solid nucleus. They will be going up against one of the most experienced teams in the nation.
I think the line will tell the tale in this game. If the spread comes in low – around 4.5 or lower – then I think that the Volunteers will pull the upset. However, if the line looks too good to be true toward the Volunteers – if it opens around 7.0 or higher – then Pittsburgh is the play. The Panthers don't normally blow people out. They beat a similarly talented Texas team already this year, but that win came by just two points. It seems counterintuitive, but the more points Pitt lays the stronger play they become.
Indiana at No. 16 Kentucky (12:30 p.m.)
Projected Line: Indiana (+14)
Analysis and Predictions: This is a big week for Kentucky. They hammered feisty Notre Dame on Wednesday in Louisville and now they return home to take on an equally feisty Indiana team in Lexington.
Generally, the challenge for the Wildcats will be to avoid the letdown and get back up after taking down a ranked opponent on a neutral site. But the fact that Saturday's opponent is Indiana, one of the nation's classic basketball powers, should help them keep focus. Also, the insane UK fans will give this young, talented Wildcats team the extra boost it needs.
Indiana is a team that I like this year. But they have only beaten up on bottom feeders at home. And in their only true road test, against solid-but-not-spectacular Boston College, they were hammered by 12. This team is soft on the interior, and even though they are ready to compete this year in the Big Ten they aren't ready to compete nationally.
I think I would need more than just 14 points to make a move on the Hoosiers. They are just 2-8 ATS in their last 10 meetings with Kentucky (dating back to 2000) and the favorite is 7-3 ATS in this series. Terrence Jones is going to be able to do whatever he wants getting to the basket and UK will shoot better from the outside at home. Indiana has some talent in the backcourt and I don't see them getting completely run here; Tom Crean is too good of a coach to see his team lose by 25 or 30 in this spot. But it's just too tough to bet against the Wildcats – even if they are grossly overrated – in Bluegrass Country.
Arizona at No. 21 BYU (3 p.m.)
Projected Line: Arizona (+4)
Analysis and Predictions: This game isn't getting the national attention of the first two listed here (mainly because ESPN doesn't own the rights to the Pac-10 or the Mountain West), but it may be even more important. This is a matchup of two of the five or six best teams west of the Mississippi.
The Wildcats are slowly but surely working their way back to national prominence and a road win over a Top 25 team would be a great resume booster. Their only loss this year was a close one against Kansas, but other than that they are winning by an average of about 23 points per game.
BYU is led by All-American guard Jimmer Fredette. He dropped 49 on the Wildcats last year in a stunningly easy 30-point win in Arizona. But BYU is in kind of an awkward spot here. They traveled cross-country this week to blow out Vermont on Thursday in Glens Falls, NY (Fredette's home town), and now they have to come home take on Arizona. However, this team shoots the lights out and their perimeter-oriented attack can be unstoppable when they are making shots from deep.
This is a big revenge spot for Arizona after getting embarrassed at home by BYU last year. This is also a key "statement" game for the Wildcats as they try to work their way back into the Top 25. Finally, how will BYU be after playing just two days after their long East Coast trip? And while they will have the home crowd advantage (this game is in Salt Lake City). this isn't a true home game for them. I'm looking hard at the points in this one, even though I hate betting against BYU anywhere near Mormon Country.
Other Noteworthy Games:
UNLV at Louisville (Noon)
This is becoming quite the nonconference rivalry. This will be the fourth straight year that these two have met and UNLV has sprung the upset in each of the last two years. The Rebels are truly one of the top 25 teams in the country and they relish the underdog role.
Louisville is still figuring some things out with a host of new starters, and to this point they have been padding their stats against a bunch of bottom-tier teams. Louisville does have a 15-point win over Butler in the season opener under its belt. And they have double-revenge for those last two losses. The Cardinals are very athletic and appear to be a better outside shooting team than they have been in several seasons. They are playing great at home and will be up for this game.
But UNLV gets to the basket against everyone and they can lock down on any opponent, anywhere, any time.
Washington at Texas A&M (4:30 p.m.)
Last year this was a contentious matchup in the Pacific Northwest, with Washington pulling out a nine-point win while A&M watched senior leader Derrick Roland's career come to a gruesome end (broken leg). That makes this a revenge spot for the Aggies.
But A&M has looked shaky at times this year as they struggle to replace three senior stars from last season. This is still one of the best defensive teams in the nation (No. 9 in points allowed and No. 21 in field goal percentage), and they are more than strong enough to hold up against Washington's powerful attack-the-basket offense.
The Aggies are always a great underdog – I think they will be catching +3 here – but this Washington team has been wrecking people this year. Washington is the No. 1 three-point shooting team in the country this year. Now that they've added that to their arsenal this team can beat opponents inside and out. They have played well against a good schedule, but have lost to Michigan State and Kentucky in their other two marquee games this year.
Robert Ferringo is a writer and a professional sports handicapper for Doc's Sports. He is considered one of the best college basketball handicappers in the country and has earned his $100-per-Unit clients nearly $30,000 in the last four years with his nonconference handicapping. He has earned his clients over $16,000 since the end of July and is ready for another great college hoops season. You can sign up for his college basketball picks and get more information here.
---
Most Recent College Basketball Handicapping