Mountain West Conference Predictions and MWC College Basketball Futures Odds
by Robert Ferringo - 10/26/2010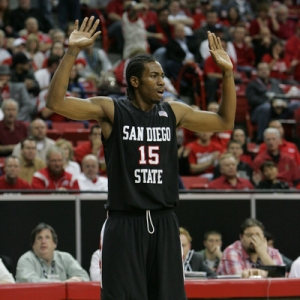 Well, apparently The Mountain West didn't make enough of an impression by dominating West Coast basketball last year and being one of the most reliable conferences in the country to make a profit betting in.
Last year The Mountain had a coming out party with four teams earning NCAA Tournament bids. That was due in part to the overall quality of the league but also the fact that this perennially underrated conference was there to capitalize on the fact that the Pac-10 completely bottomed out with its worst season in two decades. However, entering the 2010-11 college basketball season there are exactly zero teams from the Mountain West in the preseason Top 25.
The Mountain West has been one of my favorite conferences since its inception over a decade ago. This league has everything that you look for in a quality college hoops betting league: strong rivalries, exceptional home court advantages, underrated and overlooked talent and teams, and enough quality to not only compete but to beat more recognizable "name" schools from "power" conferences. And because of its niche in the college hoops landscape it is often a treasure trove for savvy bettors because its college basketball lines are among the softest released by the sportsbooks.
Preseason rankings don't mean squat. But when you consider that not one team from this league cracked the preseason Top 25 that tells me that books, bettors and bobbleheads didn't learn their lesson last year with this league. With the Pac-10 still rebuilding the Mountain West should again be the dominant force in Left Coast hoops. Further, since the top five teams in the league finished a solid 24 games over .500 against the spread last year I think that there is still plenty of value left on the board with these clubs.
Below are my 2010-11 Mountain West Conference Basketball Predictions to help you with your college basketball picks. I could not find 2010-11 MWC championship odds for the regular season or the postseason online so the futures betting odds you see are my own:
The Favorite: San Diego State (+250)
The Aztecs enter the season as not only the top team in the Mountain West but one of the Top 20 teams, in my estimation, in the country. They are a legitimate Sweet 16 contender and there probably aren't five better frontcourts in the nation.
San Diego State was 25-9 last year and lost in the final minute of their NCAA Tournament opener against Elite Eight-bound Tennessee. This year they return all five starters for only the third time in Steve Fisher's 20-year coaching career. The two previous times (1992 Michigan, 2008 SDSU) his club made either the NCAA or the NIT Final Four.
This year's team revolves around 6-foot-7 Kawhi Leonard and 6-8 Billy White in the post. They are physical, athletic and extremely versatile. Leonard is one of the best players on the West Coast and the team's go-to guy. And besides the oft-injured White there are three other guys – at 6-9, 6-9, 6-11 – that can play starters minutes and also dominate the post.
The Aztecs were No. 37 in the country in defense and No. 8 in defensive rebounding because of their powerful post.
They also have a veteran backcourt with D.J. Gay and Chase Tapley. The weakness of this group is that they don't have any depth behind their guards and I don't know if any of the ball handlers are true difference makers. They are solid, but not capable of taking over a game.
Also, when your team is led by big men that invariably means you will be a poor free throw shooting group. That's a killer when it comes to covering spreads and it's an anchor in March. But they are one of the best mid-majors in the nation and a club that will be in the Top 25 most of the season.
The Challenger: BYU (+300)
These wacky Mormons finally got over the hump last year and won a game in the NCAA Tournament. Now they are trying to not only do that again, but also play their way into the second weekend. Unfortunately, the same thing that at times gives their program an advantage (the Mormon missions and fielding a team full of 23- and 24-year-old men against teams with 18-year-old kids) has jumped up to take a bite this year.
The Cougars lost stud guard Tyler Haws to his mission and graduated two other key starters. But they do bring back one of the best guards in the country, Jimmer Fredette. He averaged 22.1 points per game last year and scored 45 and 30 in two Mountain West Tournament games before lighting up Florida for 37 in BYU's opening round OT win. He is a bona fide stud and can carry this team.
Fredette will have a vet backcourt running mate (Jackson Emery) and he'll have one strong forward to work with (Noah Hartsock). The problem is that they are small and soft.
This team has a hard time competing against teams like SDSU and New Mexico because those teams are so much better inside. That forces BYU to chuck jumpers and hope they are a hot. But this is a quality club and as long as nothing happens to Fredette they'll be dancing.
The Dark Horse: New Mexico (+300)
The defending conference champions aren't a true "dark horse" because, well, they are the defending champs. But they are a bit of an unknown because three of their best players are kind of question marks coming into the season. Freshman Alex Kirk is a 6-11 stud and a high-major talent. Around him are transfers from Tennessee (Emmanuel Negedu) and UCLA (Drew Gordon) that are very talented but a little enigmatic. If those three pieces come together they could pass SDSU for the league's best frontcourt – which would be impressive. If not then this club could fall off considerably.
New Mexico, like SDSU, has two nice, reliable veteran guards but no one on the perimeter that make opponents nervous. I give the Lobos the edge in that category, but not by a lot. These guys surpassed their low expectations last year and could be in a position to do the same this year despite losing their two best players. They have a great home court edge and will be a threat for the postseason.
The X-Factor: UNLV (+500)
I think people kind of underestimate how good this program has been over the last few years. They have played in three of the last four NCAA Tournaments and were one possession from topping last year's giant-killer, Northern Iowa, in the first round last March.
The Rebels have all five starters back this year from a 25-win team that was in the Top 50 in both offensive and defensive efficiency.
They had a huge distraction in the offseason when their best player, versatile Trevon Willis, allegedly choked a woman and was brought up on chargers. Willis entered a plea and will have to miss one whole regular season game (detect the sarcasm). But he is also currently injured and if this is a lingering issue I don't think the other four starters are strong enough to pick up the slack.
This group wears teams down by protecting the basket and getting to the basket. And they have some major scalps on their wall from the last two years. The supporting cast is very solid; they defend, they rebound and they are experienced. But this team is horrible shooting from deep and if Willis isn't a full go then they will have serious problems. Or if he plays his best ball in his final year they could pass SDSU.
The Sleeper: Colorado State (+1200)
This is a big year for the Rams. They have had a hodgepodge of talent over the last few seasons but injuries, weird off-court situations, and the horrendous in-game coaching of Tim Miles has held them back. This year they finally have the talent and experience to be competitive on a consistent basis with the top tier Mountain West teams.
They have four of five starters back and just have a great blend of players. They have three excellent options for two backcourt spots and three more quality players in the post, along with some other contributors. Overall they have three double-digit scorers and five guys that have averaged nine or more points.
Only one player on the roster is taller than 6-8, so that's a problem. But they can compete. They are also very much under the radar because they have been so bad the last few years.
But now it is on Miles. I, obviously, think he's a weak game coach. And if he can't make strides – as in a postseason berth – with this group then there is no hope for him in this program.
The ATS Machine: Wyoming (+1900)
Much like Colorado State, the Cowboys have had a weird few seasons both on and off the court. But things seem to be lining up for them to at least be more competitive on a more consistent basis with these powerful MWC clubs.
They bring back five starters and the one main thing that they have going for them is that they have the strength underneath to bang, and win battles, with the other power frontcourts in this league. Wyoming should go 6-10 (Adam Waddell), 6-10 (Dijbril Thiam), 6-8 (Afam Muojeke) across the front line. Then with a solid little point guard (5-9 JayDee Luster) and a third-team All-MWC shooting guard (6-5 Desmar Jackson) they have one of the better starting fives in the league.
Depth is an issue but they have some JUCO guys they are rolling the dice on. The key is Muojeke. If you've never seen the kid play he has the potential to be special. But he blew out his knee last January and his recovery is critical. But if he is right he is a dark horse for Player of the Year honors. Yes, he's that good. But right now it looks like he may not even be ready for the opener. That's not a good sign.
Expectations are nil for this team and they have some serious talent so they could be a great team ATS.
The Rest:
TCU (+5000) – They key to this team is that they enter the season with no expectations, either from hoopsters or from bettors. The Horned Frogs went just 13-19 overall last year and were an even weaker 11-19 against the spread. That included a dreadful 3-12 ATS mark at home.
This season is really a key one for Jim Christian and his under performing program. He lost the league's most underrated player, Zvonko Buljan, and is welcoming eight new players into the mix. One of those new players is Virginia Tech transfer Hank Thorns, who TCU is hoping will stabilize the backcourt. He'll be paired with last year's leading scorer, Ronnie Moss. After that it's nothing but X-factors, especially on the wing where a host of JUCO transfers and freshmen will vie for time. There are some bigs with potential. But none have any experience.
The newcomers are all highly regarded. But there is no telling how this team is going to mesh. The early schedule is brutal and they will have to learn on the fly. But this is a team to keep a close eye on to either play or fade.
Air Force (+10000) – Yeah, these guys suck. They went 1-15 straight up in conference play and just 4-12 ATS against league foes. And they could be worse this year.
Two of their top three players are gone and both were big men on a team that was completely lacking in size. Eight of the top 10 players that they have are either freshmen or sophomores and besides lacking experience, size or talent they also lack any sort of confidence or direction.
After an exceptional run in the middle of the last decade this program is an afterthought. They do open with a bunch of cupcakes so they could gain some confidence. But then reality will set in and it will be back to getting blown out. It'll be another long winter at The Academy.
Mountain West Conference Basketball Predictions for Standings:
1. San Diego State*
2. UNLV*
3. BYU*
4. New Mexico
5. Colorado State
6. Wyoming
7. TCU
8. Air Force
*Projected NCAA Tournament teams.
Robert Ferringo is a writer and a professional college basketball handicapper for Doc's Sports. He is considered one of the best college basketball handicappers in the country and has earned his $100-per-Unit college basketball picks clients nearly $30,000 in the last four years with his nonconference handicapping. He has earned his clients over $14,000 since the end of July and is ready for another great college hoops season. You can sign up for his college basketball picks and get more information here.
---
Most Recent College Basketball Handicapping