Pac-10 College Basketball Predictions With Projected Order of Finish and NCAA Bids
by Robert Ferringo - 11/3/2010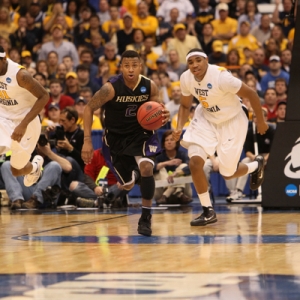 It's a good thing for the Pac-10 that plenty of attention is being paid on its impending realignment for 2011. All the focus on what the new league will look like in the future is keeping people from talking about how awful the league is in the present.
Last year the Pac-10 received half as many bids (two) to the NCAA Tournament as the Mountain West (four) which, at least for one season, passed the Pac-10 as the preeminent college basketball conference in the Pacific Time Zone. The Pac-10 also had less teams in the Big Dance than the Atlantic 10 (three) and the same amount as the WAC, West Coast Conference and Conference USA. For a league that boasts traditional powers like UCLA, Arizona and USC, those numbers are an embarrassment.
Sure, there are plenty of reasons why the Pac-10 has gone through devolution over the course of the past two years. The primary ones are massive coaching turnover and rampant defection of top talent to the NBA. But the bottom line is that things were a debacle in this league last year and they don't appear to be that improved heading into this season. Only 30 out of a possible 50 starters return and just five of 15 all-conference players will be back on the court this winter. Just one team, Washington, cracked the Preseason Top 25, and even the Huskies maxed out at No. 17 in the Coaches Poll.
But the games will go on. And these programs can't get back to the glory days without pressing through some growing pains. Here are my 2010-11 Pac-10 college basketball predictions with projected order of finish and NCAA Tournament bids to help you with your college basketball picks, and the odds to win the Pac-10 are in parentheses:
The Favorite: Washington (+250)
The Huskies are the favorite in this conference by default more than by development. The Huskies were one of the two teams from this league that advanced to the NCAA Tournament last season and they are hoping for a carryover effect. The heart and soul of this team is a triumvirate of guards that is as talented as any in the country: Isaiah Thomas, Abdul Gaddy and Venoy Overton.
Thomas is one of the league's top returning scorers and Overton is the best on-ball defender in the country. A key for this team will be whether or not Gaddy can live up to his advance billing after a horrid freshman year.
Washington has size in the post, in terms of bodies. But they don't have any true talent down there in terms of being able to throw the ball into someone for a tough bucket. This team has to replace all-conference player Quincy Pondexter and his 19 points and seven rebounds. They won't be a better team without him.
And a major weakness for this group is that they can't shoot from the perimeter. They were No. 200 in the nation last year from deep and their two best shooters have graduated. If they don't find a shooter this team has a very definite ceiling.
The Challenger: Arizona (+250)
Two streaks have been snapped for the Wildcats in the past eight months. First, their streak of 25 consecutive NCAA Tournament appearances was snapped last March. Then this fall they started the season with the same coach for the first time in five years.
Sean Miller has a chance for a quick turnaround with this group because the league is a mess. Like Washington, this team has to replace its leader, Nic Wise, and they have to get better at running an offense and taking care of the ball. But there are some pieces in place.
Derrick Williams led the team in scoring and rebounding last season and is now the focal point. Around him are quality role guys in Kyle Fogg (shooter), Jamelle Horne (energy guy/athlete), and Solomon Hill (post distributor).
The key for this team will be who takes over the point for Wise. That will hinge on the development of Momo Jones at the point. He is a New York City point guard that had a respectable freshman year but needs to seize the reigns here.
They don't have much size around the basket and that is a weakness. But energy, athleticism, and a something-to-prove attitude should carry this team this year.
The Dark Horse: Washington State (+800)
I don't think that the Cougars have enough top-to-bottom talent to hold up for an entire conference schedule. But I think that they could be a surprise team in the mix in February.
They bring back all five starters, have one of the best players in the conference, and are one of the few clubs that has a quality point guard. Last season was a transition year for the Cougars to Ken Bone's up-tempo, attacking style. Wazzou was too young to stay strong all year but they showed some potential.
Klay Thompson is one of the top players in the country and the junior swingman is the unquestioned go-to guy. His sidekicks include point Reggie Moore and hefty big man DeAngelo Casto. The other two starters are role players and they need a couple of the five newcomers to step up to provide critical depth.
But familiarity of the system and confidence from a successful nonconference run could carry this team into Pac-10 play. This team can score. But if they want to take a step up to the conference's top tier they need to prove that they can defend consistently.
The X-Factor: UCLA (+385)
It got real ugly, real quick for the Bruins. After a decade of success that included three straight Final Four appearances the Bruins completely fell off the map last year. I mean, they lost by 27 points to Portland last November. And that wasn't even the low point.
The program endured a season of turmoil both on and off the court and I would have to say that they are looking forward to a fresh start this year.
This team is still short on talent. But Ben Howland has a proven system and his clubs have always been one to overachieve when facing low expectations. They are going to be better just because they shouldn't have to deal with the incredible amount of injury and personnel issues that faced them last season. I'm sure Howland will have them rededicated to strong man-to-man defense and offensive efficiency.
But in the end you need players. And at the start of this year it looks like the core will be two sophomores (Reeves Nelson, Tyler Honeycutt) and two freshmen (Josh Smith, Tyler Lamb) leading the way.
They have a lot of work to do and it is tough to tell what to expect from such a young, underdeveloped squad.
The ATS Machine: Arizona State (+500)
Take low expectations, mix in quality veteran guard play and a solid system, and you usually end up with a fairly reliable team to bet on (and against) in college basketball.
Last year the Sun Devils played surprisingly well despite losing their two stud players from 2008-09. This year they lose point man Derek Glasser and their top post player, but that duo is going to be much easier to replace than James Harden and Jeff Pendergraph were.
This year's team has four quality guards, including a pair of three-year starters in Ty Abbott and Rihards Kuksiks, and if they can find anything at all in the post then this group will be able to mix it up with the rest of the league.
The Sun Devils actually finished in second place in the league last year and I don't see them having a very steep drop off. And at 12-17 ATS last year they were one of the worst bets in the Pac-10. That should create some value on them this year if the books overcorrect a bit. Also, they play perhaps the toughest nonconference slate of any team in the league and they come right out of the gate firing against New Mexico, Baylor and Richmond (as well as a trip to Alaska) within the first three weeks of the year. I think they can be competitive in those games and if they lose most of them that could make them underrated heading into league play.
The Disappointment: California (+1500)
Wow, these guys are going to be awful. I mean awful.
They lost all five starters, four of whom were seniors and three-year starters, including the Pac-10 Player of the Year (Jerome Randle). What is left is a mess.
Jorge Gutierrez is a guy I like, but he isn't a lead guard. And he'll be working with nine guys that are either freshmen or sophomores. I have them at 5-7 entering a three-game road trip to start Pac-10 play.
If they win more than 13 games this year I will be absolutely stunned. They were one of only two teams that had a profitable season against the spread last year. I expect them to go to the other side this year and they could end up going first-to-worst in the Pac-10.
The Rest:
Oregon (+2500) – I think that the Ducks secured an excellent coach in Dana Altman to take over the program. But he's got plenty of work to do. The Ducks experienced a load of roster turnover from last season. The result is a team that has the worst talent in the league and things should be even messier in Eugene this year then they were last season when the Ducks limped to a 16-16 season.
They have a decent junior point guard in Malcolm Armstead, but that is really it. Beyond that is a medley of inexperience that will be the foundation of Altman's rebuilding job. Don't look for much from these Ducks.
Oregon State (+1000) – The Beavers were a huge disappointment on the court last season but they certainly didn't let anyone down at the window. Oregon State was a stellar 18-9 ATS last season as they flopped their way to a 14-18 overall mark.
This team plays a quirky Princeton-style offense that relies on a lot of inverted post play. And defensively they rock a 1-3-1 look that can be very frustrating to attack.
The Beavers lost two of their three best players but they may actually be a bit deeper this year. They had one of the least efficient offenses in the country last season and they desperately need someone other than Calvin Haynes (12.5 points per game) to be able to put the ball in the hole. OSU's 29.5 percent three-point percentage was ranked No. 328 in the nation.
Stanford (+800) – In my opinion the jury is still very much out on whether or not Johnny Dawkins has any idea what he's doing with this program. But this season will definitely give us some insight.
Dawkins lost what was by far his best player (Landry Fields), but he still has one nice piece to build on (Jeremy Green), a starter returning from a season lost to injury (Josh Owens), and three other starters looking to make strides as they shift from sophomores to juniors.
They need to find more balance on offense and they need to maintain the strong hustle that they showed last year. Also, the incoming freshman class is highly regarded. If Dawkins is able to develop some players this team could find the middle of the pack.
USC (+1200) – Stop me if you've heard this one: last year was a trying, troubling year of transition for this venerable Pac-10 program. The Trojans endured issues on and off the court and were banned from competing in the postseason last March.
Kevin O'Neill loses four of his top six players but he does return the best frontcourt duo in the league. The combination of Alex Stephenson at power forward and Nikola Vucevic at center give USC a one-two inside punch that will be hard to contain in a league that is really devoid of much talent in the collective frontcourts.
They are relying a lot on Fordham transfer Jio Fontan, who will become eligible in December. Fontan is believed to be the answer at the point for a team lacking experienced guards. But this will be a huge step up in class for the former A-10 starter.
In all it looks like USC will again be scrappy but will be undermanned.
Projected Pac-10 Standings and Order of Finish:
1. Washington*
2. Arizona*
3. Arizona State*
4. Washington State*
5. UCLA
6. USC
7. Stanford
8. Oregon State
9. Oregon
10. California
*Projected NCAA Tournament Bids
Robert Ferringo is a writer and a professional sports handicapper for Doc's Sports. He is considered one of the best college basketball handicappers in the country and has earned his $100-per-Unit clients nearly $30,000 in the last four years with his nonconference handicapping. He has earned his clients over $15,000 since the end of July and is ready for another great college hoops season. You can sign up for his college basketball picks and get more information here.
---
Most Recent College Basketball Handicapping