SEC College Basketball Predictions With Projected Order of Finish and NCAA Bids
by Robert Ferringo - 11/9/2010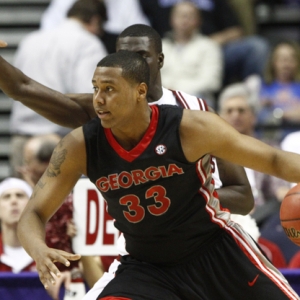 As far as college basketball conferences go – the SEC sure is great at football.
The SEC has left something to be desired on the college hoops scene over the course of the past several years. Perhaps, not coincidentally, the SEC's slide to the bottom of the BCS-conference hoops ladder has occurred while the South's football programs have taken a stranglehold on the college football landscape.
The good news for SEC fans is that their football dominance appears secure. The bad news is that their hoops conference should again be no better than the No. 5 group in the nation, a distant fifth below such prominent leagues like the Big East, Big 12, Big Ten and ACC. But then again, that bad news isn't even all that bad; outside of a few small pockets, most fans of SEC sports couldn't care less about what is going down on the hardwood.
Here are my 2010-11 Big 12 college basketball predictions to help you with your college basketball picks along with projected order of finish and possible NCAA bids (with odds to win the each team's division in parentheses):
The Favorite: Florida (+150, SEC East)
The Gators are back. This team seemed to fall off the college basketball map there for a couple years after winning back-to-back National Championships and fielding one of the all-time great college teams. This year's version won't reach those heights, but they should easily be the top team in the SEC.
They return all five starters from last year's NCAA Tournament squad and they added a highly sought after freshman big man, Patric Young. Young gives the Gators an embarrassment of frontcourt riches, with three double-digit scorers standing 6-8 or taller manning the frontcourt.
How far this team goes will be determined by how well its streaky, but fearless, guards, Kenny Boynton and Erving Walker, shoot and handle the ball. The pair is small but they are feisty and determined. The weakness is three-point shooting (they ranked No. 249 last year) and depth on the perimeter. But this is a very good team that is poised to break out.
The Challenger: Mississippi State (+500, SEC West)
The Bulldogs bumbled their way through the stretch last year and missed out on a return trip to the NCAA Tournament. They lost their best player, Jarvis Varnado, and their best guard, Barry Steward. But the hope in Starkville is that the Bulldogs will bounce back and dominate the West this season.
They received a gift when Dee Bost was reinstated (he won't be eligible until December). And he and Ravern Johnson give the team an excellent perimeter foundation. But the season may hinge on the ultra-hyped Renardo Sidney, who has to replace Varnado as the team's post presence. He too is serving a suspension and won't be available until December.
This team has potential and some talent. But there are a ton of question marks and a lot of things have to break their way in order for them to make a return to the dance.
The Dark Horse: Georgia (+800, East)
By now anyone that is following college basketball should be aware of the breakout season predicted for the Bulldogs. It took only one year for Coach Mark Fox to implement his system and turn Georgia into a threat in the South.
They play a deliberate offense and lock down defensively, and that allowed this team to cover 17 of 30 games despite winning just 14 of them. This year they will build around post force Trey Thompkins (17.7 points per game and 8.3 rebounds per game). He and point guard Dustin Ware are three-year starters despite just being juniors. They are backed up by explosive athlete Travis Leslie, standout transfer Gerald Robinson, and prized recruit Marcus Thornton.
Mix in some other solid role players and you have a team with confidence and promise that is ready to make some noise.
The X-Factor: Tennessee (+350, East)
I am not high on the Volunteers at all this season. They lost four of their best five players from as shaky of a 28-win team as you will ever see. On top of that are the allegations and investigations into Bruce Pearl's less-than-ethical behavior while in Knoxville, which has spilled bad karma in the locker room.
Besides Scotty Hopson, this team's best players might be ballyhooed freshmen. But freshmen are always streaky. And freshmen under the hand of a weak in-game coach like Pearl will likely be even sketchier. We will see.
The crop of four talented freshmen will get plenty of burn because this team lacks many proven veterans. But I'm not bullish on what the results will be.
The ATS Machine: Alabama (+200, West)
I think that the Crimson Tide can be a decent moneymaker because I believe, wholeheartedly, in Anthony Grant. He is now in the second year of implementing his system, and even though he doesn't have the talent yet he is someone who is exquisite at making in-game adjustments.
This roster has only three seniors on it and is woefully short on proven perimeter talent and interior depth. But they will play hard. And they have one of the best big men in the conference in JaMychal Green. This team digs deep and defends and I think that they will be a very good underdog play. T
hey may not even match last year's 17 wins but they could end up being a solid moneymaker.
The Disappointment: Kentucky (+125, East)
Last year the Wildcats put forth one of the most overrated seasons of the last 20 years. They earned a No. 1 ranking and a No. 1 seed despite zero wins over a Top 30 team and just nine of 35 wins over Top 50 opponents. There was definitely talent on that team. But they weren't nearly worth the hype when you consider how putrid the SEC was last year.
The Wildcats lost four of five starters and their top returning scorer averaged just 6.5 points last season. Even scumbag John Calipari is trying to temper expectations from a rabid fan base that is looking for an encore. UK welcomes in three prized freshmen and a fourth (Enes Kanter) is trying to get eligible. But there is simply no way that this team can achieve what last year's squad managed.
I'm sure Coach Cal will coax nearly 20 wins out of this team in the sad-sack SEC, and they will get love from the selection committee. But this will be a team to fade this year and I think that mediocrity is the ceiling for this club this season.
The Rest:
Vanderbilt (+800, East) – A.J. Ogilvy was never really committed to being a great college player. But his decision to bail has put this team in a bind.
Vanderbilt has plenty of skill on the perimeter, and by all accounts John Jenkins is going to bust out in a big way this season. But this team was soft in the middle even with Ogilvy. Without him I don't know how they will hold up on the inside against teams with power in the frontcourt (see: Florida).
I like how this team plays and I like how they run their sets. But their overall lack of athleticism is really going to limit what this team can accomplish nationally.
South Carolina (+1200, East) – Some preseason injuries and defections really crippled what should have been a banner year for South Carolina basketball. They earned their marquee moment by upsetting No. 1 Kentucky. But they will need to hold on to that memory for a long time because they shouldn't be winning many significant games this year, much less beating top-tier teams.
They lost four of their top five scorers, including do-it-all Devan Downey, who was one of the best guards in the nation. Sam Muldrow is a nice player. But he has nothing to work with and nine of the 12 players on the roster are freshmen and sophomores.
Mississippi (+500, West) – There wasn't a team in the country that disappointed me more than the Rebels last year. This school just doesn't care about this program and the coaches, players and fans are all suspect.
Chris Warren is one of my favorite players in the country, but he can't do it by himself. Terrico White's decision to go to the NBA and Eniel Polynice's choice to transfer has left Warren alone in the backcourt. But there are three or four interchangeable forwards here to help out. And if Indiana transfer Nick Williams proves his quality all hope isn't lost.
But this team, outside of Warren, has absolutely no heart. And until they get that taken care of they won't break their run of eight straight NCAA Tournament misses.
Arkansas (+600, West) – Well, things can't get worse. Coach Mike Pelphrey had to patch a roster together last year due to all manner of off-court issue and on-court injury. The results were predictably scattered.
This club should be better without the distractions of last year. But when the dust settles the reality is this team doesn't have many good players. Rotnei Clarke is a shooting dynamo and Marshawn Powell is a solid post presence and wing attacker. But past that is a rebuilding roster that still isn't ready to regain national attention.
LSU (+1000, West) – I'm not sure if Trent Johnson meant for things to get worse before they got better around LSU, but that's exactly what is happening. Well, I guess you can't say that until things actually get better. Three starters and just one double-digit scorer return from last year's 2-14 SEC mess.
LSU does have a couple decent transfers brought in to bolster the roster but a quick scan at the talent level here shows that Johnson is still running a horse race with a three-legged mule. This group is athletic. And with zero seniors (and eight freshmen and sophomores) on the roster this team can take solace in building for next year.
Auburn (+1500, West) – It's back to the drawing board for the Tigers. Jeff Lebo is out, Tony Barbee is in, and the Tigers are starting over. And the cupboard is bare. If Frankie Sullivan doesn't return from July knee surgery this year then the Tigers will have lost all five starters from a team that went 15-17 overall and 6-10 in league play. Their leading returning scorer would have averaged just 2.8 points per game last year. This team is atrocious and it is going to be a long year for Barbee.
Robert Ferringo is a writer and a professional sports handicapper for Doc's Sports. He is considered one of the best college basketball handicappers in the country and has earned his $100-per-Unit clients nearly $30,000 in the last four years with his nonconference handicapping. He has earned his clients over $16,000 since the end of July and is ready for another great college hoops season. You can sign up for his college basketball picks and get more information here.
---
Most Recent College Basketball Handicapping