College Football Season Win Totals Predictions: West Coast Teams
by Robert Ferringo - 7/28/2011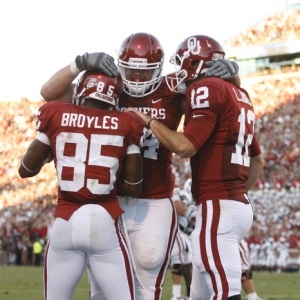 We already broke down some college football season win totals odds and predictions from the Las Vegas Hilton. That was my "East Coast" breakdown, and today we're going to take a look at some of the top schools out West and what their long-term prospects are for this season against what the oddsmakers and Joe Public expect.
If you're not familiar with this type of college football futures wager, college football season win totals are numbers from the sportsbooks based on how many wins they think a certain team will accrue during the regular season. Conference championship games and bowl wins don't count toward this total and the books take action based on what bettors think in terms of college football predictions.
Season win totals don't just offer a great opportunity for high rates of return on relatively short (six months for college) investments. They also provide some insights into the teams that the books and college football handicappers are looking at as over- and underrated heading into the year.
Here are some college football season win totals predictions, with lines courtesy of the Hilton:
Oklahoma – 10
Breakdown: The Sooners have 15 starters and a ton of talent back from last season's 12-win group and a schedule that really works in their favor. They get a bye week before a key nonconference game at Florida State and three of their four toughest nonconference games are either at home or on a neutral field.
Boise State – 10.5 (Over –120)
Breakdown: This program has averaged 11.8 wins per season over the course of the last nine years and the Boise State football schedule is loaded with cupcakes in the nonconference. If I were making Boise State football predictions I would say that they have a much better chance of sailing 'over' this number then they do of coming up short.
Stanford – 9 (Under -150)
Breakdown: On the one hand, they have the Heisman Trophy frontrunner and the best quarterback in college football leading the way. On the other hand, Andrew Luck can't play defense, can't make up for the 10 starters lost, and can't replace what Jim Harbaugh took with him to San Francisco. Stanford only has one road game against a 2010 bowl team and they close with three games at home. I do think this team is overrated, but I also don't think that Luck will let them fall off a cliff.
Texas A&M – 8.5 (Under -120)
Breakdown: This is Mike Sherman's fourth year and his team is one of the most experienced in the country. The Texas A&M Aggies football schedule has five conference home games and the nonconference slate consists of two gimmes (SMU and Idaho) as well as a revenge game with Arkansas in Arlington. I definitely think that this team could manage 10 wins this year and I love the odds here on them getting to at least nine.
Oklahoma State – 8.5
Breakdown: The Cowboys were No. 115 in the nation in pass defense last year and aren't any better this time around. Also, OSU has six road games, including a potentially lethal nonconference trip to Tulsa. They also have to play at A&M, at Texas, at Missouri and at Texas Tech. Pencil in a loss to OU in the Bedlam game and I think I can find four losses on this schedule.
Nebraska – 9.5 (Over -140)
Breakdown: I think that Nebraska is going to be very happy with its decision to switch to the Big Ten. I think they will be unbeaten at home (7-0) this year, and that means they just need to find three road wins and they will clear these college football odds. It's not a great value play because I could see them losing three games. But I am also predicting that Nebraska will win the Big Ten and represent in the BCS, so I can't really bet against them.
Arizona State – 8 (Over -120)
Breakdown: This team hasn't posted a record better than .500 since 2007 and they have only surpassed the eight-win plateau twice in the last 10 years. However, they will be the preseason favorites in the new Pac-12 South. State does have a tough nonconference schedule though, with a game against Missouri leading up to a trip to Illinois, with both coming the two weeks prior to the conference home opener against USC. That makes September a pretty emotional month.
USC – 7.5 (Over -130)
Breakdown: After a run of 72-9 from 2002-2008 the Trojans have gone 17-9 in the last two seasons. This year they have just 12 seniors on the roster and they have to deal with a motivational disincentive (they can't go to a bowl game or the Pac-12 title game). Oh, yeah, and there is the small matter of Lane Kiffin being a joke as a coach. They have five tough road games and they draw Stanford at home. I can't say how they will fare this year, but I can say that I won't be touching this number with a 10-foot pole.
Notre Dame – 8.5 (Over -130)
Breakdown:The Irish are always, ALWAYS, the most overrated team in the country when the college football season win totals odds are released. This year is no exception. I know the Irish finished last year strong and have 16 starters back. They will also be better in Year 2 of the Brian Kelly Era. But they are also the same group that got ramrodded by Navy and lost – at home – to Tulsa.
Oregon State – 6.5 (Under -130)
Breakdown:Mike Riley's team has failed to pass the previous year's win total in four straight seasons. Last year the Beavers won just five games. And with just four defensive starters back, an unsteady quarterback, and an uncertain future for top playmaker James Rodgers, I don't see a bright light at the end of the tunnel for this year's team. Especially with the brutal slate they are up against.
TCU – 9 (Under -130)
Breakdown:TCU's road in the Mountain West got significantly easier this year, having two excellent programs (BYU and Utah) replaced by just one (Boise State). But TCU is coming off a perfect season (13-0) and their highest ranking ever (finished No. 2). Those facts alone would make me expect a letdown. And when you consider they are brining back just eight starters and replacing the best quarterback in school history, I am certain that TCU will slide back a bit.
BYU – 8.5 (Over -150)
Breakdown: The BYU football schedule is pretty rough on the road, with games at Ole Miss, at Texas, at Oregon State, at TCU and at Hawaii dotting the slate. But these wacky Mormons and their 26-year-old starters will always be focused and will always be tough and disciplined.
Missouri – 7.5 (Over -120)
Breakdown:The Tigers have an unforgiving road schedule, with trips to Arizona State, Oklahoma and Texas A&M. But they only play two true road games after Oct. 9. This number seems very low for a program that has been as successful as Missouri the last few years. But they have a killer schedule and are thinner on defense than I would like.
Utah – 7.5 (Under -120)
Breakdown:The Pac-12's newest member had better be ready to party. After they floss with Montana State the Utes have to travel to USC and to BYU for the Holy War in back-to-back weeks. Utah does get a break by avoiding both Oregon and Stanford in league play. But an odd October trip to Pittsburgh could be trouble and I think they are going to find the sledding much tougher without stiffs like Wyoming, UNLV and Colorado State on the schedule.
Nevada – 8 (Under -125)
Breakdown: If you are wondering why the Vegas books would have a number on a team like Nevada, but not one like, say, Syracuse, it is because those sportsbooks will take a lot of local money from alumni, supporters, or other fans of this local team. Nevada lost an enormous amount of talent from last year's squad and I think that this number is ambitious. But their schedule is exceedingly beneficial in WAC play. And they still have one of the best rosters in this feeble division.
UNLV – 2.5 (Over -130)
Breakdown: Some books already have the Runnin' Rebels at 3.0. This is really just a local play, as the books try to take advantage of any loyalty or passion for the hometown team. They have only won more than two games twice in the last seven years and I don't see anything on this year's club that would make me expect anything more.
Robert Ferringo is an NFL and college football handicapper and is coming off an exceptionally profitable 2010-11 football season (college and pro). Over the last year his clients have more than tripled their bankrolls with his predictions in all sports. He is looking forward to building on his stellar football handicapping resume again this fall and you can check him out here.